Note: Supplemental materials are not guaranteed with Rental or Used book purchases.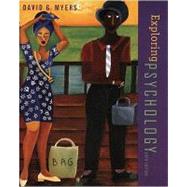 Exploring Psychology
ISBN13:
9780716715443
by
Myers
Macmillan Higher Education
Questions About This Book?
Why should I rent this book?
Renting is easy, fast, and cheap! Renting from eCampus.com can save you hundreds of dollars compared to the cost of new or used books each semester. At the end of the semester, simply ship the book back to us with a free UPS shipping label! No need to worry about selling it back.
How do rental returns work?
Returning books is as easy as possible. As your rental due date approaches, we will email you several courtesy reminders. When you are ready to return, you can print a free UPS shipping label from our website at any time. Then, just return the book to your UPS driver or any staffed UPS location. You can even use the same box we shipped it in!
What version or edition is this?
This is the 6th edition with a publication date of 4/2/2004.
What is included with this book?
The Used copy of this book is not guaranteed to include any supplemental materials. Typically, only the book itself is included.
The Rental copy of this book is not guaranteed to include any supplemental materials. You may receive a brand new copy, but typically, only the book itself.
Summary
Through five editions of this bestselling brief text, David Myers has introduced psychology to millions of students. As always, the author's exceptionally communicative writing style and integrated use of the SQ3R learning system (Survey, Question, Read, Rehearse, Review) make the text supremely engaging and understandable. The new edition of "Exploring Psychology offers a wealth of cutting-edge research and content from the most dynamic and burgeoning areas of the field--cognition, gender and diversity studies, neuroscience, industrial/organizational psychology, and more. In addition, a spectacular media-powered supplements package makes the "Sixth Edition the most compelling, effective, concise psychology textbook available.
Table of Contents
Preface
xv
chapter 1 Thinking Critically With Psychological Science
1
(36)
1
(10)
1
(6)
7
(4)
11
(4)

| | |
| --- | --- |
| | What About Intuition and Common Sense? |

11
(2)
13
(1)
14
(1)

| | |
| --- | --- |
| | How Do Psychologists Ask and Answer Questions? |

15
(12)
15
(1)
16
(3)
19
(4)

| | |
| --- | --- |
| | Thinking Critically About: Hot and Cold Streaks in Basketball and the Stock Market |

23
(1)
24
(3)

| | |
| --- | --- |
| | Frequently Asked Questions About Psychology |

27
(4)

| | |
| --- | --- |
| | Tips for Studying Psychology |

31
(6)
chapter 2 Neuroscience and Behavior
37
(32)
38
(5)
38
(1)
39
(1)

| | |
| --- | --- |
| | How Neurotransmitters Influence Us |

40
(3)
43
(3)

| | |
| --- | --- |
| | The Peripheral Nervous System |

44
(1)

| | |
| --- | --- |
| | The Central Nervous System |

45
(1)
46
(12)

| | |
| --- | --- |
| | Lower-Level Brain Structures |

46
(2)

| | |
| --- | --- |
| | Close-Up: The Tools of Discovery |

48
(4)
52
(6)
58
(5)
58
(1)
59
(4)
63
(6)
chapter 3 The Nature and Nurture of Behavior
69
(30)

| | |
| --- | --- |
| | Genes: Our Biological Blueprint |

69
(1)

| | |
| --- | --- |
| | Evolutionary Psychology: Maximizing Fitness |

70
(5)
71
(1)
72
(3)

| | |
| --- | --- |
| | Behavior Genetics: Predicting Individual Differences |

75
(7)
76
(2)
78
(1)
79
(1)
80
(1)
80
(1)

| | |
| --- | --- |
| | Gene-Environment Interaction |

80
(2)
82
(8)

| | |
| --- | --- |
| | How Much Credit (or Blame) Do Parents Deserve? |

82
(1)
83
(1)

| | |
| --- | --- |
| | Experience and Brain Development |

83
(2)
85
(1)
86
(4)

| | |
| --- | --- |
| | The Nature and Nurture of Gender |

90
(3)
90
(1)
90
(3)

| | |
| --- | --- |
| | Postscript: Reflections on Nature and Nurture |

93
(6)
chapter 4 The Developing Person
99
(42)

| | |
| --- | --- |
| | Prenatal Development and the Newborn |

99
(4)
99
(1)
100
(1)
101
(1)

| | |
| --- | --- |
| | Close-Up: How Do We Know What Infants See and Remember? |

102
(1)
103
(12)
103
(1)
104
(6)
110
(5)
115
(9)
115
(2)
117
(2)
119
(5)
124
(10)
124
(2)
126
(3)
129
(5)

| | |
| --- | --- |
| | Reflections on Two Major Developmental Issues |

134
(7)
134
(1)
135
(6)
chapter 5 Sensation and Perception
141
(46)

| | |
| --- | --- |
| | Sensing the World: Some Basic Principles |

142
(4)
142
(3)
145
(1)
146
(10)

| | |
| --- | --- |
| | The Stimulus Input: Light Energy |

146
(1)
147
(3)

| | |
| --- | --- |
| | Visual Information Processing |

150
(3)
153
(3)
156
(9)
156
(3)
159
(1)
159
(3)
162
(1)
162
(2)

| | |
| --- | --- |
| | Body Position and Movement |

164
(1)
165
(10)
166
(1)
167
(5)
172
(3)

| | |
| --- | --- |
| | Perceptual Interpretation |

175
(12)

| | |
| --- | --- |
| | Sensory Deprivation and Restored Vision |

175
(1)
176
(1)
177
(1)

| | |
| --- | --- |
| | Thinking Critically About: Extrasensory Perception |

178
(9)
chapter 6 States of Consciousness
187
(38)
187
(2)
188
(1)

| | |
| --- | --- |
| | Levels of Information Processing |

189
(1)
189
(14)

| | |
| --- | --- |
| | Biological Rhythms and Sleep |

190
(4)
194
(4)
198
(2)
200
(3)
203
(5)
204
(2)

| | |
| --- | --- |
| | Explaining the Hypnotized State |

206
(2)
208
(17)
208
(2)
210
(7)
217
(8)
chapter 7 Learning
225
(32)
228
(9)
228
(5)

| | |
| --- | --- |
| | Updating Pavlov's Understanding |

233
(2)
235
(2)
237
(11)
237
(6)

| | |
| --- | --- |
| | Updating Skinner's Understanding |

243
(2)
245
(2)

| | |
| --- | --- |
| | Contrasting Conditioning Techniques |

247
(1)
248
(9)
249

| | |
| --- | --- |
| | Applications of Observational Learning |

240
(17)
chapter 8 Memory
257
(36)
257
(3)
258
(2)

| | |
| --- | --- |
| | Encoding: Getting Information In |

260
(5)
260
(2)
262
(3)

| | |
| --- | --- |
| | Storage: Retaining Information |

265
(7)
265
(1)
266
(1)
267
(1)

| | |
| --- | --- |
| | Storing Memories in the Brain |

267
(5)

| | |
| --- | --- |
| | Retrieval: Getting Information Out |

272
(3)
273
(2)
275
(6)
276
(1)
277
(1)
278
(3)
281
(6)

| | |
| --- | --- |
| | Misinformation and Imagination Effects |

281
(2)
283
(1)

| | |
| --- | --- |
| | Children's Eyewitness Recall |

284
(1)

| | |
| --- | --- |
| | Repressed or Constructed Memories of Abuse? |

285
(2)
287
(6)
chapter 9 Thinking, Language, and Intelligence
293
(48)
293
(9)
293
(1)
294
(2)

| | |
| --- | --- |
| | Making Decisions and Forming Judgments |

296
(2)

| | |
| --- | --- |
| | Thinking Critically About: Risks-Do We Fear the Right Things? |

298
(4)
302
(13)
302
(6)
308
(3)

| | |
| --- | --- |
| | Animal Thinking and Language |

311
(4)
315
(26)

| | |
| --- | --- |
| | The Origins of Intelligence Testing |

315
(2)
317
(5)
322
(2)

| | |
| --- | --- |
| | Close-Up: Extremes of Intelligence |

324
(2)

| | |
| --- | --- |
| | Genetic and Environmental Influences on Intelligence |

326
(5)

| | |
| --- | --- |
| | Group Differences in Intelligence Test Scores |

331
(10)
chapter 10 Motivation
341
(38)
341
(4)

| | |
| --- | --- |
| | Instincts and Evolutionary Psychology |

341
(1)
342
(1)
343
(1)
343
(2)
345
(12)
345
(3)
348
(1)

| | |
| --- | --- |
| | Obesity and Weight Control |

349
(1)

| | |
| --- | --- |
| | Close-Up: Eating Disorders |

350
(6)

| | |
| --- | --- |
| | Close-Up: Helpful Hints for Losing Weight |

356
(1)
357
(13)

| | |
| --- | --- |
| | Describing Sexual Behavior |

357
(1)
358
(2)
360
(1)
361
(3)
364
(5)
369
(1)
370
(3)
371
(1)
371
(1)

| | |
| --- | --- |
| | Acting to Increase Social Acceptance |

371
(1)

| | |
| --- | --- |
| | Maintaining Relationships |

371
(1)
372
(1)
373
(6)

| | |
| --- | --- |
| | Identifying Achievement Motivation |

373
(1)

| | |
| --- | --- |
| | Sources of Achievement Motivation |

374
(5)
chapter 11 Emotions, Stress, and Health
379
(50)
379
(4)

| | |
| --- | --- |
| | The James-Lange and Cannon-Bard Theories |

379
(2)
381
(2)
383
(4)
383
(2)

| | |
| --- | --- |
| | The Physiology of Specific Emotions |

385
(1)

| | |
| --- | --- |
| | Thinking Critically About: Lie Detection |

386
(1)
387
(6)
387
(3)

| | |
| --- | --- |
| | Culture and Emotional Expression |

390
(2)

| | |
| --- | --- |
| | The Effects of Facial Expressions |

392
(1)
393
(9)
394
(1)
395
(6)

| | |
| --- | --- |
| | Close-Up: How to Be Happier |

401
(1)
402
(12)
402
(6)
408
(1)

| | |
| --- | --- |
| | Stress and Susceptibility to Disease |

409
(5)
414
(15)
414
(6)

| | |
| --- | --- |
| | Thinking Critically About: Alternative Medicine-New Ways to Health, or Old Snake Oil? |

420
(9)
chapter 12 Personality
429
(40)

| | |
| --- | --- |
| | Historic Perspectives on Personality |

429
(13)

| | |
| --- | --- |
| | The Psychoanalytic Perspective |

429
(10)

| | |
| --- | --- |
| | The Humanistic Perspective |

439
(3)

| | |
| --- | --- |
| | Contemporary Research on Personality |

442
(27)
442
(4)

| | |
| --- | --- |
| | Thinking Critically About: How to Be a "Successful" Astrologer or Palm Reader |

446
(4)

| | |
| --- | --- |
| | The Social-Cognitive Perspective |

450
(4)

| | |
| --- | --- |
| | Close-Up: Toward a More Positive Psychology |

454
(2)
456
(7)

| | |
| --- | --- |
| | The Modern Unconscious Mind |

463
(6)
chapter 13 Psychological Disorders
469
(38)

| | |
| --- | --- |
| | Perspectives on Psychological Disorders |

470
(6)

| | |
| --- | --- |
| | Defining Psychological Disorders |

470
(1)

| | |
| --- | --- |
| | Understanding Psychological Disorders |

470
(2)

| | |
| --- | --- |
| | Classifying Psychological Disorders |

472
(1)

| | |
| --- | --- |
| | Close-Up: The "unDSM"-A Diagnostic Manual of Human Strengths |

473
(1)

| | |
| --- | --- |
| | Labeling Psychological Disorders |

473
(1)

| | |
| --- | --- |
| | Thinking Critically About: Insanity and Responsibility |

474
(2)
476
(6)

| | |
| --- | --- |
| | Generalized Anxiety Disorder and Panic Disorder |

476
(1)
477
(1)

| | |
| --- | --- |
| | Obsessive-Compulsive Disorder |

478
(1)

| | |
| --- | --- |
| | Explaining Anxiety Disorders |

479
(1)

| | |
| --- | --- |
| | Close-Up: The Wounds of War-Post-Traumatic Stress Disorder |

480
(2)

| | |
| --- | --- |
| | Dissociative and Personality Disorders |

482
(4)
482
(2)
484
(2)
486
(10)

| | |
| --- | --- |
| | Major Depressive Disorder |

486
(1)
487
(1)

| | |
| --- | --- |
| | Explaining Mood Disorders |

488
(2)
490
(4)
494
(2)
496
(5)

| | |
| --- | --- |
| | Symptoms of Schizophrenia |

496
(1)

| | |
| --- | --- |
| | Subtypes of Schizophrenia |

497
(1)

| | |
| --- | --- |
| | Understanding Schizophrenia |

498
(3)

| | |
| --- | --- |
| | Rates of Psychological Disorders |

501
(6)
chapter 14 Therapy
507
(32)

| | |
| --- | --- |
| | The Psychological Therapies |

507
(11)
508
(2)
510
(2)
512
(4)
516
(2)

| | |
| --- | --- |
| | Group and Family Therapies |

518
(1)

| | |
| --- | --- |
| | Evaluating Psychotherapies |

519
(10)

| | |
| --- | --- |
| | Is Psychotherapy Effective? |

520
(3)

| | |
| --- | --- |
| | The Relative Effectiveness of Different Therapies |

523
(1)

| | |
| --- | --- |
| | Evaluating Alternative Therapies |

523
(3)

| | |
| --- | --- |
| | Commonalities Among Psychotherapies |

526
(2)

| | |
| --- | --- |
| | Close-Up: A Consumer's Guide to Psychotherapists |

528
(1)

| | |
| --- | --- |
| | Culture and Values in Psychotherapy |

528
(1)
529
(5)
529
(4)

| | |
| --- | --- |
| | Electroconvulsive Therapy |

533
(1)
534
(1)

| | |
| --- | --- |
| | Preventing Psychological Disorders |

534
(5)
chapter 15 Social Psychology
539
539
(6)

| | |
| --- | --- |
| | Attributing Behavior to Persons or to Situations |

539
(2)
541
(4)
545
(10)
545
(5)
550
(5)
555
555
(4)
559
(6)

| | |
| --- | --- |
| | Thinking Critically About: Do Video Games Teach or Release Violence? |

565
(1)
566
(2)
568
(5)
573
(3)
576
appendix A Statistical Reasoning in Everyday Life
A-1
A-1

| | |
| --- | --- |
| | Measures of Central Tendencies |

A-1
A-3

| | |
| --- | --- |
| | Correlation: A Measure of Relationships |

A-3
A-6

| | |
| --- | --- |
| | When Is a Difference Reliable? |

A-6

| | |
| --- | --- |
| | When Is a Difference Significant? |

A-7
appendix B Psychology at Work
B-1
B-2

| | |
| --- | --- |
| | Close-Up: I/O Psychology at Work |

B-3
B-3

| | |
| --- | --- |
| | Close-Up: Discovering Your Strengths |

B-4

| | |
| --- | --- |
| | Do Interviews Predict Performance? |

B-5
B-7

| | |
| --- | --- |
| | Organizational Psychology |

B-7

| | |
| --- | --- |
| | Satisfaction and Engagement |

B-7
B-9
B-11
appendix C Answers to Rehearse It and Critical Thinking Questions
C-1
Glossary
G-1
References
R-1
Name Index
NI-1
Subject Index
SI-1