Note: Supplemental materials are not guaranteed with Rental or Used book purchases.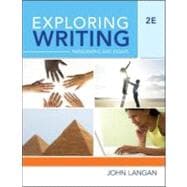 Exploring Writing: Paragraphs and Essays
by
Langan, John
McGraw-Hill Humanities/Social Sciences/Languages
Questions About This Book?
What version or edition is this?
This is the 2nd edition with a publication date of 10/5/2009.
What is included with this book?
The Used copy of this book is not guaranteed to include any supplemental materials. Typically, only the book itself is included.
Related Products
Summary
Exploring Writing: Paragraphs and Essaysserves as a guidebook for every step of the writing process. Emphasizing both process and practice, with a focus on revision, the new second edition helps to apply and advance writing skills using John Langan's proven techniques. Mastering essential sentence skills, learning to write effective paragraphs and essays, and becoming a critical reader are turning points for every writer, and they will prepare the students for writing situations in college and beyond.
Table of Contents
EXPLORING WRITING: PARAGRAPHS AND ESSAYS, 2/eBy John LanganTABLE OF CONTENTSPREFACEPART ONE: WRITING: SKILLS AND PROCESSAn Introduction to Writing Point and Support An Important Difference between Writing and Talking Point and Support in a ParagraphKnowing Your Purpose and Audience Benefits of Paragraph WritingWriting as a SkillWriting as a Process of DiscoveryKeeping a JournalTips on Using a Computer Ways to Use a Computer at Each Stage of the Writing ProcessReview ActivitiesThe Writing Process Prewriting Technique 1: Freewriting Technique 2: Questioning Technique 3: Making a List Technique 4: Clustering Technique 5: Preparing a Scratch OutlineWriting a First Draft Writing a First Draft: A Student ModelRevising Revising Content Revising SentencesEditing An Illustration of the Revising and Editing ProcessesUsing Peer Review Identification Scratch Outline CommentsReview ActivitiesTaking a Writing InventoryPrewritingOutliningRevisingPART ONE: A Writer's Template: Across DisciplinesPART TWO: BASIC PRINCIPLES OF EFFECTIVE WRITINGThe First and Second Steps in Writing Step 1: Begin with a PointIdentifying Common Errors in Topic SentencesUnderstanding the Two Parts of a Topic SentenceSelecting a Topic SentenceWriting a Topic Sentence IWriting a Topic Sentence IIStep 2: Support the Point with Specific Evidence The Point as an "Umbrella" IdeaReinforcing Point and SupportThe Importance of Specific DetailsRecognizing Specific Details IRecognizing Specific Details IIProviding Supporting EvidenceThe Importance of Adequate DetailsIdentifying Adequate Supporting EvidenceAdding Details to Complete a ParagraphWriting a Simple ParagraphThe Third Step and Fourth Steps in Writing Step 3: Organize and Connect the Specific Evidence Common Methods of Organization: Time Order and Emphatic Order Transitions Other Connecting WordsStep 4: Write Clear, Error-Free Sentences Revising Sentences Use Parallelism Use a Consistent Point of View Use Specific Words Use Concise Wording Vary Your SentencesEditing Sentences Hints for Editing A Note on ProofreadingFour Bases for Revising Writing Base 1: Unity Understanding Unity Checking for UnityBase 2: Support Understanding Support Checking for SupportBase 3: Coherence Understanding Coherence Checking for CoherenceBase 4: Sentence Skills Understanding Sentence Skills Checking for Sentence SkillsEvaluating Paragraphs for All Four Bases: Unity, Support, Coherence, and Sentence SkillsPART TWO: A Writer's Template: Across DisciplinesPART THREE: PARAGRAPH DEVELOPMENT Exemplification Paragraphs to ConsiderQuestionsDeveloping an Exemplification Paragraph Development through Prewriting Development through Revising Writing an Exemplification ParagraphNarration Paragraphs to Consider QuestionsDeveloping a Narrative Paragraph Development through Prewriting Development through RevisingWriting a Narrative ParagraphDescription Paragraphs to Consider QuestionsDeveloping a Descriptive Paragraph Development through Prewriting Development through RevisingWriting a Descriptive ParagraphProcess Paragraphs to Consider QuestionsDeveloping a Process Paragraph Development through Prewriting Development through RevisingWriting a Process Paragraph Cause and Effect Paragraphs to Consider QuestionsDeveloping a Cause-and-Effect Paragraph Development through Prewriting Development through RevisingWriting a Cause-and-Effect ParagraphComparison or Contrast Paragraphs to ConsiderMethods of Development One Side at a Time Point by PointAdditional Paragraph to Consider QuestionsDeveloping a Comparison or Contrast Paragraph Development through Prewriting Development through RevisingWriting a Comparison or Contrast ParagraphDefinition Paragraphs to Consider QuestionsDeveloping a Definition Paragraph Development through Prewriting Development through RevisingWriting a Definition ParagraphDivision-Classification Paragraphs to Consider QuestionsDeveloping a Division-Classification Paragraph Development through Prewriting Development through RevisingWriting a Division-Classification ParagraphArgument Strategies for ArgumentsParagraphs to Consider QuestionsDeveloping an Argument Paragraph Development through Prewriting Development through RevisingWriting an Argument Paragraph PART THREE: A Writer's Template: Across DisciplinesPART FOUR: ESSAY DEVELOPMENT Introduction to Essay Development What Is an Essay? Differences Between an Essay and Paragraph Structure of the Traditional Essay A Model Essay Parts of an Essay Diagram of an Essay Identifying the Parts of an EssayImportant Considerations in Essay DevelopmentDetermining Your Point of View Doing a Personal ReviewWriting the Essay Step 1: Begin with a Point, or Thesis Understanding Thesis StatementsWriting a Good Thesis IWriting a Good Thesis IIStep 2: Support the Thesis with Specific Evidence The Importance of Specific Details The Importance of Adequate Details Adding Details to Complete an EssayStep 3: Organize and Connect the Specific Evidence Common Methods of Organization Transitions Other Connecting Words Identifying Transitions and Other Connecting Words Step 4: Write Clear, Error-Free Sentences Use Active Verbs Practice in Revising Sentences Revising Essays for All Four Bases: Unity, Support, Coherence, and Sentence SkillsIntroductions, Conclusions, and Titles Introductory Paragraph Functions of the Introduction Common Methods of IntroductionConcluding Paragraph Common Methods of ConclusionIdentifying Introductions and ConclusionsTitles Essay Writing Assignments Patterns of Essay Development Developing an Exemplification Essay Developing a Process Essay Developing a Cause-and-Effect Essay Developing a Comparison or Contrast Essay Developing a Definition Essay Developing a Division-Classification Essay Developing a Descriptive Essay Developing a Narrative Essay Developing an Argument Essay Special College Skills Taking Essay Exams Step 1: Anticipate Ten Probable Questions Step 2: Prepare and Memorize an Informal Outline Answer for Each Question Step 3: Look at the Exam Carefully and Do Several Things Step 4: Prepare a Brief, Informal Outline before Writing Your Essay Answer Step 5: Write a Clear, Well-Organized EssayWriting a Summary How to Summarize an Article How to Summarize a BookWriting a Report Part 1 of a Report: A Summary of the Work Part 2 of a Report: Your Reaction to the Work Points to Keep in Mind When Writing a Report A Model ReportWriting a Research Paper Step 1: Select a Topic That You Can Readily Research Researching at a Local Library Researching on the InternetStep 2: Limit Your Topic and Make the Purpose of Your Paper ClearStep 3: Gather Information on Your Limited TopicStep 4: Plan Your Paper and Take Notes on Your Limited Topic Preparing a Scratch Outline Note-Taking A Caution about PlagiarismStep 5: Write the PaperStep 6: Use an Acceptable Format and Method of DocumentationModel PaperPART FOUR: A Writer's Template: Across DisciplinesPART FIVE: HANDBOOK OF SENTENCE SKILLS GRAMMAR21.Subjects and Verbs 22.Sentence Sense 23.Fragments24.Run-Ons 25..Regular and Irregular Verbs 26.Subject-Verb Agreement 27..Additional Information about Verbs