Note: Supplemental materials are not guaranteed with Rental or Used book purchases.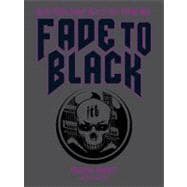 Fade to Black Hard Rock Cover Art of the Vinyl Age
ISBN13:
9781402778179
by
Unknown
Summary
Take an extraordinary journey through the coolest hard rock album covers from 1965-1990: vinyl's "golden age." Martin Popoff--the world's most renowned heavy metal journalist--joins with celebrated cover artist Ioannis to offer always insightful, sometimes humorous critiques of 220 covers. Popoff looks at the good, the bad, and the ugly from all angles, critiquing the top cover art in the genre and offering trivia and behind-the-scenes stories from the artists themselves about the covers and the music that inspired them. The showcased musicians include the era's biggest stars, from Black Sabbath, Led Zeppelin, the Rolling Stones, and Cream to Kiss, Metallica, Nirvana, and Alice in Chains.
Author Biography
Martin Popoff has been described as "the world's most famous heavy metal journalist." With over 7,900 record reviews, he has unofficially written more record reviews than anybody in the history of music writing. Popoff has written 36 books on hard rock, heavy metal, and classic rock. He was the editor-in-chief of the Canadian metal magazine Brave Words & Bloody Knuckles, and has contributed to many publications, including Guitar World, Lollipop, Goldmine, and Record Collector. He has also written numerous band bios and liner notes for record labels. Popoff (martinpopoff.com) lives in Toronto, Ontario, Canada.   Ioannis is the cover artist for more than 170 albums by some of the most legendary bands in the music industry, including the Allman Brothers, Deep Purple, King Crimson, Uriah Heep, Blue Öyster Cult, Styx, Bon Jovi, Johnny Winter, Cyndi Lauper, and Lynyrd Skynyrd. He also designed the brand identity for Loud & Proud Records and moogis.com and collaborated with Bob Weir. Additionally, his works have been featured in many magazines, books, and exhibitions worldwide. See more at dangerousage.com. Ioannis lives in New Haven, CT.