Note: Supplemental materials are not guaranteed with Rental or Used book purchases.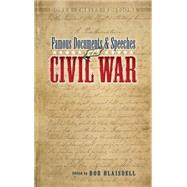 Famous Civil War Documents and Speeches
ISBN13:
9780486448510
by
Blaisdell, Bob
Questions About This Book?
What version or edition is this?
This is the edition with a publication date of 12/1/2006.
What is included with this book?
The New copy of this book will include any supplemental materials advertised. Please check the title of the book to determine if it should include any CDs, lab manuals, study guides, etc.
The eBook copy of this book is not guaranteed to include any supplemental materials. Typically only the book itself is included.
Summary
Essential reading for students of American history and Civil War buffs, this modestly priced edition includes the key documents and most memorable speeches from both sides of the conflict: Lincoln's Emancipation Proclamation and Gettysburg Address, Lee's "Farewell to the Army of Northern Virginia," Davis' First Inaugural Address, plus other major declarations and military reports.
Table of Contents
| | |
| --- | --- |
| | 1. "Sovereignty of South Carolina," The Address of the People of South Carolina, Assembled in Convention, to the People of the Slaveholding States of the United States (December 21, 1860) |

1

| | |
| --- | --- |
| | 2. First Inaugural Address, President Abraham Lincoln (March 4, 1861) |

11

| | |
| --- | --- |
| | 3. Recruitment Proclamation by Virginia Governor Letcher (May 3, 1861) |

19

| | |
| --- | --- |
| | 4. Proclamation to the People of Loudon, Fairfax, and Prince William Counties, Virginia by Confederate Brigadier-General G.T. Beauregard (June 5, 1861) |

21

| | |
| --- | --- |
| | 5. Response to the Virginia Convention's Call for Soldiers by U.S. Army Colonel P. St. G. Cooke (June 6, 1861) |

23

| | |
| --- | --- |
| | 6. Address Objecting to Secession, to the People of Virginia by the Delegates Assembled in Convention at Wheeling (June 24, 1861) |

26

| | |
| --- | --- |
| | 7. Letter Regarding the Battle of First Manassas, by Confederate General Thomas J. "Stonewall" Jackson to His Wife (July 23, 1861) |

33

| | |
| --- | --- |
| | 8. Address Congratulating the Soldiers of the Army of the West by Union Major-General George B. McClellan (July 16, 1861) |

35

| | |
| --- | --- |
| | 9. Regarding "Contraband," Query by Union General Benjamin Butler to Secretary of War Simon Cameron (July 30, 1861) |

37
10. Recruitment Proclamation to the People of Missouri, by Confederate Brigadier-General Jeff Thompson of the Missouri State Guards (August 1, 1861)
41
11. Proclamation of Martial Law in Missouri by Union Major-General" C. Fremont (August 30, 1861)
43

| | |
| --- | --- |
| | Letter from President Lincoln to Major-General Fremont (September 2, 1861) |

45

| | |
| --- | --- |
| | Retaliatory Proclamation by Confederate Brigadier-General Jeff Thompson (September 2, 1861) |

45
12. The Surrender at Fort Donelson, Correspondence between Confederate Brigadier-General S.B. Buckner and Union Brigadier-General U.S. Grant (February 16, 1862)
47
13. Address to the People of Georgia by Howell Cobbs, R. Toombs, M.J. Crawford, Thomas R.R. Cobb (February 1862)
49
14. Order Respecting Bell-Metal to the Planters of the Mississippi Valley by Confederate General G.T. Beauregard (March 8, 1862)
53
15. Report on the U.S.S. Monitor and Merrimack Fight in Hampton Roads, Virginia, by Union Captain G.J. Van Brunt (March 10, 1862)
55
16. Address to the Army of the Potomac by Union Major-General George B. McClellan (March 14, 1862)
59
17. Lecture, "The War and How to End It," by Frederick Douglass at Rochester, New York (March 25, 1862)
61
18. Official Report of the Battle at Pittsburgh Landing (Shiloh), Tennessee, by Union General U.S. Grant (April 9, 1862)
70

| | |
| --- | --- |
| | On Burying the Dead, Correspondence between Confederate General G.T. Beauregard and Union General U.S. Grant (April 8-9, 1862) |

73
19. Capture of New Orleans, Report of Union Commodore David Farragut and Commodore David D. Porter (April 25, April 29, April 30, 1862)
75
20. Confederate General Order No. 17, a Call to Destroy Cotton, Secretary of War George W. Randolph and Assistant Adjutant-General J.G. Pickett (May 3, 1862)
80
21. Official Correspondence from Union Major-General Benjamin Butler and Flag-Officer David Farragut to and from the mayor and military governor of Vicksburg (May 18, 1862)
82
22. Report on the Morse Magnetic Telegraph and Balloon Reconnaissance, by Parker Spring, Superintendent of Construction of U.S. Military Telegraph Lines (June 2, 1862)
84
23. Address by the Confederate Colonel of Cavalry John H. Morgan to His Guerillas after the Defeat of Union General Buell's Cavalry on the Hartsville Road, Tennessee (August 22, 1862)
88
24. Despatches on the Second Battle of Manassas Junction (Bull Run) from Confederate General Robert E. Lee to Confederate President Jefferson Davis (August 29–Sept. 3, 1862)
90
25. Proclamation to the People of Maryland by Confederate General Robert E. Lee (September 8, 1862)
93
26. Despatch on the Battle of Antietam by Union General Joseph Hooker (September 17, 1862)
95
27. Measure by the Mississippi House of Representatives Sustaining Confederate President Davis on Retaliation for Lincoln's Emancipation Proclamation (October 11, 1862)
96
28. Letter after Antietam from President Lincoln to Major-General George B. McClellan (October 13, 1862)
99
29. Appeal to the People for the Wants of the Army, by North Carolina Governor Vance (October 15, 1862)
102
30. Farewell Address to the Army of the Potomac, by Union General George B. McClellan (November 7, 1862)
105
31. Report on an Inspection of the Union Army's Horses by John S. Rarey to Commander in Chief of the Union Army, Major-General H.W. Halleck (December 19, 1862)
106
32. Final Emancipation Proclamation by President Lincoln (Jan. 1, 1863)
108
33. Report on the Alabama's Destruction of the U.S.S. Hatteras, by Confederate Captain Raphael Semmes (January 11, 1863)
111
34. Vicksburg Siege Diary of a Confederate Soldier, John W Sattenwhite (May 18–July 4, 1863)
113
35. Official Correspondence Ending the Siege of Vicksburg between Union General U.S. Grant and Confederate Lieutenant-General J.C. Pemberton (July 3-4, 1863)
120

| | |
| --- | --- |
| | Parole Form for the Confederate Officers and Soldiers of Vicksburg (July 1863) |

123
36. Address to the Soldiers of the Army of Northern Virginia on the Advance into Pennsylvania by Confederate General R.E. Lee (June 27, 1863)
124
37. Address on Taking Command of the Army of the Potomac by Union General George Meade (General Order No. 66) (June 28, 1863)
126
38. Account of the Battle of Gettysburg by Union Sergeant John W. Plummer of Company D, First Minnesota (July 1-4, 1863)
127
39. Journal on Confederate Calvary Brigadier-General John Morgan's Raid through Kentucky by Lieutenant-Colonel R. A. Alston (July 1-8, 1863)
135
40. Offer of Resignation by Confederate General R.E. Lee (August 8, 1863) to Confederate President Jefferson Davis
140

| | |
| --- | --- |
| | Reply by President Davis (August 11, 1863) |

142
41. President Lincoln's letter to Representative Conkling of Illinois on the Public Dissatisfaction with His Presidency (August 16, 1863)
144
42. Statement by the Attache of the Provost Marshall Office, William Kempf, on the Massacre of Union Sympathizers in Lawrence, Kansas (August 21, 1863)
148
43. Union War Department General Orders Number 329, on the Enlistment of Colored Troops (October 13, 1863)
154
44. Address Delivered at the Dedication of the Cemetery at Gettysburg, by President Abraham Lincoln (November 19, 1863)
156
45. Letter on the Treatment of "Secesh" by Union Major-General W.T. Sherman to Major R.M. Sawyer (January 31, 1864)
158
46. Witness Testimony on the Fort Pillow Massacre (April 12, 1864), before the Joint Commission on the Conduct and Expenditures of the War (April 18-22, 1864)
163
47. "The Returned Prisoners," Joint Commission on the Conduct and Expenditures of the War Testimony by Surgeon A. Van Derkieft to the U.S. Senate Committee (May 6, 1864)
172
48. Wilderness Campaign Report of Confederate Lieutenant-General James Longstreet (April 11-May 6, 1864)
177
49. Battle at Cold Harbor, by Union soldier George E. Place, Co. B, 12th New Hampshire Volunteers (June 1-3, 1864)
180
50. Report on the Sinking of the Alabama by the Kearsarge, by Union Captain John A. Winslow (July 30, 1864)
183
51. Letter from Union Major-General W.T. Sherman to the Mayor and City Council of Atlanta (September 12, 1864)
187
52. Second Inaugural Address, President Lincoln (March 4, 1865)
190
53. Correspondence Regarding Surrender between Union Lieutenant-General U.S. Grant of the Army of Potomac and Confederate General R.E. Lee, Commander of the Confederate States Armies
192
54. Farewell Address to His Army by Confederate General R.E. Lee (April 10, 1865)
194
55. Last Public Address, President Lincoln (April 11, 1865)
195
56. Telegraph Message on the Assassination of President Lincoln, from Secretary of State Stanton to Union Major-General W.T. Sherman (April 15, 1865)
199
57. The Thirteenth Amendment to the Constitution (December 6, 1865)
201