Note: Supplemental materials are not guaranteed with Rental or Used book purchases.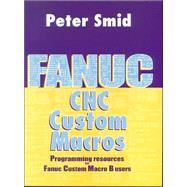 Fanuc Custom Macros : Programming Resources for Fanuc Custom Macro B Users
ISBN13:
9780831131579
by
Peter Smid
Summary
An invaluable companion to the author's best selling CNC Programming Handbook, this book is a general introduction to the subject of macros (known as Custom Macros or User Macros). Its purpose is to make you aware of what macros are, how to develop them, and how to use them effectively. It also explores important related subjects and identifies several other helpful topics in this increasingly important and exciting field of CNC programming.
Author Biography
Peter Smid is a professional consultant, educator, and speaker, and has many years of practical, hands-on experience with CNC and CAD/CAM applications on all levels
Table of Contents
1
(10)
1
(3)

| | |
| --- | --- |
| | Review of G-codes, M-codes and Subprograms |

2
(1)
2
(1)
2
(1)
3
(1)
3
(1)
3
(1)
4
(2)
4
(1)

| | |
| --- | --- |
| | What is a Macro Programming? |

4
(1)
5
(1)

| | |
| --- | --- |
| | Main Program with Macro Features |

5
(1)
6
(4)
7
(1)
8
(1)
8
(1)
8
(1)

| | |
| --- | --- |
| | Special G-codes and M-codes |

8
(1)

| | |
| --- | --- |
| | Alarm and Message Generation |

8
(1)

| | |
| --- | --- |
| | Replacing Control Options |

9
(1)

| | |
| --- | --- |
| | Hiding and Protecting Macro Programs |

9
(1)
9
(1)

| | |
| --- | --- |
| | Various Shortcuts and Utilities |

9
(1)
10
(1)
11
(10)
11
(1)
11
(1)
12
(1)
12
(1)
12
(1)
12
(1)
12
(1)
12
(1)
13
(1)
13
(3)
15
(1)
16
(1)
16
(3)
19
(1)
20
(1)
20
(1)
21
(12)

| | |
| --- | --- |
| | Subprogram Example - Mill |

21
(4)
25
(2)
27
(1)
27
(3)
29
(1)
30
(1)
30
(1)
31
(2)
32
(1)
33
(16)
33
(1)
34
(1)
34
(1)
35
(1)
35
(1)
35
(2)
36
(1)
37
(1)
37
(8)
37
(3)

| | |
| --- | --- |
| | Relationship of Parameters |

40
(1)
41
(1)
42
(1)
42
(1)
43
(1)
44
(1)
45
(1)

| | |
| --- | --- |
| | Setting and Changing Parameters |

46
(1)
46
(1)
46
(1)
47
(1)
47
(2)
48
(1)
49
(24)
49
(1)
50
(1)
50
(1)
50
(1)
50
(1)
51
(2)

| | |
| --- | --- |
| | Standard Work Offset Input |

51
(1)

| | |
| --- | --- |
| | Additional Work Offset Input |

52
(1)

| | |
| --- | --- |
| | External Work Offset Input |

52
(1)

| | |
| --- | --- |
| | Offset Memory Types - Milling |

53
(5)
53
(1)
53
(1)
54
(1)
55
(1)
56
(1)
57
(1)
57
(1)

| | |
| --- | --- |
| | Offset Memory Types - Turning |

58
(1)
59
(1)
59
(1)
59
(1)

| | |
| --- | --- |
| | Tool Offset Program Entry |

60
(2)
60
(1)

| | |
| --- | --- |
| | G10 Offset Data Settings - Milling Examples |

61
(1)
62
(1)
62
(3)
63
(1)
63
(1)

| | |
| --- | --- |
| | G10 Offset Data Settings - Turning Examples |

64
(1)

| | |
| --- | --- |
| | Data Setting Check in MDI |

65
(1)

| | |
| --- | --- |
| | Programmable Parameter Entry |

65
(2)
66
(1)

| | |
| --- | --- |
| | N-address in G10 L50 Mode |

67
(1)

| | |
| --- | --- |
| | P-address in G10 L50 Mode |

67
(1)

| | |
| --- | --- |
| | R-address in G10 L50 Mode |

67
(1)
67
(6)

| | |
| --- | --- |
| | Setting Machine Axes to Zero |

70
(1)

| | |
| --- | --- |
| | Bit Type Parameter Example |

70
(2)

| | |
| --- | --- |
| | Differences Between Control Models |

72
(1)
72
(1)
72
(1)
73
(10)
73
(2)
74
(1)
74
(1)
74
(1)

| | |
| --- | --- |
| | Defining and Calling Macros |

75
(4)
75
(1)
75
(2)
77
(1)
78
(1)
79
(4)
79
(1)
79
(1)

| | |
| --- | --- |
| | Program Numbers - Range O0001 to O7999 |

80
(1)

| | |
| --- | --- |
| | Program Numbers - Range O8000 to O8999 |

80
(1)

| | |
| --- | --- |
| | Program Numbers - Range O9000 to O9999 |

81
(1)

| | |
| --- | --- |
| | Program Numbers - Range O9000 to O9049 |

82
(1)

| | |
| --- | --- |
| | Difference Between the O8000 and O9000 Program Numbers |

82
(1)
83
(10)
83
(1)
84
(1)
84
(1)
84
(1)
84
(1)
85
(1)

| | |
| --- | --- |
| | Real Numbers and Integers |

85
(1)

| | |
| --- | --- |
| | Variable as an Expression |

86
(1)
86
(6)
87
(1)
88
(1)
88
(1)

| | |
| --- | --- |
| | Positive and Negative Variables |

89
(1)
90
(1)
90
(2)
92
(1)
93
(16)
93
(1)
93
(1)
94
(1)

| | |
| --- | --- |
| | Assigning Local Variables |

94
(4)

| | |
| --- | --- |
| | Assignment List 1 - Method 1 |

94
(1)

| | |
| --- | --- |
| | Assignment List 2 - Method 2 |

95
(2)
97
(1)
98
(1)

| | |
| --- | --- |
| | Simple and Modal Macro Calls |

98
(3)
99
(2)

| | |
| --- | --- |
| | Main Program and Local Variables |

101
(4)

| | |
| --- | --- |
| | Local Variables and Nesting Levels |

105
(1)
106
(1)

| | |
| --- | --- |
| | Volatile and Nonvolatile Memory Groups |

106
(1)
107
(1)
107
(1)
107
(1)

| | |
| --- | --- |
| | Set Variable Name Function SETVN |

108
(1)

| | |
| --- | --- |
| | Protection of Common Variables |

108
(1)
109
(28)
109
(1)

| | |
| --- | --- |
| | Definition of Variables Revisited |

110
(3)
110
(1)

| | |
| --- | --- |
| | Vacant or Empty Variables |

111
(1)

| | |
| --- | --- |
| | Axis Motion Commands and Null Variables |

111
(1)
112
(1)
113
(3)
113
(1)

| | |
| --- | --- |
| | Arithmetic Operations and Vacant Variables |

114
(1)
115
(1)
116
(1)

| | |
| --- | --- |
| | Conversion to Decimal Degrees |

116
(1)
116
(1)
117
(5)

| | |
| --- | --- |
| | Rounding to a Fixed Number of Decimal Places |

119
(2)
121
(1)
122
(2)
122
(2)

| | |
| --- | --- |
| | LN, EXP and ADP Functions |

124
(1)
124
(2)
124
(1)
125
(1)

| | |
| --- | --- |
| | Boolean and Binary Examples |

125
(1)
126
(1)

| | |
| --- | --- |
| | Evaluation of Functions - Special Test |

126
(3)

| | |
| --- | --- |
| | Order of Function Evaluation |

128
(1)

| | |
| --- | --- |
| | Approach to Practical Applications |

129
(8)
129
(4)
133
(1)

| | |
| --- | --- |
| | Speeds and Feeds Calculation |

134
(3)
137
(10)

| | |
| --- | --- |
| | Identifying System Variables |

137
(1)
138
(6)
138
(1)

| | |
| --- | --- |
| | Displaying System Variables |

138
(1)

| | |
| --- | --- |
| | System Variables for Fanuc Series 0 |

139
(1)

| | |
| --- | --- |
| | Fanuc Model 0 Compared to Other Models |

140
(1)

| | |
| --- | --- |
| | System Variables for Fanuc Series 10/11/15 |

140
(1)

| | |
| --- | --- |
| | System Variables for Fanuc Series 16/18/21 |

141
(3)

| | |
| --- | --- |
| | Organization of System Variables |

144
(1)
145
(2)
147
(16)

| | |
| --- | --- |
| | System Variables and Tool Offsets |

147
(1)

| | |
| --- | --- |
| | Tool Offset Memory Groups |

148
(2)

| | |
| --- | --- |
| | Tool Offset Memory - Type A |

148
(1)

| | |
| --- | --- |
| | Tool Offset Memory - Type B |

149
(1)

| | |
| --- | --- |
| | Tool Offset Memory - Type C |

149
(1)

| | |
| --- | --- |
| | Tool Offset Variables - Fanuc 0 Controls |

150
(2)
150
(1)
151
(1)

| | |
| --- | --- |
| | Tool Offset Variables - FS 10/11/15/16/18/21 for Milling |

152
(6)

| | |
| --- | --- |
| | Assignments for 200 Offsets or Less - Memory Type A |

152
(1)

| | |
| --- | --- |
| | Assignments for 200 Offsets or Less - Memory Type B |

153
(1)

| | |
| --- | --- |
| | Assignments for 200 Offsets or Less - Memory Type C |

154
(1)

| | |
| --- | --- |
| | Assignments for More Than 200 Offsets - Memory Type A |

155
(1)

| | |
| --- | --- |
| | Assignments for More Than 200 Offsets - Memory Type B |

156
(1)

| | |
| --- | --- |
| | Assignments for More Than 200 Offsets - Memory Type C |

157
(1)

| | |
| --- | --- |
| | Tool Offset Variables - FS 10/11/15/16/18/21 for Turning |

158
(5)
158
(1)

| | |
| --- | --- |
| | Assignments for 64 Offsets or Less - Memory Type A |

159
(1)

| | |
| --- | --- |
| | Assignments for 64 Offsets or Less - Memory Type B |

160
(1)

| | |
| --- | --- |
| | Assignments for More than 64 Offsets - Memory Type A |

161
(1)

| | |
| --- | --- |
| | Assignments for More than 64 Offsets - Memory Type B |

162
(1)
163
(8)

| | |
| --- | --- |
| | System Variables for Modal Commands |

163
(1)

| | |
| --- | --- |
| | Fanuc 0/16/18/21 Modal Information |

163
(1)

| | |
| --- | --- |
| | Fanuc 10/11/15 Modal Information |

163
(1)

| | |
| --- | --- |
| | Preceding and Executing Blocks |

164
(1)
164
(3)
165
(1)
166
(1)

| | |
| --- | --- |
| | Saving and Restoring Data |

167
(1)
167
(1)
168
(1)
168
(3)
169
(1)
170
(1)
171
(16)

| | |
| --- | --- |
| | Decision Making in Macros |

171
(1)
172
(5)
172
(1)
173
(1)
174
(1)

| | |
| --- | --- |
| | Single Conditional Expressions |

175
(1)

| | |
| --- | --- |
| | Combined Conditional Expressions |

176
(1)
177
(2)
177
(1)
177
(2)
179
(3)

| | |
| --- | --- |
| | Single Level Nesting Loop |

179
(1)
180
(1)
180
(1)
181
(1)

| | |
| --- | --- |
| | Restrictions of the While Loop |

181
(1)

| | |
| --- | --- |
| | Conditional Expressions and Null Variables |

182
(2)

| | |
| --- | --- |
| | Formula Based Macro - Sine Curve |

184
(2)

| | |
| --- | --- |
| | Clearing Common Variables |

186
(1)
187
(6)
187
(4)
187
(1)
187
(1)
188
(1)

| | |
| --- | --- |
| | Embedding Alarm in a Macro |

188
(2)
190
(1)

| | |
| --- | --- |
| | Message Variable - Warning, Not an Alarm |

190
(1)
191
(2)
191
(1)
191
(1)
192
(1)
193
(2)
193
(1)
194
(1)
195
(8)

| | |
| --- | --- |
| | Controlling Automatic Operations |

195
(4)
195
(1)
196
(1)

| | |
| --- | --- |
| | Feedhold, Feedrate, and Exact Check Control |

197
(1)

| | |
| --- | --- |
| | Example of Special Tapping Operation |

198
(1)
199
(1)

| | |
| --- | --- |
| | Mirror Image Status Check |

199
(3)

| | |
| --- | --- |
| | Interpreting System Variable #3007 |

200
(2)

| | |
| --- | --- |
| | Controlling the Number of Machined Parts |

202
(1)
203
(2)
203
(1)
203
(1)

| | |
| --- | --- |
| | Abbreviations of Macro Functions |

204
(1)
205
(4)

| | |
| --- | --- |
| | What is a Parametric Programming? |

205
(1)
205
(1)

| | |
| --- | --- |
| | Benefits of Parametric Programming |

206
(1)

| | |
| --- | --- |
| | When to Program Parametrically |

206
(1)

| | |
| --- | --- |
| | Planned Approach to Macro Development |

207
(2)
209
(12)

| | |
| --- | --- |
| | Macro Development in Depth - Location Pin |

209
(12)
210
(1)
210
(1)

| | |
| --- | --- |
| | Part Setup, Tooling and Machining Method |

210
(1)
211
(1)
211
(1)
212
(3)
215
(1)
216
(1)
217
(1)
218
(2)
220
(1)
221
(34)

| | |
| --- | --- |
| | Angular Hole Pattern - Version 1 |

221
(3)

| | |
| --- | --- |
| | Variable Data for Angular Hole Pattern |

223
(1)

| | |
| --- | --- |
| | Angular Hole Pattern - Version 2 |

224
(2)
226
(3)

| | |
| --- | --- |
| | Variable Data for Frame Hole Pattern |

227
(2)
229
(4)

| | |
| --- | --- |
| | Variable Data for Bolt Hole Circle Pattern |

231
(2)
233
(3)

| | |
| --- | --- |
| | Variable Data for Arc Hole Pattern |

234
(2)
236
(4)

| | |
| --- | --- |
| | Variable Data for Circular Pocket Roughing |

237
(2)
239
(1)

| | |
| --- | --- |
| | Circular Pocket Finishing |

240
(4)

| | |
| --- | --- |
| | Variable Data for Circular Pocket Finishing |

241
(3)
244
(3)

| | |
| --- | --- |
| | Variable Data for Slot Machining |

245
(2)

| | |
| --- | --- |
| | Circular Groove with Multiple Depth |

247
(4)

| | |
| --- | --- |
| | From Subprograms to Macros |

248
(1)

| | |
| --- | --- |
| | Macro Version Development |

249
(2)

| | |
| --- | --- |
| | Rectangular Pocket Finishing |

251
(4)
255
(12)
255
(1)
256
(1)
256
(2)
258
(2)
260
(7)
262
(1)

| | |
| --- | --- |
| | Macro Call - as a Special Cycle |

262
(2)

| | |
| --- | --- |
| | Detailed Evaluation of Offset Value |

264
(2)

| | |
| --- | --- |
| | Counterboring Application |

266
(1)
267
(8)

| | |
| --- | --- |
| | Port Open and Port Close Commands |

267
(1)
268
(1)

| | |
| --- | --- |
| | BPRNT Function Description |

268
(1)

| | |
| --- | --- |
| | DPRNT Function Description |

269
(1)

| | |
| --- | --- |
| | Parameter Settings - Fanuc 10/11/12/15 |

269
(2)
270
(1)

| | |
| --- | --- |
| | Parameter Settings - Fanuc 16/18/21 |

271
(1)

| | |
| --- | --- |
| | Structure of External Output Functions |

272
(2)
273
(1)
274
(1)
274
(1)
274
(1)
274
(1)
274
(1)
274
(1)
275
(20)
275
(3)
276
(1)
276
(1)
277
(1)

| | |
| --- | --- |
| | Feedrate and Probing Accuracy |

277
(1)

| | |
| --- | --- |
| | Probing Devices on CNC Machines |

278
(1)

| | |
| --- | --- |
| | In-Process Gauging Benefits |

278
(1)
278
(1)
279
(1)
279
(1)
279
(1)

| | |
| --- | --- |
| | Control System Capabilities |

280
(1)
280
(1)

| | |
| --- | --- |
| | Additional and Optional Features |

280
(1)
280
(1)

| | |
| --- | --- |
| | CNC Machine Probe Technology |

280
(2)

| | |
| --- | --- |
| | Optical Signal Transmission |

281
(1)

| | |
| --- | --- |
| | Inductive Signal Transmission |

282
(1)

| | |
| --- | --- |
| | Radio Signal Transmission |

282
(1)
282
(1)
283
(5)

| | |
| --- | --- |
| | Center Location Measurement |

284
(2)

| | |
| --- | --- |
| | Measuring External or Internal Width |

286
(1)
287
(1)

| | |
| --- | --- |
| | Measuring External Diameter |

287
(1)

| | |
| --- | --- |
| | Measuring Internal Diameter |

287
(1)
288
(1)
288
(1)
288
(1)

| | |
| --- | --- |
| | Calibrating device - Type 1 |

288
(1)

| | |
| --- | --- |
| | Calibrating device - Type 2 |

288
(1)

| | |
| --- | --- |
| | Checking the Calibration Device |

289
(1)
289
(2)
291
(2)
293
(2)
295
(6)

| | |
| --- | --- |
| | Limitations During Macro Execution |

295
(2)
295
(1)
295
(1)
295
(1)
296
(1)
296
(1)
296
(1)
296
(1)

| | |
| --- | --- |
| | Knowledge for Macro Programming |

297
(2)
297
(1)

| | |
| --- | --- |
| | Manual Programming Experience |

298
(1)
298
(1)
298
(1)
298
(1)

| | |
| --- | --- |
| | Control and Machine Operation |

298
(1)
299
(1)
299
(1)
299
(1)

| | |
| --- | --- |
| | Practical Programming Approach |

299
(1)
300
(1)
301
(6)
301
(5)
306
(1)
Index
307
(6)
What's on the CD-ROM?
313