Note: Supplemental materials are not guaranteed with Rental or Used book purchases.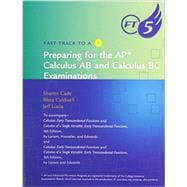 Summary
Fast Track to a 5 will help you prepare for the AP exam quickly, efficiently, and, above all, effectively. Right from the start, you will identify the course topics you most need practice on and be able to focus your studying, while getting a review opportunity for your general knowledge. Your Fast Track to a 5 gives you references to your textbook, Calculus: Early Transcendentals Functions by Larson and Edwards, allowing you to review the facts and concepts in depth. You will be primed for taking the exam and on your way to a 5!

Fast Track to a 5 will save you time in preparing your students for the AP exam! Students will be able to work through the book more independently because, unlike others, this test prep book is keyed to Larson and Edwards' Calculus: Early Transcendentals Functions. The answers to the diagnostic tests, the practice questions with the review sections, and the answers to the full-length practice exams are referenced to specific pages in the textbook. Students can quickly and easily refer to the right textbook pages to review all key concepts and especially to reinforce material that might require extra attention.

Preparing for the Advanced Placement Calculus AB and Calculus BC Examinations is keyed to the Fourth and Fifth Editions of Larson and Edwards' Calculus: Early Transcendentals Functions. The diagnostic test, practice questions, and full-length practice tests include all the types of questions found on the exam, including multiple-choice and free-response.
Author Biography
Holl McDougal is pleased to distribute Cengage Learning college-level materials to high schools for Advanced Placement, honors, and college-prep courses. Our Advanced & Elective Programs department is dedicated to serving teachers and students in these courses. To contact your Advanced & Elective Programs representative, please call us toll-free at 1-800-479-9799 or visit us at www.HoltMcDougal.com.