Note: Supplemental materials are not guaranteed with Rental or Used book purchases.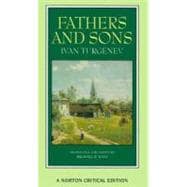 Questions About This Book?
What version or edition is this?
This is the edition with a publication date of 12/1/1995.
What is included with this book?
The New copy of this book will include any supplemental materials advertised. Please check the title of the book to determine if it should include any CDs, lab manuals, study guides, etc.
Summary
When first published in 1862, this novel of a divided Russia, with peasants set against masters and fathers set against sons, caused great outrage. But its enduring legacy of social insight and conscience mixed with drama has given it universal appeal. Features an introduction by Anna Tolstoy in an exciting new Bantam Classics' package.
Table of Contents
Preface
vii

| | |
| --- | --- |
| | The Text of Fathers and Sons |

1
(158)
159
(24)

| | |
| --- | --- |
| | Apropos of Fathers and Sons |

161
(7)
168
(15)

| | |
| --- | --- |
| | P. V. Annenkov to Turgenev, September 26 (October 9), 1861 |

168
(3)

| | |
| --- | --- |
| | To P. V. Annenkov, October 1 (13), 1861 |

171
(1)

| | |
| --- | --- |
| | To M. N. Katkov, October 1 (13), 1861 |

171
(1)

| | |
| --- | --- |
| | To M. N. Katkov, October 27 (November 8), 1861 |

172
(1)

| | |
| --- | --- |
| | To M. N. Katkov, October 30 (November 11), 1861 |

172
(1)

| | |
| --- | --- |
| | To F. M. Dostoevsky, March 18 (30), 1862 |

172
(1)

| | |
| --- | --- |
| | To A. N. Maykov, March 18 (30), 1862 |

173
(1)

| | |
| --- | --- |
| | To A. A. Fet, March 19 (31), 1862 |

174
(1)

| | |
| --- | --- |
| | To A. A. Fet, April 6 (18), 1862 |

174
(1)

| | |
| --- | --- |
| | To K. K. Sluchevsky, April 14 (26), 1862 |

175
(2)

| | |
| --- | --- |
| | A. I. Herzen to Turgenev, April 9 (21), 1862 |

177
(1)

| | |
| --- | --- |
| | To A. I. Herzen, April 16 (28), 1862 |

178
(1)

| | |
| --- | --- |
| | To Ludwig Pietsch, January 22 (February 3), 1869 |

178
(1)

| | |
| --- | --- |
| | To Ludwig Pietsch, May 22 (June 3), 1869 |

179
(1)

| | |
| --- | --- |
| | To P. V. Annenkov, December 20, 1869 (January 1, 1870) |

179
(1)

| | |
| --- | --- |
| | To Ya. P. Polonsky, December 24, 1869 (January 5, 1870) |

180
(1)

| | |
| --- | --- |
| | To I. P. Borisov, December 24, 1869 (January 5, 1870) |

180
(1)

| | |
| --- | --- |
| | To A. F. Onegin, December 27, 1869 (January 8, 1870) |

180
(1)

| | |
| --- | --- |
| | To A. P. Filosofov, August 18 (30), 1874 |

180
(1)

| | |
| --- | --- |
| | To A. P. Filosofov, September 11 (23), 1874 |

181
(1)

| | |
| --- | --- |
| | To M. E. Saltykov, January 3 (15), 1876 |

181
(1)

| | |
| --- | --- |
| | To A. V. Toporov, November 26 (December 8), 1882 |

182
(1)

| | |
| --- | --- |
| | The Contemporary Reaction |

183
(42)
185
(21)
206
(11)
217
(1)
218
(7)
225
(116)

| | |
| --- | --- |
| | [On Translating Turgenev] |

227
(1)

| | |
| --- | --- |
| | Fathers and Children: Turgenev and the Liberal Predicament |

228
(9)
237
(4)

| | |
| --- | --- |
| | The Politics of Hesitation |

241
(3)
244
(9)
253
(6)

| | |
| --- | --- |
| | [Odintseva's Bath and Bazarov's Dogs] |

259
(11)
270
(3)

| | |
| --- | --- |
| | Fathers and Sons (and Daughters) |

273
(7)
280
(10)

| | |
| --- | --- |
| | Fathers and Sons: Fathers and Children |

290
(10)

| | |
| --- | --- |
| | The Dialectics of Turgenev's Ottsy i deti |

300
(9)

| | |
| --- | --- |
| | [On Characters' Language] |

309
(2)

| | |
| --- | --- |
| | Bazarov and Secenov: The Role of Scientific Metaphor in Fathers and Sons |

311
(9)

| | |
| --- | --- |
| | The Influence of Dostoevsky and Chekhov on Turgenev's Fathers and Sons |

320
(10)
330
(11)
A Chronology
341
(2)
Selected Bibliography
343