Note: Supplemental materials are not guaranteed with Rental or Used book purchases.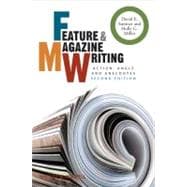 Summary
This fully revised and updated edition of Feature and Magazine Writing covers everything from finding original ideas to locating expert sources. With fresh perspectives and advice from professional writers and editors, this colorfully-written introduction is required reading for anyone who wishes to become a strong feature writer. Includes chapters on connecting content to the calendar, writing for online publications, trends, issues and controversies, and writing dramatic stories New chapters in this edition include 'How To Find A Magazine Job', 'Last Chance: The Final Draft', and 'Writing for Trades, Associations and Organizations' New sections in this edition include 'Improving Your Pizzazz and 'Original Research = Original Articles'
Author Biography
David E. Sumner
is Professor of Journalism and head of the magazine program at Ball State University. He received the "Magazine Educator of the Year" award in 2007 from the Association for Education in Journalism and Mass Communication. To learn more about magazines, visit Professor Sumner's Web site: www.professormagazine.com.
Holly G. Miller is a professional in residence at Anderson University, senior editor of The Saturday Evening Post and freelance contributor to several national magazines.
Table of Contents
Preface: The Future of Magazines is Bright
p. vii
Preparing to Write Feature and Magazine Articles
p. 1
Capturing Reader Attention
p. 3
The Hunt for Fresh Ideas
p. 14
Strong Angles and Focused Ideas
p. 27
Original Research = Original Articles
p. 39
Interviews: Goal-Driven Conversations
p. 57
Selling Feature and Magazine Articles
p. 73
Finding the Right Market
p. 75
Query Letters that Sell
p. 88
Writing Feature and Magazine Articles
p. 103
Hooks, Intros and Leads
p. 105
Action-Filled Writing
p. 116
The Art of the Anecdote
p. 127
Improving Your Pizzazz
p. 138
Don't Botch the Basics
p. 150
Different Types of Feature and Magazine Articles
p. 157
Blurbs, Briefs and Brighteners
p. 159
In Focus: The Well-Balanced Profile
p. 171
Writing Dramatic Stories
p. 190
Help! Writing the How-to Feature
p. 206
Connecting Content to the Calendar
p. 220
Trends, Issues and Controversies
p. 234
Writing to Inspire and Motivate
p. 245
Writing for Professionals and Practitioners
p. 259
Writing for Online Publications
p. 271
Postscript
p. 285
Last Chance: The Final Draft
p. 287
How to Find a Magazine Job
p. 292
Shoptalk-a Glossary Of Magazine Lingo
p. 305
Suggested In-Class Activities and Assignments
p. 315
Index
p. 333
Table of Contents provided by Ingram. All Rights Reserved.