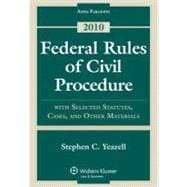 Federal Rules Civil Procedure W/ Select Statutes & Material 2010 [Paperback]
by
Yeazell
Customer Reviews
Extremely helpful!
June 2, 2011
by





This textbook is well organized, easy to follow and most of all it is effective and the content is very easy to understand. Final exam questions have been based off the examples in this textbook for years Overall, I highly recommend this textbook.

Flag Review
---
Federal Rules Civil Procedure W/ Select Statutes & Material 2010 [Paperback]

:
stars based on
1
user reviews.
Summary
To ensure that you have the most up to date and complete materials for your Civil Procedure class, be sure to use Federal Rules of Civil Procedure, with Selected Statutes, Cases, and Other Materials, 2009 Edition .
Completely up to date, this annual supplement includes:
-Federal Rules of Civil Procedure for the United States District Courts
-Appendix of Forms
-Supplemental Rules for Admiralty or Maritime Claims and Asset Forfeiture Actions
-Selected Federal Rules of Appellate Procedure
-The Constitution of the United States
-Selected Provisions from United States Code, Title 28: Judiciary and Judicial Procedure
-Supplementary Cases, including the following primary cases:
-Aguilar v. Immigration & Customs Enforcement Division
-Caperton v. A.T. Massey Coal Co., Inc.
-Taylor v. Sturgel
-Notes and Other Materials