Note: Supplemental materials are not guaranteed with Rental or Used book purchases.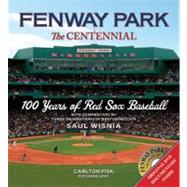 Summary
Honoring the 100th anniversary of Fenway Park, this is a nostalgic and reverent look at America's # 1 baseball shrine--the national treasure that has been home to more than 600 straight sellouts and some of baseball's greatest games and players over the last century Relive 100 years of memories in Fenway Park with this monumental book. With supreme photography, a wealth of memorabilia, and original commentary by three generations of Boston Red Sox players and fans, this book celebrates the stadium in style. It also includes treasures from the Sports Museum of New Englandrarely seen photographs and artifactsthat enhance the nostalgic experience. FENWAY PARK: THE CENTENNIALis a visually stunning and thoroughly engaging celebration of this great monument and its 100 year history. Packed with original essays, commentary and history, this landmark book includes sections on: The inception, construction, and early years of Fenway Park Detailed looks at Red Sox legends from Babe Ruth and Ted Williams to Pedro Martinez and David Ortiz The greatest moments of the Green Monster, Fenway's most famous feature A trip inside the Monster's manually operated scoreboard Fenway fans and their love affair with the legendary stadium through the years Unforgettable seasons, including the Impossible Dream team and the 2004 World Series champs
Author Biography
SAUL WISNIA is a former sports and news correspondent for The Washington Post and feature writer for The Boston Herald who is now a senior publications editor at Dana-Farber Cancer Institute. He has authored, co-authored or otherwise contributed to numerous books on Boston baseball history, and his essays and articles have also appeared in Sports Illustrated, Red Sox Magazine, and The Boston Globe. He lives 6.78 miles from Fenway Park in Newton, MA.
Table of Contents
"A top-notch job."—SportsofBoston.com
"A must read for all baseball fans."—ThroughtheFenceBaseball.com
"An in-depth, stunning and engaging look at 'America's Most Beloved Ballpark'."—NESN
"A terrific look at one of baseball's grandest cathedrals and one of its most famous teams."—HardBallTimes.com