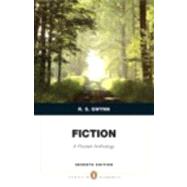 Fiction Pocket Anthology with NEW MyLiteratureLab -- Access Card Package
by
Gwynn, R. S.
Summary
A perfect alternative to massive fiction anthologies, this brief, affordable collection of 44 short stories from the past three centuries provides a concise yet comprehensive introduction to the study of fiction. Chronologically organized ,the anthology includes classic tales from 19thcentury authors like Hawthorne, Poe, Jewett, and de Maupassant; 20thcentury gems by Hawthorne, Irving, Poe, Cather, Hurston, Faulkner, O'Connor, and Richard Wright, among others; and admired stories from contemporary authors like Alice Walker, Jamaica Kincaid, Sherman Alexie, and Jhumpa Lahirireflecting a diverse range of writers and styles.
Author Biography
R. S. Gwynn has edited several other books, including Drama: A Pocket Anthology; Poetry: A Pocket Anthology; Literature: A Pocket Anthology; Inside Literature: Reading, Responding, Writing (with Steven Zani); The Art of the Short Story (with Dana Gioia); and Contemporary American Poetry: A Pocket Anthology (with April Lindner). He has also authored five collections of poetry, including No Word of Farewell: Selected Poems, 1970-2000. He has been awarded the Michael Braude Award for verse from the American Academy of Arts and Letters. Gwynn is University Professor of English and Poet-in-Residence at Lamar University in Beaumont, Texas.
Table of Contents
Introduction
The Telling of the Tale
The Short Story Genre
Reading and Analyzing Short Fiction
Plot
Characterization
Point of View
Theme
Setting
Style and Symbol
Writing about Short Fiction
Fiction
* indicates stories new to this edition
* Washington Irving (1783-1859)
Rip Van Winkle
Nathanel Hawthorne (1804-1864)
The Minister's Black Veil
* Edgar Allan Poe (1809-1849)
The Cask of Amontillado
Sarah Orne Jewett (1849-1909)
A White Heron
Guy de Maupassant (1850-1893)
Mother Savage
Kate Chopin (1851-1904)
The Story of an Hour
Charlotte Perkins Gilman (1860-1935)
The Yellow Wallpaper
Edith Wharton (1862-1937)
Roman Fever
Willa Cather (1876-1947)
Paul's Case
James Joyce (1882-1941)
Araby
Zora Neale Hurston (1891-1960)
Sweat
William Faulkner (1897-1962)
A Rose for Emily
Ernest Hemingway (1899-1961)
Up in Michigan
Richard Wright (1908-1960)
The Man Who Was Almost a Man
* Eudora Welty (1909-2001)
A Memory
John Cheever (1912-1982)
Reunion
Ralph Ellison (1914-1995)
A Party Down at the Square
Shirley Jackson (1919-1965)
The Lottery
Hisaye Yamamoto (B. 1921)
Seventeen Syllables
Grace Paley (B. 1922-2007)
Wants
Flannery O'Connor (1925-1964)
Everything That Rises Must Converge
Richard Yates (1926-1992)
Doctor Jack-o'-Lantern
Gabriel García Márquez (B. 1928)
A Very Old Man with Enormous Wings
Ursula K. Le Guin
The Ones Who Walk Away from Omelas
Chinua Achebe (B. 1930)
Dead Men's Path
Alice Munro (B. 1931)
The Bear Came Over the Mountain
Raymond Carver (1938-1988)
Cathedral
Joyce Carol Oates (B. 1938)
Where Are You Going, Where Have You Been?
Margaret Atwood (B. 1939)
Happy Endings
Bobbie Ann Mason (B. 1940)
Shiloh
Alice Walker (B. 1944)
Everyday Use
* Tobias Wolff (B. 1945)
Hunters in the Snow
* Tim Gautreaux (B. 1947)
Waiting for the Evening News
Jamaica Kincaid (B. 1949)
Girl
Dagoberto Gilb (B. 1950)
Look on the Bright Side
Sandra Cisneros (B. 1954)
Woman Hollering Creek
Louise Erdrich (B. 1954)
The Red Convertible
Gish Jen (B. 1955)
In the American Society
Lorrie Moore (B. 1957)
How to Become a Writer
* Helen Simpson (B. 1959)
Diary of an Interesting Year
Sherman Alexie, (B. 1966)
This Is What It Means to Say Phoenix, Arizona
* Jhumpa :Lahiri (B. 1967)
A Temporary Matter
* Susan Perabo (B. 1969)
The Payoff
Appendix: Stories Listed by Form, Genre, and Theme
Acknowledgments
Index of Critical Terms