Note: Supplemental materials are not guaranteed with Rental or Used book purchases.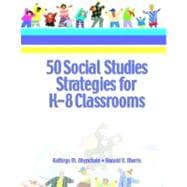 Related Products
Summary
The second edition of "50 Social Studies Strategies for K-8 Classrooms" offers practical social studies strategies that align with the NCSS Curriculum Standards. "50 Social Studies Strategies for K-8 Classrooms" houses general and specific strategies that are categorized by the NCSS Curriculum standards, meet the needs of specific grade level designations, and cover distinct social science disciplines including history, civics, geography, economics, political science, anthropology and literacy. K-8 Social Studies Teachers.
Table of Contents
PART I: GENERAL SOCIAL STUDIES INSTRUCTIONAL STRATEGIES.
1. Case Studies.
2. Community Building.
3. Discovery Learning.
4. Graphic Organizers.
5. Guest Speakers.
6. Inquiry Learning.
7. Learning Centers.
8. Role Playing.
9. Rule Making.
10. Service-Learning.

PART II: SPECIFIC SOCIAL STUDIES STRATEGIES TO ADVANCE UNDERSTANDING.
11. Archaeological Digs.
12. Architecture and Landscape Design Significance.
13. Architecture and Interior Design Significance.
14. Artifacts.
15. Book Report with Crayon Encaustic.
16. Cemetery Studies.
17. Community Maps.
18. Custom Boxes.
19. Decision Trees and Decision Grids.
20. Field Trips of Distinction.
21. Flannel Boards.
22. Folk Art.
23. Folk Music.
24. Game Shows.
25. Genealogies.
26. Globes.
27. Historical Characters.
28. Historical Reenactments.
29. Home Living Centers.
30. Interactive Bulletin Boards.
31. Literature.
32. Media Literacy.
33. Mini-Society.
34. Mock Trials.
35. Model Factory.
36. News Analysis for National Ideas.
37. Newspaper Making.
38. Oral Histories.
39. Pen Pals.
40. Private Records.
41. Public Records.
42. Readers' Theater.
43. Sand Table Maps.
44. Slide Show Oral Report.
45. Story Board.
46. Timelines.
47. Travel Ambassador.
48. Trash Trail.
49. Video Clips.
50. Video Production.

Excerpts
We considered multiple audiences while writing this text. We wanted to fill it with ideas--well-explained, useful, and meaningful ideas that teachers could use to engage their students in learning social studies. We believe this book is of interest to undergraduate elementary and middle-school teacher education students as an additional source and reference for their methods class, and that it will be of assistance to them in their first years of planning social studies instruction in their classroom. This book is also of interest to inservice elementary and middle-school teachers in the social studies field as well as those in graduate classes who are seeking teaching ideas. We hope teacher educators find this book useful as a companion to a more standard methods textbook because of the number and variety of strategies it provides. This book contains 10 general and 40 specific teaching strategies, alphabetically organized, and specifically adapted to the social studies. Designed for use in the K-8 classroom, the strategies can be adapted to fit different classroom configurations and needs. Included in the book's strategies are multiple types of assessment tools so that teachers have options in assessing their students. Further, our commitment to pragmatic instructional practices and multiple examples complements our commitment to research about the social studies field. All of the strategies are organized in the same fashion. Before the introduction to each strategy are several indicators. One indicator highlights the grade-level target(s) of the strategy. While most of the strategies are pertinent across grade levels, each strategy includes notations of K-2 (primary), 3-5 (intermediate), or 6-8 (middle level). A second indicator highlights the link to appropriate National Council for the Social Studies (NCSS) national curriculum standards. These are Roman numerals I through X, and they directly reference the NCSS curriculum standards. A brief overview of these standards follows the Introduction to this text. Some strategies also have a technology icon near the title, indicating the potential use of some form of technology in the particular strategy. Each strategy in this text follows a predictable format. An "introduction" first provides a brief description of the strategy and a rationale as to why it is particularly beneficial. Where appropriate, we have included historical, theoretical, and/or research support for the use of this strategy in social studies. The segment titled "Procedural Recommendations" provides a simple outline of how to prepare for and facilitate or direct the strategy. The section on "Applications and Ideas" includes either a classroom example or an assessment tool, intended to provide a concrete connection to the strategy discussed. Finally, each strategy includes a "References and Resources" list that includes any combination of scholarly support, additional readings and information, Web sites, and/or helpful organizations. This list is intended to help teachers further examine how others have successfully used similar strategies in their classrooms in order to expand and deepen an understanding of the strategy beyond what is presented in this text. We believe that students' learning is enriched and that they enjoy social studies more when they experience a variety of instructional strategies. We hope the strategies described in this text will help teachers plan more effective social studies lessons. We are interested in hearing from our readers about ways to improve upon these strategies or additional strategies they would like to see in future editions. It is our hope that these strategies will encourage social studies teachers to create intellectual and enjoyable learning experiences for their students.