Note: Supplemental materials are not guaranteed with Rental or Used book purchases.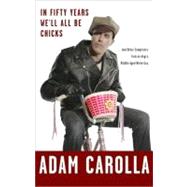 In Fifty Years We'll All Be Chicks
ISBN13:
9780307717375
by
CAROLLA, ADAM
Summary
In Fifty Years We'll All Be Chicks is Adam Carolla's comedic gospel of modern America. In his signature balls-out style, Carolla rips into the absurdity of the culture that made Steve Miller a rock star, demonized the peanut butter and jelly sandwich, turned the nation's bathrooms into a lawless free-for-all of urine and fecal matter, and put its citizens at the mercy of a bunch of minimum wagers with axes to grind. Peppered between complaints Carolla shares candid anecdotes from his day to day life as well as his past-Sunday football at Jimmy Kimmel's house, his attempts to raise his kids in a society that he mostly disagrees with, his big showbiz break, and much, much more. Brilliantly showcasing Adam's spot-on sense of humor, this book cements his status as a cultural commentator/comedian/complainer extraordinaire. From the Hardcover edition.
Table of Contents
Get It On
p. 1
A Little Bit About the Author
p. 2
Kids These Days
p. 12
Where Have All the Fellas Gone?
p. 23
We've Built a Minimum-Wage Gilded Cage
p. 32
Airport 2010
p. 41
That's Entertainment?
p. 55
Motherfucking Nature
p. 79
Bathroom Doos and Don'ts
p. 91
Women, Hear Me Roar
p. 100
A Message to the Fat Cats in Washington
p. 116
God, Religious Tolerance, and Other Shit That Doesn't Exist
p. 144
Foods I Have a Beef With
p. 151
This Chapter Is Not a Hate Crime
p. 172
I Want My Future Back
p. 183
Do Yourself a Favor
p. 207
Time to Gall It a Life
p. 231
Conclusion
p. 245
Acknowledgments
p. 247
Table of Contents provided by Ingram. All Rights Reserved.