Note: Supplemental materials are not guaranteed with Rental or Used book purchases.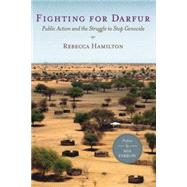 Summary
In 2004 Rebecca Hamilton dropped her comfortable life at Harvard Law and left to spend a year in war-torn Darfur. At that time, Darfur was the first genocide to be witnessed in real time - an amazing test case for world leaders to prove that when they said "never again", they meant it. But after the devastating failure in Rwanda, many were rightly suspicious of their sincerity.Hamilton, and grassroots organizations, across the country refused to give up on Darfur, and came together to lobby the government to do what was right, even when it wasn't in their political interest. And amazingly, it worked. While violence was ongoing Colin Powell declared the situation in Darfur to be a genocide, pushing the United States to make good on it's duties as the leader of the free world. Robert Zoellick, along with Bush's speechwriter Michael Gerson, were outspoken supporters of the Darfuri people, successfully galvanizing the president to declare a policy for the region. And in a move that made international headlines, Mia Farrow shamed Steven Spielberg into dropping his role as an advisor to the Beijing 2008 Olympics over China's deadly economic relationship with Sudan.As talks continue over breaking the Sudan in two, giving Darfur its independence, the historic work of groups like Save Darfur will be increasingly in the news.
Author Biography
Rebecca Hamilton is a special correspondent for The Washington Post in Sudan with support from the Pulitzer Center on Crisis Reporting and a fellow at the New America Foundation. In 2007 she was selected as a Global Young Leader on genocide Prevention for spearheading the campaign for Harvard University to divest from companies doing business with Sudan and working with internally displaced populations in Sudan. She worked for the prosecution at the International Criminal Court in The Hague, including work on their historic Darfur cases. Currently a resident of New York, Hamilton is a graduate of Harvard Law School and the Harvard Kennedy School, as a former Open Society fellow.
Table of Contents
Preface
p. ix
Author's Note
p. xiii
Introduction
p. xv
Acronyms
p. xxi
Before the Outcry
An Ungovernable Land
p. 3
The Stage Is Set for Genocide
p. 13
Darfur Attracts Attention
p. 27
Building the Outcry Rwanda Never Had
Citizens Heed the Call
p. 43
Who Will Deliver Justice?
p. 55
Who Will Provide Protection?
p. 71
Who Will Push for Peace?
p. 83
The Limitations of the Rwanda Model
p. 99
Revisiting Assumptions
Searching for a New Way Forward
p. 119
Moving China
p. 137
The ICC in Action
p. 153
Darfur and Beyond
While We Were Watching Darfur
p. 167
Elections and Expectations
p. 177
Conclusions
p. 193
Acknowledgments
p. 207
Notes
p. 211
Bibliography
p. 241
Index
p. 247
Table of Contents provided by Ingram. All Rights Reserved.
Excerpts
My own family mantra is "with knowledge comes responsibility"
. . . It is taking me on a journey I never could have anticipated or envisioned. A journey that has required everything, everything, everything . . . My deepest conviction is that we have both a responsibility to remember and a responsibility to protect. Genocide is not inevitable or unstoppable—unless we choose to let it happen.
                                                                 —From the preface by Mia Farrow