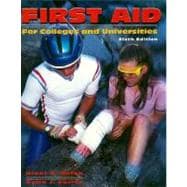 Summary
This book presents the most complete information available from elementary facts to instructions for effective improvisation vital to successful first aid. Primarily focusing on the most common accidents and emergencies a first-aider is likely to encounter, this book is extremely useful to anyone who practices first aid, emergency care, and CPR. Presents a clear, expanded version of legal duty, including guidelines on how to avoid legal liability, culpability for negligence or failure to act. Incorporates a newly added section on how first-aiders can protect themselves from injury and infection in the course of providing care. Features an entirely new section on dental emergencies, providing a thorough understanding of how to treat common dental problems and the importance of providing immediate care. Provides a concise description of body systems, including a succinct summary of what constitutes an emergency involving each system and how to assess; includes comprehensive information on personal protection from the risks posed by blood and air-borne diseases and what to do at an accident scene. For those who perform first aid, emergency care, and/or CPR.
Table of Contents
Preface
Acknowledgments
Introduction to First Aid and Emergency Care
Anatomy and Physiology of Body Systems
Victim Assessment
Basic Life Support: Artificial Ventilation
Basic Life Support: Cardiopulmonary Resuscitation
Bleeding and Shock
Soft-Tissue Injuries
Injuries to the Face, Eye, and Throat
Injuries to the Chest, Abdomen, and Genitalia
Bandaging
Musculoskeletal Injuries
Common Sport and Recreational Injuries
Head and Spine Injuries
Poisoning Emergencies
Drug and Alcohol Emergencies
Cardiovascular and Stroke Emergencies
Respiratory Emergencies
Diabetic Emergencies
Acute Abdominal Distress and Related Emergencies
Epilepsy, Dizziness, and Fainting
Childbirth and Related Emergencies
Pediatric and Geriatric Emergencies
Bites and Stings
Burn Emergencies
Heat and Cold Emergencies
Water Emergencies
Wilderness Emergencies
Psychological Emergencies and Disasters
Lifting and Moving Victims
Vehicle Stabilization and Victim Extrication
Glossary
Index
Table of Contents provided by Publisher. All Rights Reserved.