Note: Supplemental materials are not guaranteed with Rental or Used book purchases.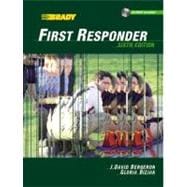 Questions About This Book?
What version or edition is this?
This is the 6th edition with a publication date of 1/1/2001.
What is included with this book?
The New copy of this book will include any supplemental materials advertised. Please check the title of the book to determine if it should include any CDs, lab manuals, study guides, etc.
Summary
This classic text has successfully trained First Responder students for over 25 years. It is the ideal resource for fire service, law enforcement, military, civil, industrial, and emergency personnel seeking First Responder training. The 7th Edition provides solid and thorough coverage of the First Responder National Standard Curriculum and retains features that both students and instructors have relied upon for years, including flow-of-care diagrams and a clear, straightforward reading style. Book jacket.
Table of Contents
Preface
xii
Acknowledgments
xiv
Introduction: Learning to be a First Responder
xvii
UNIT 1 PREPARATORY

| | |
| --- | --- |
| | Introducing the EMS System |

1
(14)

| | |
| --- | --- |
| | National Standard Objectives |

2
(1)
2
(1)
3
(3)

| | |
| --- | --- |
| | Components of the EMS System |

3
(1)

| | |
| --- | --- |
| | Activating the EMS System |

3
(2)

| | |
| --- | --- |
| | The In-Hospital Care System |

5
(1)
5
(1)
6
(7)

| | |
| --- | --- |
| | Roles and Responsibilities |

6
(2)
8
(2)
10
(1)

| | |
| --- | --- |
| | Equipment, Tools, and Supplies |

11
(2)
13
(1)
13
(1)
14
(1)

| | |
| --- | --- |
| | The Well-Being of the First Responder |

15
(16)

| | |
| --- | --- |
| | National Standard Objectives |

16
(1)
16
(2)

| | |
| --- | --- |
| | Emotional Aspects of Emergency Medical Care |

18
(3)
18
(1)
18
(1)

| | |
| --- | --- |
| | Signs and Symptoms of Stress |

19
(1)
20
(1)

| | |
| --- | --- |
| | Body Substance Isolation (BSI) |

21
(8)
21
(1)
22
(2)

| | |
| --- | --- |
| | Bloodborne and Airborne Pathogens |

24
(2)

| | |
| --- | --- |
| | Protecting First Responders |

26
(1)

| | |
| --- | --- |
| | Employee Responsibilities |

27
(1)
27
(1)

| | |
| --- | --- |
| | Hazardous Materials Incidents |

28
(1)
28
(1)
29
(1)
29
(1)
30
(1)
30
(1)
31
(14)

| | |
| --- | --- |
| | National Standard Objectives |

32
(1)
33
(1)
33
(1)
33
(1)
34
(1)
34
(2)
34
(1)
34
(1)
35
(1)
36
(1)

| | |
| --- | --- |
| | Do Not Resuscitate (DNR) Orders |

36
(1)
37
(2)
39
(1)
39
(1)
40
(1)
40
(2)
40
(1)

| | |
| --- | --- |
| | Medical Identification Devices |

41
(1)
41
(1)
42
(1)
42
(1)
43
(1)
43
(2)
45
(14)

| | |
| --- | --- |
| | National Standard Objectives |

46
(1)
46
(1)

| | |
| --- | --- |
| | Overview of the Human Body |

47
(5)
47
(1)
48
(1)
49
(1)
50
(2)
52
(1)
52
(1)

| | |
| --- | --- |
| | Relating Structures to the Body |

53
(5)
58
(1)
58
(1)
58
(1)

| | |
| --- | --- |
| | Lifting and Moving Patients |

59
(26)

| | |
| --- | --- |
| | National Standard Objectives |

60
(1)
60
(1)

| | |
| --- | --- |
| | Principles of Moving Patients |

61
(1)

| | |
| --- | --- |
| | Role of the First Responder |

61
(1)
61
(1)

| | |
| --- | --- |
| | Body Mechanics and Lifting Techniques |

61
(1)

| | |
| --- | --- |
| | Moving and Positioning Patients |

62
(11)
62
(4)
66
(3)

| | |
| --- | --- |
| | Transfer of Patient from Bed to Stretcher |

69
(2)
71
(2)
73
(8)
81
(1)
82
(1)
82
(1)
83
(2)
UNIT 2 AIRWAY
85
(44)

| | |
| --- | --- |
| | National Standard Objectives |

86
(2)
88
(1)
89
(5)
89
(1)
90
(3)
93
(1)
94
(10)
94
(1)
95
(9)
104
(11)

| | |
| --- | --- |
| | Causes of Airway Obstruction |

104
(2)

| | |
| --- | --- |
| | Correcting Upper Airway Obstruction---Foreign Body |

106
(5)

| | |
| --- | --- |
| | Correcting Airway Obstructions---Combined Procedures |

111
(4)
115
(7)
115
(1)
115
(2)
117
(3)
120
(1)
121
(1)
122
(2)
124
(1)
125
(1)
126
(3)
UNIT 3 PATIENT ASSESSMENT

| | |
| --- | --- |
| | Assessment of the Patient |

129
(54)

| | |
| --- | --- |
| | National Standard Objectives |

130
(2)
132
(1)

| | |
| --- | --- |
| | Patient Assessment Components |

132
(8)

| | |
| --- | --- |
| | Medical Patients (No Injuries) |

133
(1)
133
(5)

| | |
| --- | --- |
| | First Responder Assessment-Based Care |

138
(2)
140
(4)

| | |
| --- | --- |
| | Body Substance Isolation Precautions |

140
(1)
141
(1)

| | |
| --- | --- |
| | Mechanism of Injury and Nature of Illness |

141
(2)

| | |
| --- | --- |
| | Number of Patients and the Need for Additional Resources |

143
(1)
143
(1)
144
(8)

| | |
| --- | --- |
| | Form a General Impression |

145
(1)
145
(5)

| | |
| --- | --- |
| | Assess Airway and Breathing |

150
(1)
150
(1)

| | |
| --- | --- |
| | Determine Priority, or Urgency, of Patient Transport |

151
(1)

| | |
| --- | --- |
| | Special Considerations for Infants and Children |

151
(1)
152
(1)

| | |
| --- | --- |
| | Focused History and Physical Exam |

152
(1)

| | |
| --- | --- |
| | Focused History and Physical Exam---Trauma Patient |

153
(1)

| | |
| --- | --- |
| | Focused History and Physical Exam---Medical Patient |

154
(22)

| | |
| --- | --- |
| | Patient Information and History |

156
(4)
160
(1)
160
(1)
160
(6)
166
(6)
172
(1)
173
(3)
176
(1)
176
(2)
178
(1)
178
(1)
179
(4)
UNIT 4 CIRCULATION

| | |
| --- | --- |
| | Cardiopulmonary Resuscitation (CPR) |

183
(44)

| | |
| --- | --- |
| | National Standard Objectives |

184
(1)
184
(2)
186
(1)
187
(9)
188
(1)
188
(1)
189
(1)
190
(6)
196
(14)
196
(3)

| | |
| --- | --- |
| | CPR Techniques for Infants and Children |

199
(5)
204
(3)
207
(1)
208
(2)

| | |
| --- | --- |
| | CPR---Responsibilities of the First Responder |

210
(6)

| | |
| --- | --- |
| | Automated External Defibrillation |

211
(1)

| | |
| --- | --- |
| | The Heart's Conduction System |

212
(1)
213
(2)

| | |
| --- | --- |
| | The Role of the EMS System |

215
(1)

| | |
| --- | --- |
| | Using Automated Defibrillators |

216
(7)
216
(1)
217
(1)

| | |
| --- | --- |
| | Attaching the Defibrillator |

217
(1)

| | |
| --- | --- |
| | Operating the Fully Automatic Defibrillator |

218
(3)

| | |
| --- | --- |
| | Operating the Semiautomatic Defibrillator |

221
(1)

| | |
| --- | --- |
| | Problems Operating a Defibrillator |

222
(1)

| | |
| --- | --- |
| | Assessment and Quality Assurance |

223
(1)
224
(2)
226
(1)
226
(1)
227
(14)

| | |
| --- | --- |
| | National Standard Objectives |

228
(1)
228
(1)
229
(1)

| | |
| --- | --- |
| | Changing to Two-Rescuer CPR |

230
(1)

| | |
| --- | --- |
| | Compressions and Ventilations |

230
(4)
231
(1)
231
(3)
234
(1)
234
(2)
236
(1)
236
(1)
237
(4)
UNIT 5 ILLNESS AND INJURY
241
(54)

| | |
| --- | --- |
| | National Standard Objectives |

242
(2)
244
(1)
244
(2)
244
(1)
245
(1)

| | |
| --- | --- |
| | Specific Medical Emergencies |

246
(19)

| | |
| --- | --- |
| | Chest Pain and Possible Heart Attacks |

246
(4)

| | |
| --- | --- |
| | Congestive Heart Failure (CHF) |

250
(1)
251
(5)
256
(6)
262
(3)

| | |
| --- | --- |
| | Poisonings, Bites, and Stings |

265
(11)
265
(1)
266
(2)
268
(5)
273
(3)
276
(1)
276
(4)
278
(1)
279
(1)
280
(3)

| | |
| --- | --- |
| | Hypothermia (Generalized Cold Emergency) |

280
(1)
281
(2)
283
(3)
283
(1)
284
(1)
284
(1)
285
(1)
286
(5)
287
(1)
288
(3)
291
(3)
294
(1)
294
(1)

| | |
| --- | --- |
| | Bleeding and Soft-Tissue Injuries |

295
(74)

| | |
| --- | --- |
| | National Standard Objectives |

296
(2)
298
(1)
299
(3)
299
(1)
300
(1)
300
(1)
301
(1)
302
(19)
302
(14)
316
(5)
321
(9)
321
(2)
323
(1)

| | |
| --- | --- |
| | Signs and Symptoms of Shock |

324
(2)

| | |
| --- | --- |
| | Preventing and Caring for Shock |

326
(4)
330
(3)
330
(3)
333
(21)
333
(1)
334
(1)
335
(1)
335
(1)

| | |
| --- | --- |
| | Care of Specific Injuries |

336
(18)
354
(10)
354
(2)
356
(1)

| | |
| --- | --- |
| | Rules for First Responders |

357
(1)
357
(2)
359
(5)
364
(2)
366
(1)
367
(2)
369
(80)

| | |
| --- | --- |
| | National Standard Objectives |

370
(1)
370
(3)
373
(1)

| | |
| --- | --- |
| | The Musculoskeletal System |

374
(3)

| | |
| --- | --- |
| | Functions of the Musculoskeletal System |

374
(1)

| | |
| --- | --- |
| | Main Parts of the Skeletal System |

375
(2)

| | |
| --- | --- |
| | Injuries to the Extremities |

377
(8)
377
(2)
379
(2)

| | |
| --- | --- |
| | Signs and Symptoms of Injury to Bones and Joints |

381
(2)
383
(2)
385
(10)
385
(2)
387
(1)
388
(1)

| | |
| --- | --- |
| | First Responder Responsibilities |

389
(1)
389
(4)
393
(2)

| | |
| --- | --- |
| | Management of Upper Extremity Injuries |

395
(7)

| | |
| --- | --- |
| | Injuries to the Shoulder Girdle |

397
(1)

| | |
| --- | --- |
| | Injuries to the Upper Arm Bone |

398
(1)
399
(1)

| | |
| --- | --- |
| | Injuries to the Forearm, Wrist, and Hand |

400
(1)
400
(2)

| | |
| --- | --- |
| | Management of Lower Extremity Injuries |

402
(8)

| | |
| --- | --- |
| | Injuries to the Pelvic Girdle |

402
(6)

| | |
| --- | --- |
| | Injuries to the Upper Leg or Thigh |

408
(1)
408
(1)

| | |
| --- | --- |
| | Injuries to the Lower Leg |

409
(1)

| | |
| --- | --- |
| | Injuries to the Ankle or Foot |

410
(1)
410
(1)
410
(5)
411
(1)
412
(1)
412
(1)

| | |
| --- | --- |
| | The Central Nervous System |

412
(2)
414
(1)
415
(5)
415
(3)
418
(2)
420
(5)
420
(1)

| | |
| --- | --- |
| | Signs and Symptoms of Spinal Injury |

420
(1)
421
(3)

| | |
| --- | --- |
| | Care for Injuries to the Spine |

424
(1)
425
(6)
431
(6)
431
(2)
433
(4)
437
(3)
440
(1)
440
(1)
441
(8)
UNIT 6 CHILDBIRTH AND CHILDREN
449
(30)

| | |
| --- | --- |
| | National Standard Objectives |

450
(1)
450
(2)
452
(3)
452
(1)
453
(1)
454
(1)
455
(12)
455
(3)
458
(3)
461
(5)
466
(1)

| | |
| --- | --- |
| | Complications and Emergencies |

467
(9)
469
(1)
470
(3)
473
(3)
476
(2)
478
(1)
478
(1)
479
(42)

| | |
| --- | --- |
| | National Standard Objectives |

480
(1)
480
(2)
482
(1)

| | |
| --- | --- |
| | Characteristics of Infants and Children |

483
(9)
487
(1)
488
(4)
492
(22)
492
(2)
494
(2)

| | |
| --- | --- |
| | Managing Specific Medical Emergencies |

496
(10)

| | |
| --- | --- |
| | Managing Trauma Emergencies |

506
(8)

| | |
| --- | --- |
| | Suspected Neglect and Abuse |

514
(2)
515
(1)
516
(1)
517
(1)
518
(1)
519
(2)
UNIT 7 EMS OPERATIONS

| | |
| --- | --- |
| | Gaining Access and Triage |

521
(74)

| | |
| --- | --- |
| | National Standard Objectives |

522
(1)
522
(2)
524
(1)
524
(11)
524
(2)
526
(1)

| | |
| --- | --- |
| | The Closed Upright Vehicle |

527
(5)

| | |
| --- | --- |
| | The Overturned Closed Vehicle |

532
(1)
532
(1)

| | |
| --- | --- |
| | Patients Pinned Beneath Vehicles |

533
(1)

| | |
| --- | --- |
| | Patients Caught in Wreckage |

534
(1)
535
(1)

| | |
| --- | --- |
| | First Responder Responsibilities |

535
(1)
535
(1)
536
(5)
536
(1)
537
(1)
538
(1)
538
(2)
540
(1)
541
(9)
541
(3)
544
(1)
545
(3)

| | |
| --- | --- |
| | Helicopter Operations/Air Medical Transport |

548
(2)
550
(1)
551
(1)
552
(1)
APPENDICES

| | |
| --- | --- |
| | Appendix 1, Determining Blood Pressure |

553
(5)

| | |
| --- | --- |
| | Appendix 2, Breathing Aids and Oxygen Therapy |

558
(13)
571
(8)

| | |
| --- | --- |
| | Appendix 4, Swimming and Diving Accidents |

579
(8)

| | |
| --- | --- |
| | Appendix 5, Stress Management |

587
(5)

| | |
| --- | --- |
| | Appendix 6, First Responder Roles and Responsibilities |

592
(3)
Glossary
595
(13)
Index
608