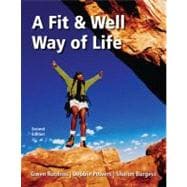 A Fit and Well Way of Life with Exercise Band
by
Robbins, Gwen
McGraw-Hill Humanities/Social Sciences/Languages
Summary
Offering twelve chapters with brief coverage of health Topics, this book is designed for course that is primarily classroom lecture; students are expected to pursue self-guided fitness outside of class, such as seep activity logs and complete lab assignments. Complements a fitness course that is broader in scope and incorporates self-management principles and stress management to build healthy habits. Ideal for a fitness or wellness course with limited credit hours. Offers behavior change strategies throughout and many lab activities offered in the book and even more available online.
Table of Contents
Understanding Wellness
Changing Behavior
Developing and Assessing Physical Fitness
Maximizing Cardiorespiratory Fitness
Developing Flexibility
Developing Muscular Fitness
Exploring Special Exercise Considerations
Preventing Common Injuries and Caring for the Lower Back
Maximizing Heart Health
Coping with Stress
Eating for Wellness
Achieving a Healthy Weight
Table of Contents provided by Publisher. All Rights Reserved.