Note: Supplemental materials are not guaranteed with Rental or Used book purchases.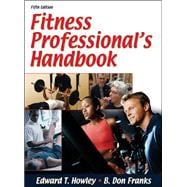 Questions About This Book?
What version or edition is this?
This is the 5th edition with a publication date of 2/9/2007.
What is included with this book?
The Used copy of this book is not guaranteed to include any supplemental materials. Typically, only the book itself is included.
Summary
Fitness Professional's Handbook, Fifth Edition,is back with a new title, an expanded scope, and thoroughly updated material. With three new chapters, numerous ancillaries, and material that reflect the current American College of Sports Medicine (ACSM) guidelines, this text will allow both students and professionals to stay abreast of the latest research and information in the field.Formerly titled Health Fitness Instructor's Handbook,this full-color text has undergone a title change to better reflect its extensive use in the field. Reflective of updates made in the seventh edition of ACSM's Guidelines for Exercise Testing and Prescription,it serves as an essential text for those seeking ACSM health/fitness instructor certification and an invaluable reference for certified fitness professionals striving to stay informed amid ongoing research advances.Every chapter has been updated based on the latest standards, guidelines, and research, allowing readers to explore the newest theories, research findings, and current issues in the field. The following are among the most significant changes to the text:-A completely rewritten chapter on health appraisal that focuses on the sequence of steps to follow in screening participants-Updates based on the most recent dietary guidelines and current standards for nutritional intake-A thorough discussion of how to develop effective exercise prescriptions for strength and endurance in a very small space-A new chapter that focuses on yoga, Pilates, and other mindbody exercises-Additional insight from an expert providing real-life experiences in both fitness- and hospital-based programs and details regarding budget development Through this text, students with little or no background in fitness testing and prescription will learn to screen participants, carry out standardized fitness tests to evaluate major components of fitness, and write appropriate fitness prescriptions. They will also learn how to apply this information to special populations, including children, older adults, women, or those with chronic disease (e.g., hypertension) or a specific condition (e.g., pregnancy). To aid readers with comprehension, the text retains the best features of previous editions, such as reproducible forms, useful key points, interesting sidebars, case study questions and answers, key terms and glossary, and extensive references throughout the book.The text features an array of ancillaries, making it easy for instructors to develop and effectively teach their course. All materials are offered through a convenient product-specific Web site and include a new instructor guide, a revised test bank, and a PowerPoint presentation package that includes art, photos, and tables pulled from the text. In addition, the text's attention to detail regarding the most common fitness tests allows it to be seamlessly integrated into lab experiences associated with fitness assessment.Fitness Professional's Handbook, Fifth Edition,provides readers with comprehensive information on the fundamentals of fitness, exercise physiology, and biomechanics. Updates on assessing muscular fitness, applying guidelines for strength and muscular endurance training for diverse populations, preventing low back pain, and interpreting nutritional guidelines will allow readers to better understand the role of physical activity in the quality of life and how to follow practical guidelines for screening, testing, supervising, and modifying activity for various populations. As such, it will be a useful text for students and a valuable reference for practitioners.
Author Biography
Edward T. Howley is a professor in the department of exercise, sport, and leisure studies at the University of Tennessee at Knoxville.
Table of Contents
Preface
Activity, Fitness, and Health
Physical Activity and Health
The Best of Times and Worst of Times for Physical Activity Professionals
Connections Between Physical Activity and Health
What We Know About Physical Activity, Fitness, and Health
Physical Activity and Prevention of Premature Health Problems
Implications for Fitness Professionals
What Is Necessary to Promote Physical Activity
Case Studies
Physical Fitness and Performance
Physical Fitness Goals
Performance Goals
Components of Physical Fitness and Performance
Behaviors That Support Fitness and Performance Components
Common Behaviors for Fitness and Health
Setting Fitness Goals
Taking Control of Personal Health Status
Case Study
Health Appraisal
Evaluating Health Status
Making Fitness Program
Case Studies
Evaluation of Fitness
Energy Costs of Physical Activity
Ways to Measure Energy Expenditure
Ways to Express Energy Expenditure
Equations for Estimating the Energy Cost of Activities
Energy Requirements of Walking, Running, Cycle Ergometry, and Stepping
Energy Requirements of Other Activities
Case Studies
Cardiorespiratory Fitness
Why Test Cardiorespiratory Fitness?
Risks of CRF Testing
Testing Sequence
Field Tests
Graded Exercise Tests
Common Variables Measured During a GXT
Procedures for Graded Exercise Testing
When to Use Submaximal and Maximal Tests
Case Studies
Appendix
Body Composition
Health and Body Composition
Methods for Assessing Body Composition
Calculating Target Body Weight
Case Study
Nutrition
Six Classes of Essential Nutrients
Assessing Dietary Intake
Recommendations for Dietary Intake
Diet, Exercise, and the Blood Lipid Profile
Nutrition for Physically Active Individuals
Female Athlete Triad
Case Study
Assessment of Muscular Fitness
Preliminary Considerations
Muscular Strength
Local Muscular Endurance
Special Considerations: Older Adults
Special Considerations: Coronary Prone Clients
Considerations when evaluating strength in youth
Conclusions
Case Study
Flexibility and Low Back Function
Factors Affecting ROM
ROM and Low Back Function
Measuring Spine and Hip-Joint ROM
Case Studies
Appendix
Exercise Prescription for Health and Fitness
Exercise Prescription for Cardiorespiratory Fitness
Prescribing Exercise
Short- and Long-Term Responses to Exercise
Public Health Recommendations for Physical Activity
General Guidelines for CRF Programs
Formulating the Exercise Prescription
Determining Intensity
Exercise Recommendations for the Untested Masses
Exercise Programming for the Fit Population
Exercise Prescriptions Using Complete GXT Results
Program Selection
Environmental Concerns
Exercise and Cold Exposure
Effect of Air Pollution
Effect of Altitude
Case Studies
Exercise Prescription for Weight Management
Increasing Prevalence of Obesity in the United States
Etiology of Obesity
Maintaining a Healthy Weight
Behavior Modification Techniques for Weight Loss and Maintenance
Gimmicks and Gadgets for Weight Loss
Disordered Eating Patterns
Strategies for Gaining Weight
Case Study
Exercise Prescription for Muscular Strength and Endurance Training
Principles of Training
Considerations for Program Design
Types of Resistance Training
Modes of Resistance Training
Safety Issues
Resistance Training Guidelines
Overreaching and Overtraining
Resistance Training Systems
Resistance Training for Special Populations
Exercise Prescription Summary for Resistance Training
Case Studies
Appendix
Exercise Prescription for Flexibility and Low Back Function
Anatomy of the Spine
Spinal Movement
Mechanics of the Spine and Hip Joint
Low Back Pain: A Repetitive Microtrauma Injury
Exercise Considerations: Preventive and Therapeutic
An Examination of Exercises That Involve Muscles of the Spine
An Examination of Exercises That Involve the Muscles of the Abdominal Wall
Prophylactic Exercises for Enhancing Low Back Function
Case Studies
Appendix
Exercise Leadership for Health and Fitness
Effective Leadership
Progression of Activities
Walk, Jog, Run Programs
Games
Aquatic Activities
Exercising to Music
Exercise Equipment
Circuit Training
Case Studies
Special Populations
Exercise and Children and Youth
Response to Exercise
Special Considerations
Testing
Recommendations for Physical Activity
Case Studies
Exercise and Older Adults
Overview
Effects of Aging on Fitness
Special Considerations Regarding Exercise Testing
Exercise Prescription
Epilogue
Case Study
Exercise and Women's Health
Pregnancy and Exercise
Osteoporosis
Female Athlete Triad
Case Study
Exercise and Coronary Heart Disease
Atherosclerosis
Populations in Cardiac Rehabilitation Programs
Evidence That Exercise Training Plays a Role
Special Diagnostic Tests to Detect CHD
Typical Exercise Prescription
Case Studies
Exercise and Obesity
Potential Causes
Role of Physical Activity in Prevention and Treatment of Obesity
Special Medical Screening
Exercise Prescription
Case Study
Exercise and Diabetes
Overview
Comparison of Type 1 and Type 2 Diabetes
Importance of Exercise for Diabetic Clients
Screening and Testing Diabetic Clients
Exercise Prescription
Case Study
Exercise, Asthma, and Pulmonary Disease
Chronic Obstructive Pulmonary Diseases
Restrictive Lung Diseases
Evidence That Exercise Plays a Role
Testing and Evaluation
Typical Exercise Prescription in Pulmonary Diseases
Medications for Pulmonary Diseases
Case Studies
Exercise Programming
Behavior Modification
Transtheoretical Model of Behavior Change
Promoting Exercise: Targeting Precontemplators and Contemplators
Enhancing Adherence: Methods of Behavior Change for Participants in the Action and Maintenance Stages
Relapse Prevention
Health Fitness Counseling
Case Studies
Mindful Exercise for Fitness Professionals
Introduction and Key Features of Mindful Exercise
Origins
Yoga
Qigong Exercise and Tai Chi
Contemporary Mindful Exercise Programs
Mindful Exercise Outcome Indicators and Benefits
Final Word
Case Study
Exercise Related to ECG and Medications
Understanding the Structure of the Heart
Oxygen Use by the Heart
Electrophysiology of the Heart
Conduction System of the Heart
Basic Information for Interpreting the ECG
Cardiovascular Medications
Case Studies
Injury Prevention and Treatment
Preventing Injuries
Injury Treatment
Environmental Concerns
Medical Concerns
Common Orthopedic Problems
CPR and Emergency Procedures
Rescue Breathing, CPR, and Use of the Automated External Defibrillator
Case Studies
Program Administration/Management
Strategic Operating Planning
Managing and Evaluating Personnel
Developing a Successful Program
Safety and Legal Concerns
Developing a Budget
Equipment and Record Keeping
Quality Assessment Measures
Case Studies
Scientific Foundations
Functional Anatomy and Biomechanics
Understanding Skeletal Anatomy
Structure and Function of the Joints
Factors That Determine Direction and Range of Motion
Voluntary (Skeletal) Muscle
Tips for Exercising Muscle Groups and Some Common Exercise Mistakes
Muscle Group Involvement in Selected Activities
Basic Mechanical Concepts Related to Human Movement
Common Mechanical Errors During Locomotion, Throwing, and Striking
Case Studies
Exercise Physiology
Relationship of Energy and Work
Understanding Muscle Structure and Function
Metabolic, Cardiovascular, and Respiratory Responses to Exercise
Graded Exercise Test
Effects of Endurance Training and Detraining on Physiological Responses to Exercise
Cardiovascular Responses to Exercise for Females and Males
Cardiovascular Responses to Isometric Exercise and Weightlifting
Regulating Body Temperature
Case Studies
Case Study Answers
Calculation of Oxygen Uptake and Carbon Dioxide Production
Energy Costs of Various Physical Activities
Medications and Their Effects
Evaluation of Fitness
Glossary
Index
About the Authors
About the Contributors
Table of Contents provided by Publisher. All Rights Reserved.