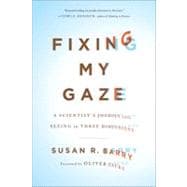 Fixing My Gaze : A Scientist's Journey into Seeing in Three Dimensions
by
Barry, Susan R.
Summary
When neuroscientist Susan Barry was fifty years old, she experienced the deliriously novel sense of immersion in a three-dimensional world. Barry had been cross-eyed since early infancy, and told that there was no way she could ever see in 3-D. But after intensive training, she was able to accomplish what was once considered impossible.
Author Biography
Susan R. Barry is a professor of neurobiology in the Department of Biological Sciences at Mount Holyoke College. She lives in South Hadley, Massachusetts.
Table of Contents
Note to the Reader
p. ix
Foreword
p. xi
Stereoblind
p. 1
Mixed-Up Beginnings
p. 17
School Crossings
p. 35
Knowing Where to Look
p. 47
Fixing My Gaze
p. 69
The Space Between
p. 89
When Two Eyes See as One
p. 105
Nature and Nurture
p. 133
Vision and Revision
p. 155
Acknowledgments
p. 167
Glossary
p. 171
Resources
p. 175
Notes
p. 179
Index
p. 237
Table of Contents provided by Ingram. All Rights Reserved.