Note: Supplemental materials are not guaranteed with Rental or Used book purchases.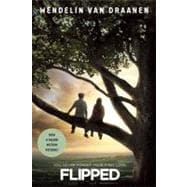 Summary
Wendelin Van Draanenrs"s highly acclaimed he-said, she-said teen romance is going to be a major motion picture. Written and directed by Rob Reiner, the film features a stellar cast, including Madeline Carroll and Callan McAuliffe as Julie and Bryce, and Aidan Quinn, Rebecca De Mornay, Anthony Edwards, Penelope Ann Miller, and John Mahoney. This movie tie-in edition will feature full-color movie stills, an interview with the author, and a preview of her next romantic comedy,Confessions of a Serial Kisser. Flippedis a romance told in two voices. The first time Juli Baker saw Bryce Loski, she flipped. The first time Bryce saw Juli, he ran. Thatrs"s pretty much the pattern for these two neighbors until the eighth grade, when, just as Juli is realizing Bryce isnrs"t as wonderful as she thought, Bryce is starting to see that Juli is pretty amazing. How these two teens manage to see beyond the surface of things and come together makes for a comic and poignant romance.
Author Biography
Books have always been a part of Wendelin Van Draanen's life. Her mother taught her to read at an early age, and she has fond memories of story time with her father, when she and her brothers would cuddle up around him and listen to him read stories.

Growing up, Van Draanen was a tomboy who loved to be outside chasing down adventure. She did not decide that she wanted to be an author until she was an adult. When she tried her hand at writing a screenplay about a family tragedy, she found the process quite cathartic and from that experience, turned to writing novels for adults. She soon stumbled upon the joys of writing for children.

Feedback from her readers is Van Draanen's greatest reward for writing. "One girl came up to me and told me I changed her life. It doesn't get any better than that," she said. Van Draanen hopes to leave her readers with a sense that they have the ability to steer their own destiny—that individuality is a strength, and that where there's a will, there's most certainly a way.

Wendelin Van Draanen is the winner of the 1999 Edgar Allan Poe Award for Best Children's Mystery Book for Sammy Keyes and the Hotel Thief and lives with her husband and two sons in California.


From the Hardcover edition.
Excerpts
Diving Under
All I've ever wanted is for Juli Baker to leave me alone For her to back off-you know, just give me some space.
It all started the summer before second grade when our moving van pulled into her neighborhood. And since we're now about done with the eighth grade, that, my friend, makes more than half a decade of strategic avoidance and social discomfort.
She didn't just barge into my life. She barged and shoved and wedged her way into my life. Did we invite her to get into our moving van and start climbing all over boxes? No! But that's exactly what she did, taking over and showing off like only Juli Baker can.
My dad tried to stop her. "Hey!" he says as she's catapulting herself on board. "What are you doing? You're getting mud everywhere!" So true, too. Her shoes were, like, caked with the stuff.
She didn't hop out, though. Instead, she planted her rear end on the floor and started pushing a big box with her feet. "Don't you want some help?" She glanced my Way. "It sure looks like you need it."
I didn't like the implication. And even though my dad had been tossing me the same sort of look all week, I could tell-he didn't like this girl either. "Hey! Don't do
that," he warned her. "There are some really valuable things in that box."
"Oh. Well, how about this one?" She scoots over to a box labeled LENox and looks my way again. "We should push it together!"
"No, no, no!" my dad says, then pulls her up by the arm. "Why don't you run along home? Your mother's probably wondering where you are."
This was the beginning of my soon-to-become-acute awareness that the girl cannot take a hint. Of any kind. Does she zip on home like a kid should when they've been invited to leave No. She says, "Oh, my mom knows where I am. She said it was fine." Then she points across the street and says, "We just live right over there."
My father looks to where she's pointing and mutters "Oh boy." Then he looks at me and winks as he says, "Bryce, isn't it time for you to go inside and help your mother?"
I knew right off that this was a ditch play. And I didn't think about it until later, but ditch wasn't a play I'd run with my dad before. Face it, pulling a ditch is not something discussed with dads. It's like, against parental law to tell your kid it's okay to ditch someone, no matter how annoying or muddy they might be.
But there he was, putting the play in motion, and man, he didn't have to wink twice. I smiled and said, "Sure thing!" then jumped off the liftgate and headed for my new front door.
I heard her coming after me but I couldn't believe it. Maybe it just sounded like she was chasing me; maybe she was really going the other way. But before I got up the nerve to look, she blasted right past me, grabbing my arm and yanking me along.
This was too much. I planted myself and was about to tell her to get lost when the weirdest thing happened. I was making this big windmill motion to break away from her, but somehow on the downswing my hand wound up tangling into hers. I couldn't believe it. There I was, holding the mud monkey's hand!
I tried to shake her off, but she just clamped on tight and yanked me along, saying, "C'mon!"
My mom came out of the house and immediately got the world's sappiest look on her face. "Well, hello," she says to Juli.
Hi!"
I'm still trying to pull free, but the girl's got me in a death grip. My mom's grinning, looking at our hands and my fiery red face. "And what's your name, honey?"
"Julianna Baker. I live right over there," she says, pointing with her unoccupied hand.
"Well, I see you've met my son," she says, still grinning away.
"Uh-huh!"
Fin
---

Excerpted from Flipped by Wendelin Van Draanen
All rights reserved by the original copyright owners. Excerpts are provided for display purposes only and may not be reproduced, reprinted or distributed without the written permission of the publisher.