Note: Supplemental materials are not guaranteed with Rental or Used book purchases.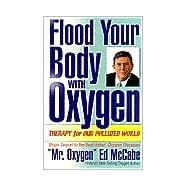 Flood Your Body with Oxygen : Therapy for Our Polluted World
ISBN13:
9780962052729
by
McCabe, Ed
Related Products
Summary
This book honestly examines all the Oxygen Therapies and every issue surrounding their origin, their history, and their use. The book includes a wealth of testimonials and available medical references and examines the therapies and their use in detail. The book is divided into three sections: Part 1: Problems -- everybody gets sick eventually. Here's why. Polluted environments and mass-produced foods grown on de-mineralised mega farm soils have lowered our cellular and fluid oxygen levels. Our too-low inner oxygen levels let toxins and anaerobic (can't live in oxygen) bacteria, viruses, fungi, and pathogens colonise inside us and in our animals, our pets, and in our plants. Anaerobes are the cause of most human, animal, and plant health problems as well as the 'incurable' diseases. Part 2: Solutions -- proven, safe, and effective techniques not taught in our medical schools. These little known techniques have been used safely and effectively on the international scene daily by thousands of doctors to surround microbes and cancer cells with active forms of oxygen that they can't live in. Then how can they live? The body then flushes them out. Therapies, devices, and products, how the doctors use them all over the world, and a consumer-patient guide: What to watch out for. Part 3: Evidence -- historical and modern proof of active oxygen's effectiveness, its 50-year prolific use internationally, and the top quality documentation proving its safety. Lists of doctors, Naturopaths, clinics, products, and contacts. Flood Your Body With Oxygen is written in a lively conversational style for everyone with a body. You, your family, your doctor, the farmers, and everybody else will be amazed at the simple powerful results historically obtained from these unpublicised techniques.