Note: Supplemental materials are not guaranteed with Rental or Used book purchases.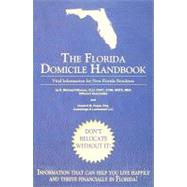 Summary
The Florida Domicile Handbook provides insights into the significant advantages, and especially the financial advantages, of domiciling in Florida. During the current housing crisis, homeowners are alarmed to see the increases in interest rates and realty taxes raising their mortgage payments beyond their reach. Though some reductions in payments can be achieved by searching for special financing, opportunities for significant savings in this area are limited by prevailing money market conditions. More promising are the savings in reality taxes that are possible by changing domicile. Florida has recently enacted legislation through its Homestead Act that limits substantially the annual increases in realty tax. Florida is also one of the few states that has no income tax. These two incentives alone have been a major factor in creating the stream of new residents who have chosen to declare Florida as their principal residence. As the Baby Boomers retire, it is anticipated that this stream will grow into a flood. Anticipating this trend, the authors have written the most comprehensive book on the subject of Florida domiciling. It addresses a variety of topics including: Advantages of Florida domiciling Detailed steps to follow in achieving a Florida domicile When, where and how to buy a home Advice on how to find a good Realtor and lender Legal perspectives into laws affecting new residents How to register and insure cars and boats List of resources and web sites for staying healthy, including state programs, medical initiatives and healthcare coverage options. Estate planning advice
Author Biography
With over 30 years experience in the financial services industry, the last 15 of which have been dedicated to teaching his estate planning strategies to high-net worth families and fellow planners, E. Michael Kilbourn knows the intricacies of estate planning and the benefits of Florida domicile.á The president of Kilbourn Associates in Naples, Florida, Mike Kilbourn is a Family Wealth Transfer Planning Specialist who enjoys taking the worry and mystery out of financial planning.Over the years, Mr. Kilbourn has positioned himself as a leading national authority on estate tax matters and local expert on the complexities of Florida domicile. His sophisticated estate planning abilities have produced remarkable results and secured the trust of hundreds of wealthy individuals and families.á Mike Kilbourn is a decorated Vietnam veteran with five college degrees including four masters' degrees, cum laude, and was inducted into Beta Gamma Sigma. Accredited with fourteen professional designations including Chartered Financial Consultant and Accredited Estate Planner, he is founder and chairman of the Wealth Protection Network«, a national network of estate planning professionals.á Mike Kilbourn is also the author of Disinherit the IRS (Career Press 2001) and contributing author of Optimal Aging Manual (Optimal Aging, LLC, 2004), GivingűPhilanthropy for Everyone (Quantum Press, 2002), 21st Century Wealth: Essential Financial Planning Principles (Quantum Press, 2000) and Ways and Means: Maximize the Value of Your Retirement Savings (Esperti Peterson Institute, 1999).á Howard M. Hujsa is a principal in the Private Clients Group of Cummings & Lockwood LLC's Bonita Springs office. Howard's practice involves estate and gift tax planning, tax-exempt organizations and the administration of estates and trusts. In recognition of his experience, Howard has been certified by the Florida Bar as a Specialist in Wills, Trusts and Estates Law.Howard received his undergraduate degree in History from the University of South Florida in 1986 and his law degree, cum laude, from the University of Miami in 1989. While attending the University of Miami, Howard served as an associate editor of the Inter-American Law Review and was inducted into the Order of the Coif. Howard went on to graduate from the New York University School of Law in 1990 with a Master of Laws degree in Taxation.