Note: Supplemental materials are not guaranteed with Rental or Used book purchases.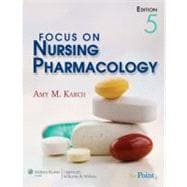 Focus on Nursing Pharmacology
ISBN13:
9780781789820
by
Karch, Amy M.
Questions About This Book?
What version or edition is this?
This is the 5th edition with a publication date of 12/16/2009.
What is included with this book?
The Used copy of this book is not guaranteed to include any supplemental materials. Typically, only the book itself is included.
Summary
This text presents essential pharmacology concepts in a streamlined, user-friendly fashion. Organized by body system, the book explains the rationale for each drug class's therapeutic actions, contraindications, and adverse effects. Each chapter opens with learning objectives and ends with NCLEX-style and other questions. Illustrations, tables, side bars, and boxes summarize concepts and focus attention on critical thinking, patient safety, evidence-based practice, lifespan issues, patient teaching, and case study-based critical thinking exercises.
Table of Contents
PART I Introduction to Nursing Pharmacology 1 Introduction to Drugs 2 Drugs and the Body 3 Toxic Effects of Drugs 4 The Nursing Process in Drug Therapy and Patient Safety 5 Dosage Calculations 6 Challenges to Effective Drug Therapy PART II Chemotherapeutic Agents 7 Introduction to Cell Physiology 8 Anti-Infective Agents Antibiotics 10 Antiviral Agents 11 Antifungal Agents 12 Antiprotozoal Agents 13 Anthelmintic Agents 14 Antineoplastic Agents PART III Drugs Acting on the Immune System 15 Introduction to the Immune Response and Inflammation 16 Anti-Inflammatory, Antiarthritis, and Related Agents 17 Immune Modulators 18 Vaccines and Sera PART IV Drugs Acting on the Central and Peripheral Nervous Systems 19 Introduction to Nerves and the Nervous System 20 Anxiolytic and Hypnotic Agents 21 Antidepressant Agents 22 Psychotherapeutic Agents 23 Anti-seizure Agents 24 Antiparkinsonism Agents 25 Muscle Relaxants 26 Narcotics, Narcotic Antagonists and Antimigraine Agents 27 General and Local Anesthetic Agents 28 Neuromuscular Junction Blocking Agents PART V Drugs Acting on the Autonomic Nervous System 29 Introduction to the Autonomic Nervous System 30 Adrenergic Agonists 31 Adrenergic Blocking Antagonists 32 Cholinergic Agonists 33 Anticholinergic Agents PART VI Drugs Acting on the Endocrine System 34 Introduction to the Endocrine System 35 Hypothalamic and Pituitary Agents 36 Adrenocortical Agents 37 Thyroid and Parathyroid Agents 38 Agents to Control Blood Glucose Levels PART VII Drugs Acting on the Reproductive System 39 Introduction to the Reproductive System 40 Drugs Affecting the Female Reproductive System 41 Drugs Affecting the Male Reproductive System PART VIII Drugs Acting on the Cardiovascular System 42 Introduction to the Cardiovascular System 43 Drugs Affecting Blood Pressure 44 Cardiotonic Agents 45 Antiarrhythmic Agents 46 Antianginal Agents 47 Lipid-Lowering Agents 48 Drugs Affecting Blood Coagulation 49 Drugs Used to Treat Anemias PART IX Drugs Acting on the Renal System 50 Introduction to the Renal System 51 Diuretic Agents 52 Drugs Affecting the Urinary Tract and the Bladder PART X Drugs Acting on the Respiratory System 53 Introduction to the Respiratory System 54 Drugs Acting on the Upper Respiratory Tract 55 Drugs Acting on the Lower Respiratory Tract PART XI Drugs Acting on the Gastrointestinal System 56 Introduction to the Gastrointestinal System 57 Drugs Affecting Gastrointestinal Secretions 58 Drugs Affecting Gastrointestinal Motility 59 Antiemetic Agents Glossary Answer Key Appendices A. Parenteral Agents B. Topical Agents C. Ophthalmic Agents D. Vitamins E. Alternative and Complementary Therapies F. Diagnostic Agents G. Canadian Drug Names H. Canadian Controlled Drug Information I. Canadian Recommended Immunization Schedules Index