Note: Supplemental materials are not guaranteed with Rental or Used book purchases.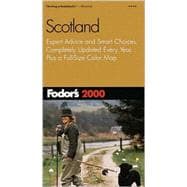 Fodor's Scotland 2000 : Expert Advice and Smart Choices, Completely Updated Every Year, Plus a Full Size Color Map
ISBN13:
9780679003625
by
FODOR'S
Summary
"Fodor's guides are always a pleasure."- The Chicago Tribune "Teeming with maps and loaded with addresses, phone numbers, and directions."- Newsday Experienced and first-time travelers alike rely on Fodor's Gold Guides for rich, reliable coverage the world over. Updated each year and containing a foldout Rand McNally map, a Fodor's Gold Guide is an essential tool for any kind of traveler. If you can only take one guide, this is the guide for you. Let the world's smartest guide enrich your tripVivid descriptions evoke what makes Scotland unique - Local experts show you the special places - Thorough updating keeps you on track - Practical information gives you the tools to explore - Easy-to-use format puts it all at your fingertips Choose among many hotels and restaurants in all price categoriesStay in Victorian town houses, cozy loch-side cottages, baronial castles, and bargain B&Bs - Dine in classic Scots grills, festive brasseries, coaching-inn pubs, and trendy newcomers - Check out hundreds of detailed reviews and learn what's distinctive about each place Mix and match our itineraries and discover the unexpectedSavvy advice helps you decide where to go and when - City walks lead you along Edinburgh's Royal Mile and to Glasgow's Charles Rennie Mackintosh landmarks - Driving tours guide you to stately homes, windswept isles, and hidden Brigadoons -- from the Borders to the Highlands - Find great sources for tartans and tweeds, woolens and whiskies Go straight to the facts you need and find all that's newUseful maps and background information - How to get there and get around - When to go - What to pack - Costs, hours, and tips by the thousands
Table of Contents
On the Road with Fodor's About Our Writers
Don't Forget to Write Smart Travel Tips A to Z Destination
Scotland Beyond the Tartan Plaid
What's Where Pleasures and Pastimes New and Noteworthy
Fodor's Choice Great Itineraries Festivals and Seasonal Events
Edinburgh and the Lothians Glasgow
The Borders and the Southwest Dumfries, Galloway, Sir Walter Scott Country
Fife and Angus St. Andrews, Dundee, and Glamis Castle
The Central Highlands Stirling, Loch Lomond and the Trossachs, Perthshire
Aberdeen and the Northeast Argyll and the Isles Around the Great Glen Inverness, Loch Ness, Speyside, Fort William
The Northern Highlands Sutherland, Isle of Skye, Outer Hebrides
The Northern Isles Orkney, Shetland Scotland
The Home of Golf Golfing Throughout the Country Portrait of Scotland Scotland at a Glance
A Chronology
Index Maps
Table of Contents provided by Publisher. All Rights Reserved.
Excerpts
Destination: Scotland

What's WhereEdinburgh
Scotland's capital makes a strong first impression -- Edinburgh Castle looming from the crags of an ancient volcano; the Royal Mile stretching from the castle to the Palace of Holyroodhouse; the Neoclassical monuments perched on Calton Hill; Arthur's Seat, a small mountain with steep slopes, little crags, and spectacular vistas over the city and the Firth of Forth. Like Rome, Edinburgh is built on seven hills, and it has an Old Town district that retains striking evidence of a colorful history. The medieval Old Town, with its winding closes (narrow, stone-arched walkways) contrasts sharply with the Georgian New Town and its planned squares and streets. But Edinburgh offers more than just a unique architectural landscape -- it's a cosmopolitan capital, rich in museums, pubs, and culture. The influx of Scottish parliamentarians and their associated administrative staff has served to heighten this powerful mix even more. Edinburgh is perhaps best known as the site of the famous International Festival, when tourists and performers descend on the city in late summer to celebrate the arts. Even more obvious to the casual stroller during this time is the refreshingly irreverent Edinburgh Festival Fringe, unruly child of the official festival, which spills out of halls and theaters all over town.
Glasgow
Glasgow, Scotland's largest city, suffered gravely from the industrial decline of the 1960s and '70s, but recent efforts at commercial and cultural renewal have restored much of the style and grandeur it had in the 19th century, at the height of its economic power. Now it is again a vibrant metropolitan center with a thriving artistic life, and it's very proud of its association with and its buildings by two great home-grown architects, Charles Rennie Mackintosh and Alexander Thomson.
The Borders and the Southwest
The Borders area comprises the great rolling hills, moors, wooded river valleys, and farmland that stretch south from Lothian, the region crowned by Edinburgh, to England. All the distinctive features of Scotland -- paper currency, architecture, opening hours of pubs and stores, food and drink, and accent -- start right at the border; you won't find the Borders a diluted version of England. The Dumfries and Galloway region, south of Glasgow, is a hilly and sparsely populated area, divided from England by the Solway Firth; it's a region of somber forests and radiant gardens, where in places the palm is as much at home as the pine.
Aberdeen and the Northeast
Aberdeen, Scotland's third-largest city, is a sophisticated city built largely of glittering granite and is a main port of North Sea oil operations. The Grampian region spreads out to the west, the terrain changing from coastline -- some of the United Kingdom's wildest shorelines of high cliffs and sandy beaches -- to farmland to forests to hills. Here, the Grampian Mountains and the Cairngorms, beautiful regions of heather and forest, granite peaks and deep glens, are ideal terrain for hill walking in warm weather and skiing in cold weather. Here, too, is that picture-postcard land of castles called Royal Deeside, seat of Her Majesty's Balmoral Castle, plus a wealth of distilleries that make up the famous Whisky Trail.
Argyll and the Isles
Argyll, a remote, sparsely populated group of islands in western Scotland that forms part of the Inner Hebridean archipelago, is a transitional area between the Highlands and Lowlands, an environment ranging from lush landscapes to treeless islands, sea lochs to wooded hills. Oban, the hub of transportation for Argyll, is the main sea gateway for Mull and the Southern Islands. The Isle of Mull has a rolling green landscape and its capital, Tobermory, has brightly painted houses that give it Mediterranean look. Iona, near Mull, is Scotland's most important Christian site, with an abbey and a royal graveyard. The Isle of Islay is synonymous with whisky -- it produces seven malts. Jura is covered with wild mountains. Sweeping southward, the long Kintyre Peninsula is a wonderland of sea views, spectacular sunsets, and prehistoric monuments. Arran is more developed than most southern isles, with mist-shrouded mountains in the north and farmland in the south.
Around the Great Glen
The Great Glen cuts through the Southern Highlands from Inverness to Fort William and is ringed by Scotland's tallest mountains and greatest lochs; it is considered by many to be the most dramatic, captivating landscape in Scotland. Of its lochs, the most famous is Loch Ness. Inverness, on the Moray Firth, is a major shipping port and the last substantial outpost as you head north. East of Fort William, Glen Nevis is home to Ben Nevis, Britain's highest peak. Serious climbers come from far and wide to scale it.
The Northern Highlands
The Highlands, a remote and wild area of Scotland, are the source of the country's most breathtaking scenery. The great surprises to unprepared visitors are the changing terrain and the stunning effects of light and shade, cloud, sunshine, and rainbows. In a couple of hours you may pass from heather, bracken, and springy turf to granite rock and bog, to serrated peak and snow-water lake, to the red Torridon sandstone of Wester Ross, and the flowery banks of Loch Ewe and Loch Maree. Sea inlets are deep and fjordlike. The black shapes of the isles cluster like basking whales on the skyline. Cliffs where quartzite gleams above crescents of hard sand lead around a northern shore that looks from the air as though it had been trimmed by an axe. Gaelic-speaking natives on the Isle of Skye live in villages along the coast; the varied interior has forested glens, hills of heather, rocky waterfalls, and the Cuillin Mountains. The Outer Hebrides, also known as the Western Isles, arc outward to the Atlantic; this is possibly the most rugged part of Scotland, with frequent wind and rain, and an often inhospitable landscape where anything that grows seems a gift. In between are hidden coves with awe-striking white-sand beaches and turquoise waters. Westward, the next stop is North America.
---

Excerpted from Fodor's Scotland 2000: Expert Advice and Smart Choices, Completely Updated Every Year, Plus a Full Size Color Map by Fodor's Travel Publications, Inc. Staff
All rights reserved by the original copyright owners. Excerpts are provided for display purposes only and may not be reproduced, reprinted or distributed without the written permission of the publisher.