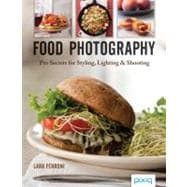 Food Photography Pro Secrets for Styling, Lighting & Shooting
by
Ferroni, Lara
Summary
Top blogger and pro photographer Lara Ferroni serves up a one-stop guide to food-photography success! Packed with her tried-and-true secrets, this comprehensive guide details everything you need to know about sourcing and styling food, drinks, and props. Ferroni profiles several of the industry's top professional food photographers, and includes detailed case studies of their most successful shots--complete with lighting diagrams and equipment setups. This diverse collection of stunning images images and easy-to-follow shooting instructions perfectly encompasses the field of modern food photography, covering everything from blog and editorial photography to corporate advertising and publicity shots.
Author Biography
Lara Ferroni is a successful Seattle-based food photographer and acclaimed food-photography workshop leader. Lara's work has been featured on blogs such as Design*Sponge and ThePictureKitchen.com. Her extensive list of professional clients includes Epicurious.com, Gourmet.com, Imbibe Magazine, Katia's Chocolates, Herbco International, and Seattle Coffee Works, to name a few. Lara's photos have appeared in the Wall Street Journal and the New York Times. She is also the author of the recipe book Doughnuts.
Table of Contents
Introduction
p. 06
The Basics
p. 08
Types of food photography
p. 10
Food photography trends
p. 14
The team
p. 16
A day in the life
p. 20
Photography & Lighting Fundamentals
p. 24
Photography equipment
p. 26
Lighting basics
p. 32
Natural light
p. 34
Artificial light
p. 38
Location lighting
p. 40
Composition
p. 46
Post processing
p. 56
File formats and output
p. 60
Best practices
p. 62
Food & Prop Styling Fundamentals
p. 68
Food styling
p. 70
Food-styling tips
p. 72
Prop-styling tips
p. 88
Styling on location
p. 92
Working with chefs
p. 94
Profiles & Case Studies
p. 96
Photographer profile
p. 98
Case study: A restaurant review
p. 100
Photographer profile
p. 102
Case study: Promotion for a television show
p. 104
Photographer profile
p. 108
Case study: Corporate advertising
p. 112
Case study: Product marketing and packaging
p. 114
Case study: Editorial
p. 116
Photographer profile
p. 118
Case study: Packaging photography
p. 120
Photographer profile
p. 122
Case study: Cookbook photography
p. 123
Photographer profile
p. 124
Case study: Recipe photography
p. 126
Photographer profile
p. 128
Case study: Blog photography
p. 130
Case study: Cookbook photography
p. 131
Photographer profile
p. 132
Case study: Promotional video shoot
p. 134
Photographer profile
p. 136
Case study: Cookbook photography
p. 140
Case study: Magazine editorial
p. 142
Case study: Marketing
p. 144
Photographer profile
p. 146
Case studies: Stock photography
p. 148
Stylist & photographer profiles
p. 152
Case study: Poultry recipes
p. 160
Photographer profile
p. 164
Case study: Stock photography
p. 168
Case study: Marketing
p. 171
Photographer profile
p. 172
Case studies: Stock photography
p. 175
Photographer profile
p. 178
Case studies: Advertising photography
p. 182
Case study: Stock photography
p. 185
Resources
p. 186
Index
p. 188
Acknowledgments
p. 192
Table of Contents provided by Ingram. All Rights Reserved.