Note: Supplemental materials are not guaranteed with Rental or Used book purchases.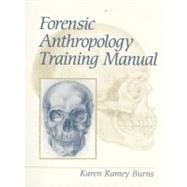 Summary
This new book focuses on the challenges and responsibilities of the forensic scientist, the multidisciplinary nature of the work, and the international potential for the forensic sciences. An excellent introduction to the realities of the profession of forensic scientist. Trains in the description and analysis of human skeletal and dental remains. Offers a well-illustrated approach to osteology training, including: a concentration on vocabulary-building, the use of case studies, and a structured approach to skeletal analysis and report-writing. An excellent text for those considering the field of forensic science.
Author Biography
Karen Ramey Burns, Ph.D. is presently teaching at the University of North Carolina at Charlotte.
Table of Contents
Preface
xv
About The Author
xvii
About The Illustrator
xix
Introduction To Forensic Anthropology
1
(1)
The Basic Problem
2
(1)
Who Are the ``Missing, Unidentified, and Disappeared''?
2
(1)
Why Is Identification so Difficult?
2
(1)
The Discipline of Forensic Anthropology
3
(1)
What Are the Objectives of an Anthropological Investigation?
3
(1)
What Are the Educational Requirements of a Forensic Anthropologist?
4
(1)
How Is the Work of an Anthropologist Different from the Work of a Pathologist or Medical Examiner?
4
(1)
What Are the Stages of Investigation in Forensic Anthropology?
5
(2)
PART I SKELETAL ANATOMY
7
(128)

| | |
| --- | --- |
| | Introduction To Human Osteology |

8
(15)

| | |
| --- | --- |
| | Why Learn Human Osteology? |

9
(1)

| | |
| --- | --- |
| | Practical Applications for Human Osteology |

9
(1)

| | |
| --- | --- |
| | What to Expect from a Human Osteology Course |

9
(1)
9
(1)
9
(1)
10
(1)
10
(1)
10
(1)

| | |
| --- | --- |
| | Information versus Experience |

10
(1)
10
(7)
10
(1)

| | |
| --- | --- |
| | Dense Connective Tissue and Fibrous Tissue |

11
(1)
12
(1)
13
(1)

| | |
| --- | --- |
| | The Building Blocks for Bone |

14
(1)

| | |
| --- | --- |
| | Classification and Description of Bones |

15
(2)

| | |
| --- | --- |
| | Directional and Sectional Terms for the Human Body |

17
(1)

| | |
| --- | --- |
| | Examples of Directions and Sections |

18
(1)
18
(5)

| | |
| --- | --- |
| | The Skull: Cranium, Mandible, And Hyoid |

23
(26)
28
(8)
36
(2)

| | |
| --- | --- |
| | Examining Male and Female Skulls for Sexual Differences |

36
(2)
38
(2)

| | |
| --- | --- |
| | Examining Skulls from Persons of Different Races |

38
(2)
40
(8)
40
(1)
40
(3)

| | |
| --- | --- |
| | Directions for Accurate Measurements |

43
(1)

| | |
| --- | --- |
| | Head Shape and Cranial Indices |

44
(4)

| | |
| --- | --- |
| | Review of Skull Measurement Terms |

48
(1)
48
(1)

| | |
| --- | --- |
| | The Shoulder And Chest (Thorax): Clavicle, Scapula, And Ribs |

49
(11)
50
(1)
50
(2)
51
(1)
52
(2)
54
(4)

| | |
| --- | --- |
| | Costo-Vertebral Articulations |

56
(1)
56
(2)
58
(2)
60
(8)

| | |
| --- | --- |
| | Overview of Vertebral Sections |

61
(3)

| | |
| --- | --- |
| | Cervical Vertebrae (Atlas, Axis, and C3-C7) |

62
(1)

| | |
| --- | --- |
| | Thoracic Vertebrae (T1-T12) |

62
(1)
62
(1)
62
(1)

| | |
| --- | --- |
| | Coccygeal Vertebrae (Coccyx) |

62
(2)

| | |
| --- | --- |
| | Reassembling the Vertebral Column |

64
(1)
64
(1)
64
(1)
64
(1)
64
(4)

| | |
| --- | --- |
| | The Arm: Humerus, Radius, And Ulna |

68
(7)
69
(1)
70
(5)
71
(1)
72
(3)

| | |
| --- | --- |
| | The Hand: Carpals, Metacarpals, And Phalanges |

75
(6)
76
(1)
77
(3)
80
(1)

| | |
| --- | --- |
| | A Method for Sorting Phalanges |

80
(1)

| | |
| --- | --- |
| | The Pelvis (Hip): The Innominate, Composed Of The Ilium, Ischium, And Pubis |

81
(11)

| | |
| --- | --- |
| | The Structure of the Innominate |

82
(2)

| | |
| --- | --- |
| | Side Differences and Specific Structures of the Pelvis |

84
(3)

| | |
| --- | --- |
| | Age Differences in the Male Pubic Symphysis |

87
(5)

| | |
| --- | --- |
| | Examples from the Male Pubic Symphysis |

88
(1)

| | |
| --- | --- |
| | Examples of Six Phases of Pubic Symphysis Aging |

89
(3)

| | |
| --- | --- |
| | The Leg: Femur, Tibia, Fibula, And Patella |

92
(11)
93
(1)
94
(2)
96
(2)
98
(2)

| | |
| --- | --- |
| | Sexual Differences in the Bones of the Leg |

100
(3)

| | |
| --- | --- |
| | The Foot: Tarsals, Metatarsals, And Phalanges |

103
(6)
105
(2)
107
(1)

| | |
| --- | --- |
| | Phalanges: A Finger-Toe Comparison |

108
(1)

| | |
| --- | --- |
| | Human Odontology (The Teeth) |

109
(26)

| | |
| --- | --- |
| | Introduction to Odontology |

110
(3)
113
(1)
114
(2)
114
(1)
114
(1)
115
(1)
115
(1)

| | |
| --- | --- |
| | Tips for Recognizing Similar Teeth |

116
(3)

| | |
| --- | --- |
| | Distinguishing Maxillary Incisors from Mandibular Incisors |

116
(1)

| | |
| --- | --- |
| | Distinguishing Maxillary Premolars from Mandibular Premolars |

117
(1)

| | |
| --- | --- |
| | Distinguishing Maxillary Molars from Mandibular Molars |

118
(1)

| | |
| --- | --- |
| | Recognizing Racial Traits |

119
(1)

| | |
| --- | --- |
| | The Universal Numbering System |

120
(2)
122
(7)

| | |
| --- | --- |
| | Formative Changes in Teeth |

122
(1)

| | |
| --- | --- |
| | Infant and Toddler---Deciduous Dentition |

123
(1)
124
(1)

| | |
| --- | --- |
| | Teenager and Adult---Permanent Dentition |

125
(1)

| | |
| --- | --- |
| | Degenerative Changes in Teeth |

126
(3)
129
(1)
130
(2)
130
(1)
130
(1)
130
(1)
130
(2)
132
(1)

| | |
| --- | --- |
| | The Effects of Long-Term Tooth Loss |

132
(1)
133
(2)
PART II FORENSIC SCIENCE INTERFACE
135
(92)

| | |
| --- | --- |
| | Introduction To The Forensic Sciences |

136
(8)
137
(2)
137
(1)

| | |
| --- | --- |
| | What Evidence is Used in a Court of Low? |

137
(1)
137
(1)

| | |
| --- | --- |
| | Challenges in the Use of Physical Evidence |

138
(1)

| | |
| --- | --- |
| | Death Investigation Specialists |

139
(3)
139
(1)

| | |
| --- | --- |
| | Crime Scene Investigators |

140
(1)
140
(1)
140
(1)
140
(1)
140
(1)
140
(1)
141
(1)

| | |
| --- | --- |
| | Questioned Document Examiners |

142
(1)
142
(1)
142
(1)

| | |
| --- | --- |
| | Which Specialist---Forensic Pathologist, Forensic Anthropologist, or Crime Scene Investigator? |

142
(2)

| | |
| --- | --- |
| | No Visual Identification Possible |

142
(1)

| | |
| --- | --- |
| | Legal Consequence Unlikely |

142
(2)
144
(33)
145
(1)
145
(1)
145
(1)
145
(1)

| | |
| --- | --- |
| | The Basics of Skeletal Analysis |

145
(1)
146
(4)
146
(2)
148
(1)

| | |
| --- | --- |
| | Preparation for Skeletal Material |

148
(2)

| | |
| --- | --- |
| | Skeletal analysis and Description |

150
(8)
150
(1)
151
(1)
152
(2)
154
(1)

| | |
| --- | --- |
| | Stature Determination by Formulae |

155
(2)
157
(1)
158
(8)

| | |
| --- | --- |
| | Timing---When Did the Incident Occur? |

158
(2)

| | |
| --- | --- |
| | Classification---What Caused the Injury? |

160
(6)

| | |
| --- | --- |
| | The Stages of Bone Healing |

166
(2)

| | |
| --- | --- |
| | Timing the Healing Process |

167
(1)
168
(4)
169
(1)
169
(1)
170
(1)
171
(1)

| | |
| --- | --- |
| | A Final Review of the Data |

172
(1)

| | |
| --- | --- |
| | The Basics of Human Identification |

173
(4)
173
(1)
174
(3)
177
(21)

| | |
| --- | --- |
| | Preparation for Field Work |

178
(1)
178
(1)

| | |
| --- | --- |
| | Is the Job Legally, Financially, Physically, and Technically Possible? |

178
(1)
179
(1)
179
(1)
180
(1)

| | |
| --- | --- |
| | Numbering System and Records |

180
(1)
180
(1)
181
(1)
181
(3)
182
(2)

| | |
| --- | --- |
| | Burial Location and Scene Investigation |

184
(2)
184
(1)
185
(1)

| | |
| --- | --- |
| | The Excavation/Exhumation |

186
(2)
186
(2)
188
(7)
195
(1)
195
(1)
196
(1)

| | |
| --- | --- |
| | Boxing and Storage Systems |

196
(1)
196
(2)

| | |
| --- | --- |
| | Items to Recognize and Recover |

196
(1)

| | |
| --- | --- |
| | Completion of Written Documentation |

196
(1)

| | |
| --- | --- |
| | Reconstruction of the Entire Scene from the Photographic Documentation |

196
(2)
198
(6)
199
(1)
199
(1)
199
(1)
199
(1)
199
(1)
199
(2)
200
(1)

| | |
| --- | --- |
| | General Condition of the Evidence |

200
(1)
200
(1)

| | |
| --- | --- |
| | Anthropological Description |

200
(1)
200
(1)
201
(1)
201
(1)
201
(1)
201
(1)
201
(1)
201
(1)
201
(1)
202
(1)
202
(2)

| | |
| --- | --- |
| | What Does It Mean to Be ``Well Prepared''? |

202
(1)

| | |
| --- | --- |
| | How Is Honesty Presented beyond the ``Swearing In''? |

202
(1)

| | |
| --- | --- |
| | How Does a Witness ``Show Respect''? |

202
(2)

| | |
| --- | --- |
| | Human Rights Applications |

204
(23)

| | |
| --- | --- |
| | The Role of the Scientist in Human Rights Work |

205
(3)
205
(1)
205
(1)

| | |
| --- | --- |
| | Human Rights Work Compared with Standard Forensic Work |

206
(2)

| | |
| --- | --- |
| | The Contribution of forensic Anthropology |

208
(4)

| | |
| --- | --- |
| | Scientific Human Rights Missions |

210
(2)

| | |
| --- | --- |
| | Participants in International Missions |

212
(3)

| | |
| --- | --- |
| | Nongovernmental Organizations (NGOs) |

212
(1)

| | |
| --- | --- |
| | Truth Commissions and Commissions of Inquiry |

212
(1)

| | |
| --- | --- |
| | Intergovernment Institutions |

213
(1)

| | |
| --- | --- |
| | Human Rights Groups and Organizations Interested in Science and Human Rights |

213
(1)

| | |
| --- | --- |
| | Philanthropic Agencies and International Funding Agencies |

213
(1)
214
(1)

| | |
| --- | --- |
| | Multinational Forensic Teams |

215
(1)

| | |
| --- | --- |
| | Planning Scientific Missions |

215
(3)
216
(1)
216
(1)
217
(1)

| | |
| --- | --- |
| | Laboratory and Storage Areas |

217
(1)
217
(1)
217
(1)
217
(1)
217
(1)
218
(6)
218
(2)

| | |
| --- | --- |
| | The Major Excavation Mission |

220
(2)
222
(2)

| | |
| --- | --- |
| | Follow-up and Conclusion to the Missions |

224
(1)
224
(1)
225
(1)
225
(1)
225
(1)
225
(2)
Appendix: Forensic Forms
227
(30)
Glossary
257
(9)
Bibliography
266
(7)
Index
273