Note: Supplemental materials are not guaranteed with Rental or Used book purchases.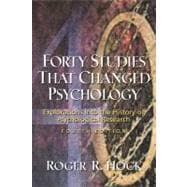 Forty Studies That Changed Psychology : Explorations into the History of Psychological Research
ISBN13:
9780130322630
by
Hock, Roger R.
Questions About This Book?
What version or edition is this?
This is the 4th edition with a publication date of 1/1/2002.
What is included with this book?
The Used copy of this book is not guaranteed to include any supplemental materials. Typically, only the book itself is included.
Summary
For Introductory Psychology, History and Systems in Psychology, and Research Methods courses. This unique book closes the gap between psychology textbooks and the research that made them possible. Its journey through the headline history of psychology presents 40 of the most famous studies in the history of the science, and subsequent follow-up studies that expanded their findings and relevance. Readers are granted a valuable insider's look at the studies that continue to be cited most frequently, stirred up the most controversy when they were published, sparked the most subsequent related research, opened new fields of psychological exploration, and changed most dramatically our knowledge of human behavior.
Table of Contents
Preface
xi

| | |
| --- | --- |
| | Biology and Human Behavior |

1
(32)
1
(9)

| | |
| --- | --- |
| | The split brain in man. Scientific American, 217, 24-29 |

| | |
| --- | --- |
| | More Experience = Bigger Brain? |

10
(7)

| | |
| --- | --- |
| | Brain changes in response to experience. Scientific American, 226, 22-29 |

17
(9)

| | |
| --- | --- |
| | Sources of human psychological differences: The Minnesota study of twins reared apart. Science, 250, 223-229 |

| | |
| --- | --- |
| | Watch Out for the Visual Cliff! |

26
(7)

| | |
| --- | --- |
| | The ``visual cliff.'' Scientific American, 202, 67-71 |

| | |
| --- | --- |
| | Perception and Consciousness |

33
(30)

| | |
| --- | --- |
| | What You See is What You've Learned |

34
(6)

| | |
| --- | --- |
| | Some observations regarding the experiences and behavior of the BaMbuti Pygmies. American Journal of Psychology, 74, 304-308 |

| | |
| --- | --- |
| | To Sleep, No Doubt to Dream... |

40
(7)

| | |
| --- | --- |
| | Regularly occurring periods of eye mobility and concomitant phenomena during sleep. Science, 118, 273-274 |

| | |
| --- | --- |
| | The effect of dream deprivation. Science, 131, 1705-1707. |

47
(7)

| | |
| --- | --- |
| | The brain as a dream-state generator: An activation-synthesis hypothesis of the dream process. American Journal of Psychiatry, 134, 1335-1348 |

| | |
| --- | --- |
| | Acting as if You are Hypnotized |

54
(9)

| | |
| --- | --- |
| | Hypnotic behavior: A congnitive, social, psychological perspective. Research Communications in Psychology, Psychiatry, and Behavior, 7, 199-213 |

| | |
| --- | --- |
| | Learning and Conditioning |

63
(29)

| | |
| --- | --- |
| | It's Not Just About Salivating Dogs! |

63
(7)

| | |
| --- | --- |
| | Conditioned reflexes. London: Oxford University Press |

70
(6)

| | |
| --- | --- |
| | Conditioned emotional responses. Journal of Experimental Psychology, 3, 1-14 |

76
(7)

| | |
| --- | --- |
| | Superstition in the pigeon. Journal of Experimental Psychology, 38, 168-172 |

| | |
| --- | --- |
| | See Aggression...Do Aggression! |

83
(9)

| | |
| --- | --- |
| | Transmission of aggression through imitation of aggressive models. Journal of Abnormal and Social Psychology, 63, 575-582 |

| | |
| --- | --- |
| | Intelligence, Cognition, and Memory |

92
(31)

| | |
| --- | --- |
| | What You Expect is What You Get |

92
(7)

| | |
| --- | --- |
| | Teachers' expectancies: Determinates of pupils' IQ gains. Psychological Reports, 19, 115-118 |

99
(8)

| | |
| --- | --- |
| | Forming impressions of personality. Journal of Abnormal and Social Psychology, 41, 258-290 |

107
(7)

| | |
| --- | --- |
| | Cognitive maps in rats and men. Psychological Review, 55, 189-208 |

114
(9)

| | |
| --- | --- |
| | Leading questions and the eyewitness report. Cognitive Psychology, 7, 560-572 |

123
(31)
123
(8)

| | |
| --- | --- |
| | The nature of love. American Psychologist, 13, 673-685 |

| | |
| --- | --- |
| | Out of Sight, But not Out of Mind |

131
(8)

| | |
| --- | --- |
| | The development of object concept: The construction of reality in the child (pp. 3-96). New York: Basic Books |

| | |
| --- | --- |
| | Born First, Born Smarter? |

139
(7)

| | |
| --- | --- |
| | Birth order and intellectual development. Psychological Review, 82, 74-88 |

| | |
| --- | --- |
| | In Control and Glad of It! |

146
(8)

| | |
| --- | --- |
| | The effects of choice and enhanced personal responsibility for the aged: A field experiment in an institutional setting. Journal of Personality and Social Psychology, 34, 191-198 |

154
(33)
154
(10)

| | |
| --- | --- |
| | Human sexual response. Boston: Little, Brown |

| | |
| --- | --- |
| | I Can See it all Over Your Face! |

164
(7)

| | |
| --- | --- |
| | Constants across cultures in the face and emotion. Journal of Personality and Social Psychology, 17, 124-129 |

171
(8)

| | |
| --- | --- |
| | The Social Readjustment Rating Scale. Journal of Psychosomatic Research, 11, 213-218 |

179
(8)

| | |
| --- | --- |
| | Cognitive consequences of forced compliance. Journal of Abnormal and Social Psychology, 58, 203-210 |

187
(34)

| | |
| --- | --- |
| | Are You the Master of Your Fate? |

188
(8)

| | |
| --- | --- |
| | Generalized expectancies for internal versus external control of reinforcement. Psychological Monographs, 80, 1-28 |

196
(8)

| | |
| --- | --- |
| | The development of children's orientations toward a moral order: Sequence in the development of moral thought. Vita Humana, 6, 11-33 |

| | |
| --- | --- |
| | Racing Against Your Heart |

204
(7)

| | |
| --- | --- |
| | Association of specific overt behavior pattern with blood and cardiovascular findings. Journal of the American Medical Association, 169, 1286-1296 |

211
(10)

| | |
| --- | --- |
| | Individualism and collectivism: Cross-cultural perspectives on self-ingroup reltionships. Journal of Personality and Social Psychology, 54, 323-338 |

221
(31)

| | |
| --- | --- |
| | Who's Crazy Here, Anyway? |

221
(8)

| | |
| --- | --- |
| | On being sane in insane places. Science, 179, 250-258 |

| | |
| --- | --- |
| | You're Getting Defensive Again! |

229
(8)

| | |
| --- | --- |
| | The ego and the mechanisms of defense. New York: International Universities Press |

237
(7)

| | |
| --- | --- |
| | Failure to escape traumatic shock. Journal of Experimental Psychology, 74, 1-9 |

| | |
| --- | --- |
| | Crowding into the Behavioral Sink |

244
(8)

| | |
| --- | --- |
| | Population density and social pathology. Scientific American, 206, 139-148 |

252
(28)

| | |
| --- | --- |
| | Choosing Your Psychotherapist |

252
(6)

| | |
| --- | --- |
| | Meta-analysis of psychotherapy outcome studies. American Psychologist, 32, 752-760 |

258
(8)

| | |
| --- | --- |
| | The systematic desensitization treatment of neuroses. Journal of Nervous and Mental Diseases, 132, 180-203 |

| | |
| --- | --- |
| | Projections of Who You Are |

266
(7)

| | |
| --- | --- |
| | Psychodiagnostics: A diagnostic test based on perception. New York: Grune & Stration |

273
(7)

| | |
| --- | --- |
| | Explorations in personality (pp. 531-545). New York: Oxford University Press |

280
(31)

| | |
| --- | --- |
| | Not Practicing What You Preach Attitudes and actions. Social Forces, 13, 230-237 |

280
(8)
288
(5)

| | |
| --- | --- |
| | Opinions and social pressure. Scientific American, 193, 31-35 |

293
(8)

| | |
| --- | --- |
| | Bystander intervention in emergencies: Diffusion of responsibility. Journal of Personality and Social Psychology, 8, 377-383 |

301
(10)

| | |
| --- | --- |
| | Behavioral study of obedience. Journal of Abnormal and Social Psychology, 67, 371-378 |

Author Index
311
(3)
Subject Index
314