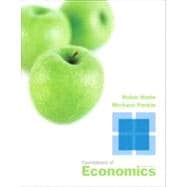 Questions About This Book?
What version or edition is this?
This is the 6th edition with a publication date of 6/28/2012.
What is included with this book?
The Used copy of this book is not guaranteed to include any supplemental materials. Typically, only the book itself is included.
Summary
A practice-oriented learning system that breaks the traditional textbook mold. To help readers focus on the most important concepts-and effectively practice application of those concepts- Foundations of Economicsis structured around a Checklist/Checkpoint system. The result is a patient, confidence-building textbook that prepares readers to use economics in their everyday life, regardless of what their future career will be.
Table of Contents
PART 1: INTRODUCTION
Chapter 1. Getting Started
Chapter 2. The U.S. and Global Economies
Chapter 3. The Economic Problem
Chapter 4. Demand and Supply
PART 2: A CLOSER LOOK AT MARKETS
Chapter 5. Elasticities of Demand and Supply
Chapter 6. Efficiency and Fairness of Markets
PART 3: HOW GOVERNMENTS INFLUENCE THE ECONOMY
Chapter 7. Government Actions in Markets
Chapter 8. Taxes
Chapter 9. Global Markets in Action
PART 4: MARKET FAILURE AND ITS SOLUTIONS
Chapter 10. Externalities
Chapter 11. Public Goods and Common Resources
Chapter 12. Markets with Private Information
PART 5: A CLOSER LOOK AT DECISION MAKERS
Chapter 13. Consumer Choice and Demand
Chapter 14. Production and Cost
PART 6: PRICES, PROFITS, AND INDUSTRY PERFORMANCE
Chapter 15. Perfect Competition
Chapter 16. Monopoly
Chapter 17. Monopolistic Competition
Chapter 18. Oligopoly
PART 7: INCOMES AND INEQUALITY
Chapter 19. Markets for Factors of Production
Chapter 20. Economic Inequality
PART 8: MONITORING THE MACROECONOMY
Chapter 21. GDP: A Measure of Total Production and Income
Chapter 22. Jobs and Unemployment
Chapter 23. The CPI and the Cost of Living
PART 9: THE REAL ECONOMY
Chapter 24. Potential GDP and the Natural Unemployment Rate
Chapter 25. Economic Growth
Chapter 26. Finance, Saving, and Investment
PART 10: THE MONEY ECONOMY
Chapter 27. The Monetary System
Chapter 28. Money, Interest, and Inflation
PART 11: ECONOMIC FLUCTUATIONS
Chapter 29. Aggregate Supply and Aggregate Demand
Chapter 30. Aggregate Expenditure Multiplier
Chapter 31. The Short-Run Policy Tradeoff
PART 12: MACROECONOMIC POLICY
Chapter 32. Fiscal Policy
Chapter 33. Monetary Policy
Chapter 34. International Finance