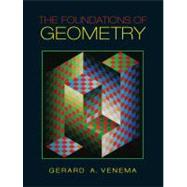 Questions About This Book?
What version or edition is this?
This is the 1st edition with a publication date of 1/1/2005.
What is included with this book?
The Used copy of this book is not guaranteed to include any supplemental materials. Typically, only the book itself is included.
Summary
For sophomore/junior-level courses in Geometry; especially appropriate for students that will go on to teach high-school mathematics.This text comfortably serves as a bridge between lower-level mathematics courses (calculus and linear algebra) and upper-level courses (real analysis and abstract algebra). It fully implements the latest national standards and recommendations regarding geometry for the preparation of high school mathematics teachers. Foundations of Geometry particularly teaches good proof-writing skills, emphasizes the historical development of geometry, and addresses certain issues concerning the place of geometry in human culture.
Table of Contents
Preface
ix
1 Euclid's Elements
1
(16)

| | |
| --- | --- |
| | 1.1 Geometry before Euclid |

1
(1)

| | |
| --- | --- |
| | 1.2 The logical structure of Euclid's Elements |

2
(1)

| | |
| --- | --- |
| | 1.3 The historical importance of Euclid's Elements |

3
(2)

| | |
| --- | --- |
| | 1.4 A look at Book I of the Elements |

5
(3)

| | |
| --- | --- |
| | 1.5 A critique of Euclid's Elements |

8
(3)

| | |
| --- | --- |
| | 1.6 Final observations about the Elements |

11
(6)
2 Axiomatic Systems and Incidence Geometry
17
(14)

| | |
| --- | --- |
| | 2.1 Undefined and defined terms |

17
(1)
18
(1)
18
(1)
19
(1)

| | |
| --- | --- |
| | 2.5 An example of an axiomatic system |

19
(6)

| | |
| --- | --- |
| | 2.6 The parallel postulates |

25
(2)

| | |
| --- | --- |
| | 2.7 Axiomatic systems and the real world |

27
(4)
3 Theorems, Proofs, and Logic
31
(12)

| | |
| --- | --- |
| | 3.1 The place of proof in mathematics |

31
(1)

| | |
| --- | --- |
| | 3.2 Mathematical language |

32
(2)
34
(3)
37
(2)
39
(1)

| | |
| --- | --- |
| | 3.6 The theorems of incidence geometry |

40
(3)
4 Set Notation and the Real Numbers
43
(9)

| | |
| --- | --- |
| | 4.1 Some elementary set theory |

43
(2)

| | |
| --- | --- |
| | 4.2 Properties of the real numbers |

45
(3)
48
(1)

| | |
| --- | --- |
| | 4.4 The foundations of mathematics |

49
(3)
5 The Axioms of Plane Geometry
52
(42)

| | |
| --- | --- |
| | 5.1 Systems of axioms for geometry |

53
(3)
56
(1)

| | |
| --- | --- |
| | 5.3 Existence and incidence |

56
(1)
57
(6)
63
(4)
67
(3)

| | |
| --- | --- |
| | 5.7 Betweenness and the Crossbar Theorem |

70
(14)
84
(5)

| | |
| --- | --- |
| | 5.9 The parallel postulates |

89
(1)
90
(4)
6 Neutral Geometry
94
(41)

| | |
| --- | --- |
| | 6.1 Geometry without the parallel postulate |

94
(1)

| | |
| --- | --- |
| | 6.2 Angle-Side-Angle and its consequences |

95
(2)

| | |
| --- | --- |
| | 6.3 The Exterior Angle Theorem |

97
(5)

| | |
| --- | --- |
| | 6.4 Three inequalities for triangles |

102
(5)

| | |
| --- | --- |
| | 6.5 The Alternate Interior Angles Theorem |

107
(3)

| | |
| --- | --- |
| | 6.6 The Saccheri-Legendre Theorem |

110
(3)
113
(3)

| | |
| --- | --- |
| | 6.8 Statements equivalent to the Euclidean Parallel Postulate |

116
(7)

| | |
| --- | --- |
| | 6.9 Rectangles and defect |

123
(8)

| | |
| --- | --- |
| | 6.10 The Universal Hyperbolic Theorem |

131
(4)
7 Euclidean Geometry
135
(26)

| | |
| --- | --- |
| | 7.1 Geometry with the parallel postulate |

135
(2)

| | |
| --- | --- |
| | 7.2 Basic theorems of Euclidean geometry |

137
(2)

| | |
| --- | --- |
| | 7.3 The Parallel Projection Theorem |

139
(2)
141
(2)

| | |
| --- | --- |
| | 7.5 The Pythagorean Theorem |

143
(2)
145
(2)

| | |
| --- | --- |
| | 7.7 Exploring the Euclidean geometry of the triangle |

147
(14)
8 Hyperbolic Geometry
161
(33)

| | |
| --- | --- |
| | 8.1 The discovery of hyperbolic geometry |

161
(2)

| | |
| --- | --- |
| | 8.2 Basic theorems of hyperbolic geometry |

163
(5)

| | |
| --- | --- |
| | 8.3 Common perpendiculars |

168
(3)

| | |
| --- | --- |
| | 8.4 Limiting parallel rays and asymptotically parallel lines |

171
(10)

| | |
| --- | --- |
| | 8.5 Properties of the critical function |

181
(4)

| | |
| --- | --- |
| | 8.6 The defect of a triangle |

185
(4)

| | |
| --- | --- |
| | 8.7 Is the real world hyperbolic? |

189
(5)
9 Area
194
(31)

| | |
| --- | --- |
| | 9.1 The Neutral Area Postulate |

195
(3)

| | |
| --- | --- |
| | 9.2 Area in Euclidean geometry |

198
(8)

| | |
| --- | --- |
| | 9.3 Dissection theory in neutral geometry |

206
(7)

| | |
| --- | --- |
| | 9.4 Dissection theory in Euclidean geometry |

213
(3)

| | |
| --- | --- |
| | 9.5 Area and defect in hyperbolic geometry |

216
(9)
10 Circles
225
(39)
226
(1)
227
(4)

| | |
| --- | --- |
| | 10.3 Circles and triangles |

231
(7)

| | |
| --- | --- |
| | 10.4 Circles in Euclidean geometry |

238
(6)
244
(3)

| | |
| --- | --- |
| | 10.6 Circumference and area of Euclidean circles |

247
(8)

| | |
| --- | --- |
| | 10.7 Exploring Euclidean circles |

255
(9)
11 Constructions
264
(20)

| | |
| --- | --- |
| | 11.1 Compass and straightedge constructions |

265
(2)

| | |
| --- | --- |
| | 11.2 Neutral constructions |

267
(3)

| | |
| --- | --- |
| | 11.3 Euclidean constructions |

270
(2)

| | |
| --- | --- |
| | 11.4 Construction of regular polygons |

272
(4)
276
(3)

| | |
| --- | --- |
| | 11.6 Three impossible constructions |

279
(5)
12 Transformations
284
(43)

| | |
| --- | --- |
| | 12.1 The transformational perspective |

285
(1)

| | |
| --- | --- |
| | 12.2 Properties of isometrics |

286
(6)

| | |
| --- | --- |
| | 12.3 Rotations, translations, and glide reflections |

292
(8)

| | |
| --- | --- |
| | 12.4 Classification of Euclidean motions |

300
(3)

| | |
| --- | --- |
| | 12.5 Classification of hyperbolic motions |

303
(1)

| | |
| --- | --- |
| | 12.6 A transformational approach to the foundations |

304
(6)

| | |
| --- | --- |
| | 12.7 Euclidean inversions in circles |

310
(17)
13 Models
327
(18)

| | |
| --- | --- |
| | 13.1 The significance of models for hyperbolic geometry |

327
(2)

| | |
| --- | --- |
| | 13.2 The Cartesian model for Euclidean geometry |

329
(2)

| | |
| --- | --- |
| | 13.3 The Poincaré disk model for hyperbolic geometry |

331
(5)

| | |
| --- | --- |
| | 13.4 Other models for hyperbolic geometry |

336
(5)

| | |
| --- | --- |
| | 13.5 Models for elliptic geometry |

341
(4)
14 Polygonal Models and the Geometry of Space
345
(47)
346
(11)

| | |
| --- | --- |
| | 14.2 Approximate models for the hyperbolic plane |

357
(6)
363
(6)

| | |
| --- | --- |
| | 14.4 The geometry of the universe |

369
(6)
375
(1)
375
(9)
384
(8)
APPENDICES
392
(6)
392
(2)
394
(1)
394
(1)
394
(4)
398
(10)
398
(2)
400
(1)
401
(1)
402
(3)
405
(3)

| | |
| --- | --- |
| | C The Postulates Used in this Book |

408
(3)
408
(1)

| | |
| --- | --- |
| | C.2 The postulates of neutral geometry |

408
(1)

| | |
| --- | --- |
| | C.3 The parallel postulates |

409
(1)
409
(1)

| | |
| --- | --- |
| | C.5 The reflection postulate |

410
(1)

| | |
| --- | --- |
| | C.6 Logical relationships |

410
(1)
411
(1)

| | |
| --- | --- |
| | E Hints for Selected Exercises |

412
(9)
Bibliography
421
(4)
Index
425