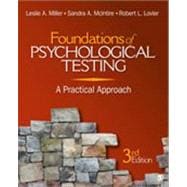 Questions About This Book?
What version or edition is this?
This is the 3rd edition with a publication date of 10/5/2010.
What is included with this book?
The Used copy of this book is not guaranteed to include any supplemental materials. Typically, only the book itself is included.
Summary
The Third Edition of this text offers a straight forward and clear introduction to the basics of psychological testing as well as to psychometrics and statistics for students new to the field. The authors focus on relating core ideas to practical situations that students will recognize and relate to. They provide a variety of pedagogical tools that promote student understanding of the underlying concepts required to interpret and to use test scores. Primarily concerned with preparing students to become informed consumers and users of tests, the text also features a final section focusing on how tests are utilized in three important settings: education, clinical and counseling practice, and organizations. New and Proven Features Instructs using an effective conversational tone, such as in the discussion of true scores and error in classical test theory-concepts with which students typically struggle *new* Incorporates more discussion of specific tests in response to reviewer feedback, with direct examples from published tests and more details of tests featured in 'úTest Spotlights'Ě *new* Provides new material on using validity generalization strategies in pre-employment testing and on traditional versus authentic assessment *new* Includes updates for all relevant chapters to reflect how the APA Standards for Educational and Psychological Testing treats validity as a unitary concept rather than discussing different types of validity *new* focuses on validity as the appropriateness of the inferences made from test scores rather than whether a test measures what it was designed to measure *new* Offers even more discussion questions, useful for guiding classroom learning Features rich pedagogical tools, such as chapter-opening narratives; 'úFor Your Information'Ě boxes highlighting interesting related material; 'úIn the News'Ě boxes featuring testing stories from the news (such as the 2009 Supreme Court decision in Ricci v DeStefano on reverse discrimination) and 'úOn the Web'Ě boxes offering useful web resources (such as the names and URLs for test publishers and how to interpret a Mental Measurements Yearbook entry); summary sections throughout chapters; and chapter-ending 'úEngaging in the Learning Process'Ě sections with interactive learning activities and self-test questionsInstructor ResourcesPassword-protected instructor resources at www.sagepub.com/miller3 include a wide range of test questions, teaching activities, and learning aids. Intended Audience: This is a scholarly, informative, applicable, and appropriate undergraduate and graduate textbook ideal for introductory courses such as Psychological Testing, Psychological Tests & Measures, and Testing & Measurement in departments of psychology and education; and graduate programs in psychology, industrial / organizational psychology, and counseling.
Table of Contents
Overview of Psychological Testing
What Are Psychological Tests?
Why Should You Care About Psychological Testing?
What Are Psychological Tests?
The History of Psychological Testing
Testing Today
The Defining Characteristics of Psychological Tests
Assumptions of Psychological Tests
Test Classification Methods
Psychological Assessment, Psychological Tests, Measurements, and Surveys
Locating Information About Tests
Why Is Psychological Testing Important?
The Importance of Psychological Testing
Who Uses Psychological Tests and for What Reasons?
The Social and Legal Implications of Psychological Testing
Is There a Right or Wrong Way to Use Psychological Tests?
Ethical Standards for Psychological Testing
Appropriate Use of Psychological Tests
Testing Special Populations
How Does Computerized Testing Work?
Computerized Testing
Computerized Adaptive Testing
Web-Based Assessment
Implications for the Future
Psychometric Principles
How Do Test Users Interpret Test Scores?
Levels of Measurement
Procedures for Interpreting Test Scores
Standard Scores
The Role of Norms
What Is Test Reliability?
What Is Reliability?
Three Types of Reliability
Classical Test Theory
The Reliability Coefficient
Using Computer Software to Calculate Reliability
Interpreting Reliability Coefficients
Factors That Influence Reliability
Generalizability Theory
How Do We Gather Evidence of Validity Based the Content of a Test?
Different Sources of Evidence for Validity
The Appropriate Use of Various Validation Strategies
Evidence Based on Test Content / Content Validity
Face Validity
How Do We Gather Evidence of Validity Based a Test's Relationships with External Criteria
What Is Evidence for Validity Based on Test-Criteria Relationships?
Methods for Providing Evidence of Validity Based on Test-Criteria Relationships
Selecting a Criterion
Does the Criterion Measure What It Is Supposed to Measure?
Calculating and Evaluating Validity Coefficients
Using Validity Information to Make Predictions
Ethical Issues Associated With Test Validation
How do we Gather Evidence of Validity Based on a Test's Relationship with Constructs?
Construct Validity
Gathering Evidence of Construct Validity
Factor Analysis
Developing and Piloting Surveys and Psychological Tests
How Do We Construct, Administer, and Use Survey Data?
What Are Surveys?
Knowledge Acquisition and the Scientific Method
The Survey Research Method
Survey Reliability and Validity
How Do You Develop a Test?
Why Develop a New Test?
Defining the Testing Universe, Audience, and Purpose
Developing a Test Plan
Composing the Test Items
Writing Effective Items
Writing the Instructions for the New Test
How Do We Assess the Psychometric Quality of a Test?
The Pilot Test
Quantitative Item Analysis
Qualitative Item Analysis
Revising the Test
Conducting the Validation Study
Developing Norms and Identifying Cut Scores
Developing the Test Manual
Using Tests in Different Settings
How Are Tests Used in Educational Settings?
Decision Making in the Educational Setting
Educators as Test Users
Psychological Test Use in Educational Settings
Norm-Referenced, Criterion-Referenced, and Authentic Assessment of Achievement
How Are Tests Used in Clinical and Counseling Settings?
Models of Psychological Assessment
Tests Used for Diagnosis and Intervention
Neuropsychological Tests
Specialized Tests for Clinical Disorders
How Do Organizations Use Psychological Tests?
A Short History of Employment Testing
Preemployment Testing
Performance Appraisal
Table of Contents provided by Ingram. All Rights Reserved.