Note: Supplemental materials are not guaranteed with Rental or Used book purchases.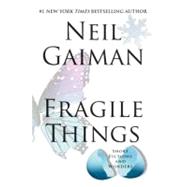 Fragile Things
ISBN13:
9780060515225
by
Gaiman, Neil
HarperCollins Publications
Questions About This Book?
What version or edition is this?
This is the edition with a publication date of 9/26/2006.
What is included with this book?
The New copy of this book will include any supplemental materials advertised. Please check the title of the book to determine if it should include any CDs, lab manuals, study guides, etc.
Summary
A mysterious circus terrifies an audience for one extraordinary performance before disappearing into the night, taking one of the spectators along with it . . .
In a novella set two years after the events of American Gods, Shadow pays a visit to an ancient Scottish mansion, and finds himself trapped in a game of murder and monsters . . .
In a Hugo Award-winning short story set in a strangely altered Victorian England, the great detective Sherlock Holmes must solve a most unsettling royal murder . . .
Two teenage boys crash a party and meet the girls of their dreams—and nightmares . . .
In a Locus Award-winning tale, the members of an excusive epicurean club lament that they've eaten everything that can be eaten, with the exception of a legendary, rare, and exceedingly dangerous Egyptian bird . . .
Such marvelous creations and more—including a short story set in the world of The Matrix, and others set in the worlds of gothic fiction and children's fiction—can be found in this extraordinary collection, which showcases Gaiman's storytelling brilliance as well as his terrifyingly entertaining dark sense of humor. By turns delightful, disturbing, and diverting, Fragile Things is a gift of literary enchantment from one of the most unique writers of our time.
Table of Contents
| | | | |
| --- | --- | --- | --- |
| Introduction | | xi | |
| A Study in Emerald | | 1 | (26) |
| The Fairy Reel | | 27 | (2) |
| October in the Chair | | 29 | (16) |
| The Hidden Chamber | | 45 | (4) |
| Forbidden Brides of the Faceless Slaves in the Secret House of the Night of Dread Desire | | 49 | (16) |
| The Flints of Memory Lane | | 65 | (4) |
| Closing Time | | 69 | (14) |
| Going Wodwo | | 83 | (2) |
| Bitter Grounds | | 85 | (24) |
| Other People | | 109 | (4) |
| Keepsakes and Treasures | | 113 | (20) |
| Good Boys Deserve Favors | | 133 | (6) |
| The Facts in the Case of the Departure of Miss Finch | | 139 | (20) |
| Strange Little Girls | | 159 | (6) |
| Harlequin Valentine | | 165 | (12) |
| Locks | | 177 | (4) |
| The Problem of Susan | | 181 | (10) |
| Instructions | | 191 | (4) |
| How Do You Think It Feels? | | 195 | (10) |
| My Life | | 205 | (4) |
| Fifteen Painted Cards from a Vampire Tarot | | 209 | (10) |
| Feeders and Eaters | | 219 | (10) |
| Diseasemaker's Croup | | 229 | (4) |
| In the End | | 233 | (2) |
| Goliath | | 235 | (14) |
| Pages from a Journal Found in a Shoebox Left in a Greyhound Bus Somewhere Between Tulsa, Oklahoma, and Louisville, Kentucky | | 249 | (6) |
| How to Talk to Girls at Parties | | 255 | (16) |
| The Day the Saucers Came | | 271 | (2) |
| Sunbird | | 273 | (24) |
| Inventing Aladdin | | 297 | (4) |
| The Monarch of the Glen | | 301 | (56) |
| Credits | | 357 | |
Excerpts
Fragile Things
Short Fictions and Wonders
Chapter One
A Study in Emerald
I. The New Friend
Fresh from Their Stupendous European Tour, where they performed before several of the crowned heads of Europe, garnering their plaudits and praise with magnificent dramatic performances, combining both comedy and tragedy, the Strand Players wish to make it known that they shall be appearing at the Royal Court Theatre, Drury Lane, for a limited engagement in April, at which they will present My Look Alike Brother Tom!, The Littlest Violet Seller and The Great Old Ones Come (this last an Historical Epic of Pageantry and Delight); each an entire play in one act! Tickets are available now from the Box Office.
It is the immensity, I believe. The hugeness of things below. The darkness of dreams.
But I am woolgathering. Forgive me. I am not a literary man.
I had been in need of lodgings. That was how I met him. I wanted someone to share the cost of rooms with me. We were introduced by a mutual acquaintance, in the chemical laboratories of St. Bart's. "You have been in Afghanistan, I perceive," that was what he said to me, and my mouth fell open and my eyes opened very wide.
"Astonishing," I said.
"Not really," said the stranger in the white lab coat, who was to become my friend. "From the way you hold your arm, I see you have been wounded, and in a particular way. You have a deep tan. You also have a military bearing, and there are few enough places in the Empire that a military man can be both tanned and, given the nature of the injury to your shoulder and the traditions of the Afghan cave folk, tortured."
Put like that, of course, it was absurdly simple. But then, it always was. I had been tanned nut brown. And I had indeed, as he had observed, been tortured.
The gods and men of Afghanistan were savages, unwilling to be ruled from Whitehall or from Berlin or even from Moscow, and unprepared to see reason. I had been sent into those hills, attached to the—th Regiment. As long as the fighting remained in the hills and mountains, we fought on an equal footing. When the skirmishes descended into the caves and the darkness then we found ourselves, as it were, out of our depth and in over our heads.
I shall not forget the mirrored surface of the underground lake, nor the thing that emerged from the lake, its eyes opening and closing, and the singing whispers that accompanied it as it rose, wreathing their way about it like the buzzing of flies bigger than worlds.
That I survived was a miracle, but survive I did, and I returned to England with my nerves in shreds and tatters. The place that leech like mouth had touched me was tattooed forever, frog white, into the skin of my now withered shoulder. I had once been a crack shot. Now I had nothing, save a fear of the world beneath the world akin to panic, which meant that I would gladly pay sixpence of my army pension for a Hansom cab rather than a penny to travel underground.
Still, the fogs and darknesses of London comforted me, took me in. I had lost my first lodgings because I screamed in the night. I had been in Afghanistan; I was there no longer.
"I scream in the night," I told him.
"I have been told that I snore," he said. "Also I keep irregular hours, and I often use the mantelpiece for target practice. I will need the sitting room to meet clients. I am selfish, private, and easily bored. Will this be a problem?"
I smiled, and I shook my head, and extended my hand. We shook on it.
The rooms he had found for us, in Baker Street, were more than adequate for two bachelors. I bore in mind all my friend had said about his desire for privacy, and I forbore from asking what it was he did for a living. Still, there was much to pique my curiosity. Visitors would arrive at all hours, and when they did I would leave the sitting room and repair to my bedroom, pondering what they could have in common with my friend: the pale woman with one eye bone white, the small man who looked like a commercial traveler, the portly dandy in his velvet jacket, and the rest. Some were frequent visitors, many others came only once, spoke to him, and left, looking troubled or looking satisfied.
He was a mystery to me.
We were partaking of one of our landlady's magnificent breakfasts one morning, when my friend rang the bell to summon that good lady. "There will be a gentleman joining us, in about four minutes," he said. "We will need another place at table."
"Very good," she said, "I'll put more sausages under the grill."
My friend returned to perusing his morning paper. I waited for an explanation with growing impatience. Finally, I could stand it no longer. "I don't understand. How could you know that in four minutes we would be receiving a visitor? There was no telegram, no message of any kind."
He smiled, thinly. "You did not hear the clatter of a brougham several minutes ago? It slowed as it passed us—obviously as the driver identified our door, then it sped up and went past, up into the Marylebone Road. There is a crush of carriages and taxicabs letting off passengers at the railway station and at the waxworks, and it is in that crush that anyone wishing to alight without being observed will go. The walk from there to here is but four minutes. . . ."
He glanced at his pocket watch, and as he did so I heard a tread on the stairs outside.
"Come in, Lestrade," he called. "The door is ajar, and your sausages are just coming out from under the grill."
Fragile Things
Short Fictions and Wonders
. Copyright © by Neil Gaiman . Reprinted by permission of HarperCollins Publishers, Inc. All rights reserved. Available now wherever books are sold.
---

Excerpted from Fragile Things: Short Fictions and Wonders by Neil Gaiman
All rights reserved by the original copyright owners. Excerpts are provided for display purposes only and may not be reproduced, reprinted or distributed without the written permission of the publisher.