Note: Supplemental materials are not guaranteed with Rental or Used book purchases.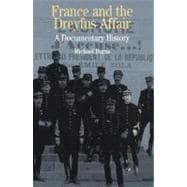 France and the Dreyfus Affair A Brief Documentary History
ISBN13:
9780312111670
by
Burns, Michael
Summary
The Dreyfus affair the infamous account of Jewish army officer and French citizen, Alfred Dreyfus, unjustly convicted of treason in 1894 was the most significant political and social crisis of fin-de-siecle Europe. In the first book designed to introduce students to the broad outlines and significant legacies of the affair, the author deftly interweaves text with documents, tracing the course of events. He highlights the many issues connected with the case, including anti-Semitism, militant nationalism, socialism, the birth of modern Zionism, and the separation of church and state. Sixty-six documents are embedded in the narrative, offering students a broad range of sources to examine, including newspaper editorials, letters, trial testimony, and diary entries. A list of the principal characters is included in the appendices.
Author Biography
Michael Burns (Ph.D., Yale University) is professor of modern European history at Mount Holyoke College and has taught at Yale University and the École des Hautes Études. His publications on the Dreyfus affair include Rural Society and French Politics: Boulangism and the Dreyfus Affair (1984) and Dreyfus: A Family Affair, from the French Revolution to the Holocaust (1992), which was awarded the Prix Bernard Lecache of the International League against Racism and Anti-Semitism. Burns serves as advisory editor for the Blackwell series New Perspectives on the Past.
Table of Contents
Foreword
v
Preface
vii
1
(20)

| | |
| --- | --- |
| | Election Campaign Speech, November 1, 1898 |

7
(3)

| | |
| --- | --- |
| | Jews in the Army, May 23, 1892 |

10
(3)

| | |
| --- | --- |
| | Exchange in the Chamber of Deputies, June 25, 1892 |

13
(2)

| | |
| --- | --- |
| | Funeral Oration, June 26, 1892 |

15
(2)

| | |
| --- | --- |
| | Military Personnel Record of Alfred Dreyfus, 1882--1892 |

17
(4)
21
(19)
22
(5)

| | |
| --- | --- |
| | Arrest and Interrogation, October 15, 1894 |

27
(3)

| | |
| --- | --- |
| | Interrogation of Alfred Dreyfus, October 18-November 29, 1894 |

30
(3)

| | |
| --- | --- |
| | High Treason, November 1, 1894 |

33
(4)

| | |
| --- | --- |
| | Account of the Court-Martial Dossier, December 1894 |

37
(1)

| | |
| --- | --- |
| | Letter to Luice Dreyfus, December 18, 1894 |

38
(2)
40
(21)

| | |
| --- | --- |
| | Witnesses for the Prosecution, December 1894 |

41
(2)

| | |
| --- | --- |
| | The Verdict, December 22, 1894 |

43
(1)

| | |
| --- | --- |
| | My Secret Diary of the Dreyfus case, December 23, 1894 |

44
(2)

| | |
| --- | --- |
| | The Times of London, December 24, 1894 |

46
(3)

| | |
| --- | --- |
| | Letter to Alfred Dreyfus, January 2, 1895 |

49
(1)

| | |
| --- | --- |
| | Letter to Luice Dreyfus, January 2, 1895 |

50
(1)

| | |
| --- | --- |
| | The Punishment, January 6, 1895 |

51
(3)

| | |
| --- | --- |
| | Account of the Dreyfus Degradation, January 6, 1895 |

54
(5)

| | |
| --- | --- |
| | Devil's Island Diary, April 14, 1895 |

59
(2)
61
(26)
62
(2)

| | |
| --- | --- |
| | Memories of Esterhazy January 1898 |

64
(3)

| | |
| --- | --- |
| | Havas Press Agency, Dreyfus Escapes! September 3, 1896 |

67
(1)

| | |
| --- | --- |
| | Petition to the Chamber of Deputies, September 18, 1896 |

68
(3)

| | |
| --- | --- |
| | The Henry Forgery, October 1896 |

71
(1)

| | |
| --- | --- |
| | The Clairvoyant and the President, February 1895 |

72
(4)

| | |
| --- | --- |
| | A Judicial Error, November 1896 |

76
(4)

| | |
| --- | --- |
| | Letter to Esterhazy, October 1897 |

80
(2)

| | |
| --- | --- |
| | Letter in Le Figaro, November 16, 1897 |

82
(2)
84
(3)
87
(25)

| | |
| --- | --- |
| | The Uhlan Letter, November 28, 1897 |

88
(2)

| | |
| --- | --- |
| | Ferdinand Walsin-Esterhazy |

| | |
| --- | --- |
| | Letter to General de Pellieux, December 2, 1897 |

90
(3)

| | |
| --- | --- |
| | Ferdinand Walsin-Esterhazy |

| | |
| --- | --- |
| | J'Accuse!, January 13, 1898 |

93
(19)

| | |
| --- | --- |
| | Call to Women, March 25--27, 1898 |

112
(38)

| | |
| --- | --- |
| | Les Izolatres, March 3, 1898 |

115
(3)

| | |
| --- | --- |
| | The Socialist Concern, 1898 |

118
(4)

| | |
| --- | --- |
| | First Blood, September 6--7, 1898 |

122
(4)

| | |
| --- | --- |
| | My Secret Diary of the Dreyfus Case, September 26, 1898 |

126
(2)

| | |
| --- | --- |
| | I Have Had My Say, September 21, 1898 |

128
(2)

| | |
| --- | --- |
| | The Henry Monument, December 1898-January 1899 |

130
(7)

| | |
| --- | --- |
| | Letter to Luice Dreyfus, June 1, 1899 |

137
(1)

| | |
| --- | --- |
| | Announcement of the Second Court-Martial, June 5, 1899 |

138
(1)

| | |
| --- | --- |
| | Letter to Alfred Dreyfus, July 1, 1899 |

139
(5)

| | |
| --- | --- |
| | The Tragedy of Dreyfus, August 7, 1899 |

144
(4)

| | |
| --- | --- |
| | Impressions of a Spectator, September 9, 1899 |

148
(2)
150
(14)

| | |
| --- | --- |
| | Report to Queen Victoria, September 16, 1899 |

152
(4)

| | |
| --- | --- |
| | The Pardon, September 10-13, 1899 |

156
(4)

| | |
| --- | --- |
| | The Fifth Act, September 12, 1899 |

160
(3)

| | |
| --- | --- |
| | Declaration of Innocence, September 19, 1899 |

163
(1)

| | |
| --- | --- |
| | Minister of War Gaston de Galliffet, Proclamation to the Army, September 21, 1899 |

163
(1)
164
(41)

| | |
| --- | --- |
| | Eulogy for Emile Zola, October 5, 1902 |

167
(2)

| | |
| --- | --- |
| | Reflections on Bernard Lazare, 1910 |

169
(4)

| | |
| --- | --- |
| | Petition to the Minister of Justice, November 25, 1903 |

173
(3)

| | |
| --- | --- |
| | Annulment of the Rennes Verdict, July 12, 1906 |

176
(1)

| | |
| --- | --- |
| | Painful Reverie, July 20, 1906 |

177
(3)

| | |
| --- | --- |
| | Letter to Alfred Dreyfus, June 6, 1908 |

180
(5)

| | |
| --- | --- |
| | Memories of the Affair, 1935 |

185
(4)

| | |
| --- | --- |
| | A Theory of Innocence, January 31, 1994 |

189
(2)

| | |
| --- | --- |
| | President of the Republic, Letter on the Centenary of ``J'Accuse,'' January 1998 |

191
(2)
APPENDICES

| | |
| --- | --- |
| | Chronology of Events Related to the Dreyfus Affair (1859--1998) |

193
(5)

| | |
| --- | --- |
| | List of Principal Characters |

198
(3)
201
(4)
Index
205