Note: Supplemental materials are not guaranteed with Rental or Used book purchases.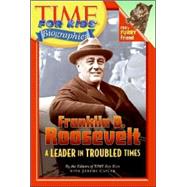 Franklin D. Roosevelt: A Leader In Troubled Times
ISBN13:
9780060576165
by
EDITORS OF TIME FOR KIDS
HarperCollins Publications
Summary
Take a close-up look at Franklin D. Roosevelt, the President who led the U.S. through the depression and World War II. Interviews with experts and lively writing deliver the accurate reporting you expect from TIME For Kids. Historical and contemporary photographs capture the life of this courageous leader and show how his innovative programs still help us today. Book jacket.
Table of Contents
The First Fireside Chat
p. 1
Franklin's Early Years
p. 4
Leaving Home for School
p. 10
Going into Politics
p. 14
A Run for President
p. 20
Welcome to the White House
p. 26
America Goes to War
p. 32
A Sad Farewell
p. 38
Interview: Talking About Franklin
p. 42
Time Line: Franklin D. Roosevelt's Key Dates
p. 44
Table of Contents provided by Ingram. All Rights Reserved.
Excerpts
Time For Kids: Franklin D. Roosevelt
A Leader in Troubled Times
Chapter One
The First Fireside Chat
Times were tough all across America. Millions of people were out of work, businesses and banks had closed, and too many people were hungry and homeless. In Houston, Texas, Myra King Whitson and her children crowded around the radio to hear the new President speak. It was around 9 p.m. on Sunday, March 12, 1933. At first the radio crackled and hissed. Then the President's voice was clear. Franklin Delano Roosevelt talked about the country's money problems. He described his hopes and plans for the nation. To Whitson, he sounded calm and thoughtful. When she was done listening, Whitson wrote her new President a letter. "Our radio seemed to bring you to us in person," she wrote. "There is a deep happiness -- a feeling that we have a real share in our government."
Every time he spoke on the radio, Americans listened closely. They wanted to hear the President talk about the country's problems and his ideas for fixing them. Roosevelt received thousands of letters after his first "fireside chat." Ordinary citizens -- adults and children -- wrote to Roosevelt with suggestions on how to help the nation overcome its problems.
During some of the saddest days in American history, President Roosevelt offered comfort with his hopeful words. He reminded people that they had the strength to carry on when things weren't going well. He encouraged them to keep trying.
Roosevelt had promised to find a job for every American who wanted to work. He also wanted to help people enjoy life. "Happiness lies not in the mere possession of money," he said. To Roosevelt, being happy meant enjoying nature, reading books, learning new things, and laughing with friends.
This is the story of Franklin Delano Roosevelt, a President who helped many Americans and who brightened some of the nation's darkest times.
Time For Kids: Franklin D. Roosevelt
A Leader in Troubled Times
. Copyright © by Robert Editors of TIME For Kids. Reprinted by permission of HarperCollins Publishers, Inc. All rights reserved. Available now wherever books are sold.
---

Excerpted from Franklin D. Roosevelt: A Leader in Troubled Times by Time for Kids Magazine Staff
All rights reserved by the original copyright owners. Excerpts are provided for display purposes only and may not be reproduced, reprinted or distributed without the written permission of the publisher.