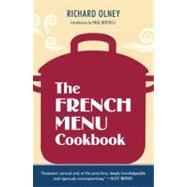 Summary
Originally published in 1970, The French Menu Cookbook is one of the most important culinary works of the twentieth century. it has served as a foundational resource and beacon to cooks worldwide--including visionaries like Alice Waters - who redefined American cuisine. Well ahead of his time, Olney champions a seasonal approach to cooking and provides thoughtful, intriguing wine pairings. This revolutionary text offers masterfully arranged menus for every occasion, from casual dinners for two to decadent soirees. In paperback For The first time, this celebrated kitchen classic is a must-have for adventurous home cooks, chefs, gourmets, and Francophiles alike.
Author Biography
RICHARD OLNEY was born and raised in Iowa, one of eight children in a quintessential American family. After relocating to a Parisian suburb in 1951 and then buying a run-down property in Provence, Olney settled in France permanently. The author of eight books, Olney passed away at his Proven?ɬÅal home in the summer of 1999.


From the Hardcover edition.