Note: Supplemental materials are not guaranteed with Rental or Used book purchases.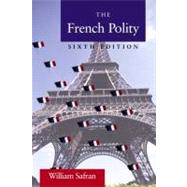 Questions About This Book?
What version or edition is this?
This is the 6TH edition with a publication date of 1/1/2003.
What is included with this book?
The Used copy of this book is not guaranteed to include any supplemental materials. Typically, only the book itself is included.
Summary
Beautifully written and logically organized, The French Polity, Sixth Edition, provides vital insight into the changing and constant character of the intricate French political scene. Recent, sometimes dramatic, changes have taken place in French politics in the last several years. This book features comprehensive and up-to-date coverage of all aspects of contemporary French politics, policy, and society with a lucid institutional approach that focuses on the executive, political parties, parliament, the judiciary, and interest groups, as well as civil liberties, public policy, and administration.
Table of Contents
xi
Preface
xiii
Abbreviations and Acronyms
xv

| | |
| --- | --- |
| | France: The Historical and Constitutional Background |

1
(22)

| | |
| --- | --- |
| | The Legacy of the Revolution |

3
(4)

| | |
| --- | --- |
| | The Rise and Fall of the Fourth Republic |

7
(2)

| | |
| --- | --- |
| | The Sources and Nature of the Fifth Republic Constitution |

9
(5)

| | |
| --- | --- |
| | Constitutional Interpretation and Adaptation |

14
(7)
21
(2)

| | |
| --- | --- |
| | The Economic and Social Context |

23
(28)
23
(5)

| | |
| --- | --- |
| | Social Classes and Mobility |

28
(4)
32
(6)
38
(3)
41
(3)
44
(7)

| | |
| --- | --- |
| | Patterns and Perspectives of Political Culture |

51
(22)

| | |
| --- | --- |
| | Approaches to French Political Culture |

51
(8)

| | |
| --- | --- |
| | Civic and Uncivic Attitudes |

51
(4)

| | |
| --- | --- |
| | Verbal and Practical Behavior |

55
(4)
59
(4)
63
(3)
66
(7)

| | |
| --- | --- |
| | Political Parties and Elections |

73
(74)
79
(1)
80
(2)

| | |
| --- | --- |
| | The Origins and Evolution of Gaullism: From the RPR to the Union pour la Majorite |

82
(1)

| | |
| --- | --- |
| | The Political ``Center'': From Classic Provincialism to the Union pour la Democratie Francaise |

83
(5)
84
(1)
84
(1)
84
(1)

| | |
| --- | --- |
| | The Elections of 1974 and the Emergence of Giscardo-Centrism |

85
(3)

| | |
| --- | --- |
| | The Left in Power: 1981 and After |

88
(3)

| | |
| --- | --- |
| | The Right and Center in Opposition |

91
(1)

| | |
| --- | --- |
| | The Rise of the National Front |

92
(1)

| | |
| --- | --- |
| | The Parliamentary Election of 1986: Introduction to Power Sharing |

93
(1)

| | |
| --- | --- |
| | The Presidential and Parliamentary Elections of 1988 |

94
(2)
96
(1)

| | |
| --- | --- |
| | The Parliamentary Elections of 1993 |

97
(6)
97
(3)
100
(2)

| | |
| --- | --- |
| | The Marginalization of the Environmentalists and the Containment of the Extreme Right |

102
(1)

| | |
| --- | --- |
| | The Presidential Elections of 1995 |

103
(2)

| | |
| --- | --- |
| | The Parliamentary Elections of 1997 |

105
(3)
108
(8)

| | |
| --- | --- |
| | The Functional Relevance of Political Parties |

116
(10)
116
(1)
117
(2)
119
(3)

| | |
| --- | --- |
| | Voters' Choices, Programs, and Personalities |

122
(4)

| | |
| --- | --- |
| | The Electoral System: Its Impact on Parties and Voting Behavior |

126
(7)

| | |
| --- | --- |
| | Political Fringe Groups, Clubs, and Movements |

133
(3)
136
(1)
137
(10)
147
(30)
147
(5)
152
(2)
154
(1)
155
(2)

| | |
| --- | --- |
| | Miscellaneous Interest Groups |

157
(1)

| | |
| --- | --- |
| | The Access and Input of Interest Groups |

157
(2)

| | |
| --- | --- |
| | Pluralist, Corporatist, and Other Models of Interest-Group Politics |

159
(12)
171
(6)

| | |
| --- | --- |
| | Instruments and Patterns of Decision Making: The Executive |

177
(44)

| | |
| --- | --- |
| | The Position of the President |

177
(4)
181
(4)

| | |
| --- | --- |
| | Cohabitation I: Precedent-Setting Pattern or Political Parenthesis? |

185
(2)

| | |
| --- | --- |
| | Cohabitation II: A ``Civilized'' Waiting Game |

187
(1)

| | |
| --- | --- |
| | Cohabitation III: Co-Decision Making or a Neo-Parliamentary Regime? |

188
(2)
190
(9)

| | |
| --- | --- |
| | The Construction and Reshuffling of Cabinets |

199
(5)

| | |
| --- | --- |
| | The Executive and Parliament |

204
(2)
206
(2)

| | |
| --- | --- |
| | The President and Charisma |

208
(5)
213
(1)
214
(7)

| | |
| --- | --- |
| | Instruments and Patterns of Decision Making: The Parliament |

221
(38)

| | |
| --- | --- |
| | Parliament in the Fifth Republic |

222
(2)
224
(7)
231
(3)

| | |
| --- | --- |
| | Limits on Parliamentary Decision Making |

234
(4)

| | |
| --- | --- |
| | The Constitutional Council |

238
(3)

| | |
| --- | --- |
| | Questions and Censure Motions |

241
(2)
243
(2)
245
(8)
253
(6)

| | |
| --- | --- |
| | The Administrative System |

259
(38)

| | |
| --- | --- |
| | Background, Structure, and Recruitment |

259
(3)

| | |
| --- | --- |
| | The Political Complexion of Civil Servants |

262
(4)

| | |
| --- | --- |
| | Controls over the Civil Service |

266
(5)

| | |
| --- | --- |
| | Subnational Administration |

271
(1)
272
(2)

| | |
| --- | --- |
| | Administrative Reform and Decentralization |

274
(3)
277
(6)

| | |
| --- | --- |
| | Functional Decentralization |

283
(1)

| | |
| --- | --- |
| | The Administration of Paris |

284
(1)

| | |
| --- | --- |
| | Corsica and Overseas Territories |

285
(2)

| | |
| --- | --- |
| | Bureaucracy, Technocracy, and Economic Administration |

287
(2)
289
(8)

| | |
| --- | --- |
| | Law, Justice, and Civil Liberties |

297
(22)
297
(3)

| | |
| --- | --- |
| | Justice and the Democratic State |

300
(5)

| | |
| --- | --- |
| | The Legal Protection of Aliens and Minorities |

305
(1)
306
(2)
308
(4)
312
(7)

| | |
| --- | --- |
| | Political Changes and Public Policies |

319
(36)

| | |
| --- | --- |
| | Economic Policy from the Liberation to the Giscard Presidency |

320
(1)
320
(4)

| | |
| --- | --- |
| | Economic Policy Under the Mitterrand Presidency |

324
(4)

| | |
| --- | --- |
| | The Politics of Austerity |

324
(2)

| | |
| --- | --- |
| | The Chirac Cohabitation Government and the Politics of Neoliberalism |

326
(1)

| | |
| --- | --- |
| | The Governments of Rocard, Cresson, and Beregovoy: Prospects and Growing Constraints |

326
(1)

| | |
| --- | --- |
| | The Balladur Government: Redressement and Rigueur |

327
(1)

| | |
| --- | --- |
| | Economic Policy Under the Chirac Presidency |

328
(4)
328
(2)

| | |
| --- | --- |
| | The Jospin Government: Squaring the Circle |

330
(1)

| | |
| --- | --- |
| | Raffarin's Policies: Pressures and Prospects |

331
(1)

| | |
| --- | --- |
| | Education, Research, and Culture |

332
(3)

| | |
| --- | --- |
| | Aspects of Foreign Policy |

335
(6)
341
(5)

| | |
| --- | --- |
| | Constitutional and Institutional Issues: Conclusions |

346
(3)
349
(6)
Appendix: The French Constitution of 1958
355
(18)
Selected Bibliography
373
(8)
Index
381