Note: Supplemental materials are not guaranteed with Rental or Used book purchases.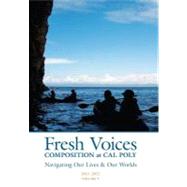 Fresh Voices : Composition at Cal Poly
ISBN13:
9781256385134
by
Helmbrecht, Brenda
Pearson Learning Solutions
Summary
This book is designed to help pre-service and in-service teachers increase their ELA content knowledge and instructional skills for teaching their students to become competent readers. RICA-like tasks, identifying needs from assessments and appropriate instructional strategies, will prepare pre-service teachers to take California's Reading Instruction Competence Assessment (RICA). Over 50 effective instructional strategies from classroom research and information from reading research on the reading process, curricular approaches, differentiated instruction, planning instruction, and assessment are organized around 8 sub-topics of Reading/Language Arts-oral and written language development, early reading development, phonics, fluency, comprehension, vocabulary, literary analysis, and comprehension of informational texts. Strategies in action are illustrated with step-by-step procedure and teacher's think alouds, using excerpts from literary and expository textbooks and trade books and lists of words from kindergarten through grade 8. Strategies for instruction and assessment and ELA content concepts explicitly presented in this book are comprehensible even for readers with little background knowledge in reading instruction.
Table of Contents
Letter from the Director of Writing: Dr. Brenda Helmbrecht
p. v
What to Expect in Your "Writing and Rhetoric" Course
p. 1
Writing with Images
p. 8
Looking Inward: Thinking Critically About Personal Experience
p. 10
"To My Parents, Ellen DeGeneres and God"
p. 12
"The Man Behind the Camo"
p. 15
"Stubborn Like My Father"
p. 18
"Inner Journey"
p. 21
"They Graded the First Drafts"
p. 24
"Hidden Identities"
p. 27
"A Break from the Bullshit"
p. 30
"Destination"
p. 33
"The Last Goodbye"
p. 36
"Thinking Locally: Encountering and Exploring Communities
p. 39
"Making Inappropriate Decisions"
p. 41
"Beauty in the Eye of the Beholder"
p. 45
"I'm Free When I Sing"
p. 48
"Street or Strip"
p. 52
"Equal Access For All: A Proposal to End Access Ostracisms Through Retrofitting of All Residence Halls to be ADA Compliant"
p. 57
"Beauty Ideals: Eating Away at the Cal Poly Population and the Nation"
p. 62
"She Will Tear You to Shreds and Stitch You Back Up"
p. 67
Moving Outward: Addressing Current Issues
p. 71
"The Twilight of My Writing Career"
p. 74
"What's a Kid, Without Some Ritalin?"
p. 76
"Gaming for the Future"
p. 80
"Wolf Connection"
p. 84
"It Just Makes Cents"
p. 87
"Cancer Alley"
p. 92
"Gleequality"
p. 97
Appendix
p. 102
Alternate Table of Contents:
p. 103
General Education Course Objectives
p. 104
Composition at Cal Poly: Catalog Course Descriptions
p. 105
Where to Get Help with Your Writing
p. 107
Kennedy Library: Resources for English 133/134
p. 108
Defining and Avoiding Plagiarism
p. 110
What the Graduation Writing Requirement is All About
p. 112
Submitting Your Work: Fresh Voices 2012-2013
p. 113
Table of Contents provided by Ingram. All Rights Reserved.