Note: Supplemental materials are not guaranteed with Rental or Used book purchases.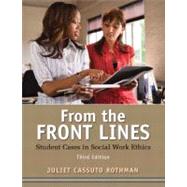 From the Front Lines : Student Cases in Social Work Ethics
ISBN13:
9780205787241
by
Rothman, Juliet C.
Questions About This Book?
What version or edition is this?
This is the 3rd edition with a publication date of 2/19/2010.
What is included with this book?
The Used copy of this book is not guaranteed to include any supplemental materials. Typically, only the book itself is included.
Related Products
Summary
Real-life, comprehensive and interesting cases are drawn from the fields of child welfare, family practice, medical social work, and social justice, among others. Juliet C. Rothman's book stresses the importance of collecting solid information and then using one of three alternative, frequently-used theories and principles (Gewirth's Ethical Principles Hierarchy, Loewenberg and Dolgoff's Ethical Principles Screen, and Beauchamp and Childress'Bioethics Model) for solving ethical dilemmas. In response to student demand for a casebook that relates directly to situations they might encounter in the field, this text includes 30 student- contributed ethics cases. Useful and practical examples of ethical problems, information needed to achieve proper resolution, and the students'thought processes were edited to support and reflect the six Ethical Standards in the new NASW Code of Ethics.
Author Biography
Juliet Rothman received her MSW from Hunter College (CUNY) and her PhD. (in philosophy) from American University in Washington DC. She specialized in ethics, focusing especially on professional ethics. She taught at National Catholic School of Social Service (CUA) in Washington DC. At UC Berkeley, she teaches social work practice, diversity, disability, death and bereavement, aging, and law and ethics in gerontology in the School of Social Welfare, aging, health and diversity in the School of Public Health, and interdisciplinary teams in the UCB/UCSF Medical School program. Her professional publications include: From the Front Lines: Student Cases in Social Work Ethics, The Self-Awareness Workbook for Social Workers, Contracting in Clinical Social Work, Stepping Out into the Field: A Field Work Manual for Social Work Students, Social Work Practice Across Disability, and Cultural Competence in Process and Practice: Building Bridges. She authored the Social Work Desk Reference's article on Therapeutic Contracting with Clients. Recent journal articles include Teaching Spirituality: What We Can Teach and How We Can Teach It, and The Challenge of Disability and Access: Reconceptualizing the Role of the Medical Model. She is a member of the Advisory Board of the Journal of Religion and Spirituality in Social Work and the Journal of Social Work in Disability and Rehabilitation. In the field of bereavement, she has written a child's bibliotherapy book, A Birthday Present for Daniel, and a book for bereaved parents, The Bereaved Parents' Survival Guide.
Table of Contents
Preface.


Introduction: Elements of Ethical Decision-Making.
Defining The Ethical Problem.
Gathering Information.
Theoretical Concepts.
From Theories to Principles.
Using The Code of Ethics of the National Association of Social Workers.
Client Values, Societal Values, Personal Values.
Defining Options, Arriving At a Resolution.
Case Presentations.


1. NASW Ethical Standard One: Social Workers' Ethical Responsibilities to Clients.
Case Study 1-1: Protecting the Best Interests of a Minor, Elena Glekas, MSW.
Case Study 1-2: When the "Best Interests of Client" Harms a Third Party, Karen E. Altenberg, MSW.
Case Study 1-3: When Living Feels Like Dying: Ethical Decision Making with a Depressed Dialysis Patient, Mary A. Kardauskas, MSW.
Case Study 1-4: Reading the Future: When "Best Interest" Must Last Twenty Years, Amy Craig-Van Grack, MSW.
Case Study 1-5: In the Client's Interest: Self Determination and Mental Retardation, Jose Carlos Vera.
Case Study 1-6: The Adoption Records Controversy: Three Primary Clients Whose Interests May Conflict, Sarah M. Russell.
Case Study 1-7: Believing a Disturbed Child: Abused or Confused, Shahla R. Adam, MSW.


2. NASW Ethical Standard Two: Social Workers' Ethical Responsibilities to Colleagues.
Case Study 2-1: Share and Share Alike: A Dilemma in Professional Educational Development, Karen A. Wilson, MSW.
Case Study 2-2: Colleague Misconduct: What's an Intern to Do? Jeanine Castilho da Silva, MSW.
Case Study 2-3: When a Colleague "Defines" Policy–and You Don't Agree! Linda Lopez, MSW.


3. NASW Ethical Standard Three: Social Workers' Ethical Responsibilities to Practice Settings.
Case Study 3-1: Can Limitation of Informed Consent by an Agency Ever Be Justified? Diane Inselburg Spirer, MSW, M.S.
Case Study 3-2: Computerized Record Keeping: Agency Efficiency vs. Client Privacy, Aimee H. Mclain, MSW.
Case Study 3-3: Meeting the Needs of Immigrants: Must Acculturation Be a Condition of Agency Service? Thomas W. Gray, Ph.D.
Case Study 3-4: Confidentiality in a Special School Setting: What is the Student's Best Interest? Patricia DeJesus, MSW.
Case Study 3-5: An Employee Assistance Counselor's Dilemma, Mel Hall-Crawford, MSW.
Case Study 3-6: Group Therapy: Client Needs and Fiscal Viability, Tom Bertone, MSW, CSC.


4. NASW Ethical Standard Four: Social Workers' Ethical Responsibilities As Professionals.
Case Study 4-1: When a Client Threatens Suicide: Client Autonomy and Professional Obligation, Gigi Stowe, MSW.
Case Study 4-2: "Now that You're Leaving, Why Can't We Just Be Friends?," Joanna P. Martin, MSW.
Case Study 4-3: The Professional in Peer Support Groups: Where Do We Fit In? Mickey J. Smith, MSW, CAC.
Case Study 4-4: Fidelity to a Client Unable To Communicate, Marian D. Kaufman, MSW.


5. NASW Ethical Standard Five: Social Worker's Ethical Responsibilities to the Social Work Profession.
Case Study 5-1: "My Clients Are in a Hurry!" Professional Integrity versus Client Self Determination, Shereen Rubenstein, MSW.
Case Study 5-2: Rape: When Professional Values Place Vulnerable Clients at Risk, Eileen Dombo, MSW.
Case Study 5-3: When Client Self Determination Places an Unborn Child at Risk, Patricia Y. Braun, MSW.
Case Study 5-4: "Discharge Her to A Hospice Now!"–A Conflict of Professional Loyalties, Josephine K. Bulkley, J.D.


6. NASW Ethical Standard Six: Social Workers' Ethical Responsibility to the Broader Society.
Case Study 6-1:HIV: The Confidentiality/ Duty to Warn Dilemma, Robin E. Rolley, J.D., MSW.
Case Study 6-2: Dealing Drugs; Can Confidentiality Ever Be Justified? Julie B. Goodale, MSW.
Case Study 6-3: Limiting Self-Protection for Vulnerable Clients: An Acceptable Risk for the Protection of Society? Stephen Hardstack, MSW.
Case Study 6-4: Out-patient Commitment: Must Mental Illness Preclude Civil Liberty? Kimberly Platt, MSW.
Case Study 6-5: Genetic Research: For the Good of this Subject or for (Future) Society? Daniel W. Wilson.
Case Study 6-6: A Commitment to Social Justice: Social Work and Immigration Policy, M. Thérèse Jones, MSW.
7. It's Your Turn–Ethics Cases for Practice.
Appendix: The Code of Ethics of The National Association of Social Workers (Revised 1996).
Index.