Note: Supplemental materials are not guaranteed with Rental or Used book purchases.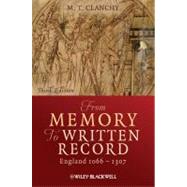 From Memory to Written Record : England, 1066-1307
ISBN13:
9781405157919
by
Clanchy, M. T.
Questions About This Book?
What version or edition is this?
This is the 3rd edition with a publication date of 9/11/2012.
What is included with this book?
The New copy of this book will include any supplemental materials advertised. Please check the title of the book to determine if it should include any CDs, lab manuals, study guides, etc.
Summary
Updates this classic work for students and scholars of medieval history, tracing the development of literacy in England This book serves as an introduction to medieval books and documents for graduate students throughout the world Features a completely re-written first chapter, 'Memories and Myths of the Norman Conquest, and a new postscript by the author reflecting on the reception to the original publication and discussing recent scholarship on medieval literacy Includes a revised guide to further reading and a revision of the plates which illustrate medieval manuscripts in detail
Author Biography
Michael Clanchy is Professor Emeritus of Medieval History at the Institute of Historical Research, University of London, and a Fellow of the British Academy. In the 1990s he held interdisciplinary seminars on the significance of literacy at University College London, the Warburg Institute, and the Institute of Historical Research. Before moving to London in 1985, he taught at the University of Glasgow. He is the author of the popular textbook England and its Rulers 1066–1307 (third edition, 2006), and Abelard: A Medieval Life (1997).
Table of Contents
List of Plates viii
Preface to the First Edition ix
Preface to the Second Edition xi
Preface to the Third Edition xii
Introduction 1
Being Prejudiced in Favour of Literacy 7
Medieval, Renaissance, and Reformation Literacy 11
England's Place in Medieval Literacy 16
Part I TheMaking of Records 21
1 Memories and Myths of the Norman Conquest 23
The Formation of a Norman Official Memory 26
The Anglo-Saxon Heritage of Literacy 30
Latin and the Language of Domesday Book 35
William the Conqueror's Symbolic Knife 38
The EarlWarenne's Rusty Sword 41
2 The Proliferation of Documents 46
Documents at Village Level 48
The Chronology of Charter Making 54
The Output of Royal Documents 58
Documents and Bureaucracy 64
TheWork of HubertWalter 70
Royal Influence on Other Records 75
Appendix 80
3 Types of Record 83
The Variety ofWritings 83
Statements Issued by Individuals 87
Memoranda Kept by Institutions 94
Learned and LiteraryWorks 106
Liturgical Books 111
4 The Technology ofWriting 116
The Scribe and His Materials 117
Wax, Parchment, andWood 120
CommittingWords toWriting 127
Layout and Format 134
Rolls or Books? 137
5 The Preservation and Use of Documents 147
Monastic Documents for Posterity 148
Secular Documents for Daily Use 151
Archives and Libraries 156
The Royal Archives 164
Ways of Remembering 174
Ways of Indexing 179
Part II The LiterateMentality 187
What Reading Meant 192
6 Languages of Record 199
Walter of Bibbesworth's Treatise 199
The Variety of Languages 202
Spoken andWritten Language 208
Chronological Development 213
TheWriting Down of French 217
Royal Documents in Latin, French, and English 222
7 Literate and Illiterate 226
Meanings of 'Clericus' and 'Litteratus' 228
The Question of the Literacy of the Laity 233
Knowledge of Latin Among Non-Churchmen 236
The Acquisition of Clerical Education 242
Educated Knights 248
8 Hearing and Seeing 255
Symbolic Objects and Documents 256
The Spoken Versus theWrittenWord 262
Listening to theWord 268
The SpokenWord in Legal Procedure 274
Writings asWorks of Art 280
Word and Image 285
9 TrustingWriting 295
Memory andWriting 296
Dating Documents 300
Signing Documents 305
The Symbolism of Seals and Crosses 309
Forging Documents 318
10 Pragmatic Literacy 329
Postscript by the Author 336
List of Abbreviations 344
Select Further Reading 352
Plates 356
Index 396