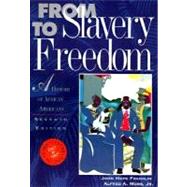 Summary
The eighth edition of this best selling text has been thoroughly revised to include expanded material on the slave resistance, the recent history of African Americans in the United States, more on the history of women, and popular culture. The text has also been redesigned with new charts, maps, photographs, paintings, illustrations, and color inserts and an extensive package has been assembled, using technology and other multimedia to bring history to life. Written by distinguished and award-winning authors, retaining the same features that have made it the most popular text on African American History ever, and with fresh and appealing new features, From Slavery to Freedom remains the most revered, respected, honored text on the market.. . . . . .
Table of Contents
Land of Their Ancestors
The African Way of Life
The Slave Trade and the New World
Colonial Slavery
That All May Be Free
Blacks in the New Republic
Blacks and Manifest Destiny
That Peculiar Institution
Quasi-Free Blacks
Slavery and Intersectional Strife
Civil War
The Effort to Attain Peace
Losing the Peace
Philanthropy and Self-Help
The Color Line
In Pursuit of Democracy
Democracy Escapes
The Harlem Renaissance
The New Deal Chapter Twenty: The American Dilemma
Fighting for the Four Freedoms
African Americans in the Cold War Era
The Black Revolution
New Forms of Activism
Legacies for the Twenty-First Century
Table of Contents provided by Publisher. All Rights Reserved.