Note: Supplemental materials are not guaranteed with Rental or Used book purchases.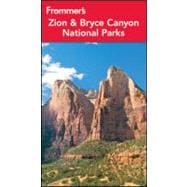 Summary
Frommer's Complete Guides America's #1 bestselling travel series More full-color guides than ever before Foldout maps in annual guides Outspoken opinions, exact prices, and insider tips
Author Biography
Residents of northern New Mexico since 1970, Don and Barbara Laine have traveled extensively throughout the Rocky Mountains and the Southwest, spending as much time as possible in the outdoors, and especially in the region's national parks and monuments. They have written Frommer's guides to Utah, Colorado, and the National Parks of the American West. The Laines have also authored Little-Known Southwest, New Mexico & Arizona State Parks, and Best Short Hikes in Arizona for The Mountaineers, and The New Mexico Guide for Fulcrum Publishing.
Table of Contents
List of Maps vi
1 INTRODUCING ZION & BRYCE CANYON NATIONAL PARKS 1
The Best of Zion & Bryce Canyon National Parks 4
A Look at Zion 12
A Look at Bryce Canyon 14
2 EXPLORING ZION NATIONAL PARK 17
Essentials 17
Tips from a Park Ranger 22
The Highlights 23
Seeing the Park in 1 or 2 Days 26
Seeing the Park by Car & Shuttle 27
Historic & Man-Made Attractions 29
Ranger & Educational Programs 31
Guided Tours 32
Especially for Kids 32
3 HIKES & OTHER OUTDOOR PURSUITS IN ZION NATIONAL PARK 34
Day Hikes 35
Exploring the Backcountry 46
Biking & Mountain Biking 51
Other Sports & Activities 52
4 WHERE TO STAY, CAMP & EAT IN ZION 55
Where to Stay 55
Camping 62
Where to Eat 64
5 EXPLORING BRYCE CANYON NATIONAL PARK 68
Essentials 68
Tips from a Park Ranger 70
The Highlights 72
Seeing the Park in 1 or 2 Days 74
Seeing the Park by Car 76
Seeing the Park by Shuttle 77
Historic & Man-Made Attractions 78
Ranger & Educational Programs 78
Guided Tours 79
Especially for Kids 79
6 HIKES & OTHER OUTDOOR PURSUITS IN BRYCE CANYON NATIONAL PARK 80
Day Hikes 80
Exploring the Backcountry 86
Other Summer Sports & Activities 89
Winter Activities 90
7 WHERE TO STAY, CAMP & EAT IN BRYCE CANYON 92
Where to Stay 92
Camping 97
Where to Eat 100
8 NEARBY THINGS TO SEE & DO 103
Gateway Towns 103
Dixie National Forest 105
Cedar Breaks National Monument 108
Grand Staircase–Escalante National Monument 112
Kodachrome Basin State Park 118
Coral Pink Sand Dunes State Park 120
Escalante Petrified Forest State Park 122
Snow Canyon State Park 124
9 A NATURE GUIDE TO ZION & BRYCE CANYON NATIONAL PARKS 127
Zion & Bryce Canyon National Parks Today 127
The Landscape 129
The Flora 131
The Fauna 138
The Ecosystem 151
10 PLANNING YOUR TRIP TO ZION & BRYCE CANYON NATIONAL PARKS 153
Getting There 153
Getting Around 156
Exploring the Parks by RV or "Car-Camping" 159
Tips on Accommodations 160
Package & Adventure Tours 162
Tips for Travelers with Pets 163
Health & Safety 164
Protecting the Environment 165
Fast Facts: Zion National Park 165
Fast Facts: Bryce Canyon National Park 174
Index 178
Accommodations Index 184
Restaurants Index 184