Note: Supplemental materials are not guaranteed with Rental or Used book purchases.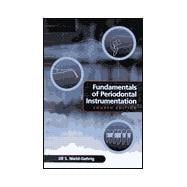 Fundamentals of Periodontal Instrumentation
ISBN13:
9780781728607
by
Gehrig, Jill S.
Lippincott Williams Wilkins
Summary
The Fourth Editionof this detailed, instructional guide to nonsurgical periodontal instrumentation guides readers step-by-step through technique. The revised edition offers a standalone module for each major topic, with introductory outlines, flowcharts, boxed reference sheets, summary sheets, tables, key terms, and rhyming reminders to emphasize key points and instrumentation techniques. New content includes: theory and technique for ultrasonic instrumentation; concepts in periodontal debridement; musculoskeletal disorders and neutral position for the clinician; and instrument selection and treatment planning for calculus removal.
Table of Contents
BASIC SKILLS

| | |
| --- | --- |
| | Mathematical Principles and Anatomic Descriptors |

1
(8)
2
(3)
5
(3)
8
(1)

| | |
| --- | --- |
| | Principles of Positioning |

9
(40)

| | |
| --- | --- |
| | Musculoskeletal Disorders |

11
(4)

| | |
| --- | --- |
| | Neutral Position for the Clinician |

15
(3)
18
(2)

| | |
| --- | --- |
| | Clinician Stool and Patient Chair |

20
(7)

| | |
| --- | --- |
| | Relationship to Patient and Dental Unit |

23
(4)

| | |
| --- | --- |
| | Position for RIGHT-Handed Clinician |

27
(8)

| | |
| --- | --- |
| | Positioning for the RIGHT-Handed Clinician |

34
(1)

| | |
| --- | --- |
| | Position for LEFT-Handed Clinician |

35
(8)

| | |
| --- | --- |
| | Positioning for the LEFT-Handed Clinician |

42
(1)

| | |
| --- | --- |
| | Activity, References, and Evaluations |

43
(6)
49
(14)

| | |
| --- | --- |
| | Parts of the Periodontal Instrument |

50
(1)
51
(5)
55
(1)
56
(2)

| | |
| --- | --- |
| | Effective Glove Use Fact Sheet |

57
(1)

| | |
| --- | --- |
| | Improving Muscle Strength |

58
(3)
61
(2)

| | |
| --- | --- |
| | Mirror and Finger Rests in Anterior Sextants |

63
(54)
65
(5)

| | |
| --- | --- |
| | Wrist Position for Instrumentation |

70
(2)
72
(5)
73
(4)

| | |
| --- | --- |
| | Skills for RIGHT-Handed Clinician |

77
(19)

| | |
| --- | --- |
| | Handle Placement for Mandibular Anteriors |

77
(1)

| | |
| --- | --- |
| | Mandibular Anterior Teeth |

78
(8)

| | |
| --- | --- |
| | Handle Placement for Maxillary Anteriors |

86
(1)
87
(8)

| | |
| --- | --- |
| | Anterior Sextants (RIGHT-Handed Clinician) |

95
(1)

| | |
| --- | --- |
| | Skills for LEFT-Handed Clinician |

96
(19)

| | |
| --- | --- |
| | Handle Placement for Mandibular Anteriors |

96
(1)

| | |
| --- | --- |
| | Mandibular Anterior Teeth |

97
(8)

| | |
| --- | --- |
| | Handle Placement for Maxillary Anteriors |

105
(1)
106
(8)

| | |
| --- | --- |
| | Anterior Sextants (LEFT-Handed Clinican) |

114
(1)
115
(2)

| | |
| --- | --- |
| | Mirror and Finger Rests in Mandibular Posterior Sextants |

117
(26)

| | |
| --- | --- |
| | Technique Practice With Mirror |

118
(3)
118
(2)

| | |
| --- | --- |
| | Sequence for Establishing a Fulcrum |

120
(1)

| | |
| --- | --- |
| | Skills for RIGHT-Handed Clinician |

121
(10)

| | |
| --- | --- |
| | Handle Placement Mandibular Posteriors |

121
(1)

| | |
| --- | --- |
| | Mandibular Posterior Teeth |

122
(8)
130
(1)

| | |
| --- | --- |
| | Skills for LEFT-Handed Clinician |

131
(10)

| | |
| --- | --- |
| | Handle Placement Mandibular Posteriors |

131
(1)

| | |
| --- | --- |
| | Technique Practice:Mandibular Posterior Teeth |

132
(8)
140
(1)
141
(2)

| | |
| --- | --- |
| | Mirror and Finger Rests in Maxillary Posterior Sextants |

143
(26)

| | |
| --- | --- |
| | Wrist Position for Maxillary Posterior |

144
(1)

| | |
| --- | --- |
| | Skills for RIGHT-Handed Clinician |

145
(10)

| | |
| --- | --- |
| | Maxillary Posterior Teeth |

146

| | |
| --- | --- |
| | Handle Placement for Maxillary Posteriors |

145
(9)
154
(1)

| | |
| --- | --- |
| | Skills for LEFT-Handed Clinician |

155
(10)

| | |
| --- | --- |
| | Handle Placement for Maxillary Posteriors |

155
(1)

| | |
| --- | --- |
| | Maxillary Posterior Teeth |

156
(8)
164
(1)

| | |
| --- | --- |
| | Checklist, Activities, and Skill Evaluation |

165
(4)

| | |
| --- | --- |
| | Body Breakers Risk Assement Questionnaire |

165
(4)

| | |
| --- | --- |
| | Design of Hand-Activated Instruments |

169
(14)

| | |
| --- | --- |
| | The Periodontal Instruments |

170
(8)
178
(4)
182
(1)

| | |
| --- | --- |
| | Instrument Classification |

183
(34)
184
(2)
186
(1)
187
(8)
195
(20)
197
(2)
199
(3)
202
(5)
207
(6)

| | |
| --- | --- |
| | Design Analysis of Sickle Scalers and Curets |

213
(1)

| | |
| --- | --- |
| | Use of Hand-Activated Instruments |

214
(1)
215
(2)
ELEMENTS OF INSTRUMENT STROKE

| | |
| --- | --- |
| | Adaptation and Angulation |

217
(12)
218
(4)
220
(1)
221
(1)
222
(5)
225
(2)
227
(2)

| | |
| --- | --- |
| | Activation, Pivot, and Handle Roll |

229
(12)
230
(3)
231
(1)

| | |
| --- | --- |
| | Digital Motion Activation |

232
(1)
233
(4)
233
(2)
235
(1)
236
(1)

| | |
| --- | --- |
| | Activities and Evaluation |

237
(4)
241
(16)

| | |
| --- | --- |
| | Types of Instrumentation Strokes |

242
(2)
243
(1)

| | |
| --- | --- |
| | Stroke Direction and Pattern |

244
(5)

| | |
| --- | --- |
| | Stabilization and Lateral Pressure |

249
(3)
251
(1)

| | |
| --- | --- |
| | Parallelism and Shank Position |

252
(2)
254
(1)
254
(1)
255
(2)
PATIENT ASSESSMENT
257
(44)
259
(10)

| | |
| --- | --- |
| | Step-by-Step Technique on Posteriors |

269
(4)

| | |
| --- | --- |
| | Step-by-Step Technique on Anteriors |

273
(3)
276
(15)

| | |
| --- | --- |
| | Probing and Clinical Attachment Level |

290
(1)

| | |
| --- | --- |
| | Documentation of Measurements |

291
(1)

| | |
| --- | --- |
| | Periodontal Screening and Recording (PSR) |

292
(5)

| | |
| --- | --- |
| | Activities and Evaluation |

297
(4)
301
(26)

| | |
| --- | --- |
| | Concepts of Exploring Technique |

303
(4)
305
(1)

| | |
| --- | --- |
| | Inner and Outer Sides of Explorer Tip |

306
(1)

| | |
| --- | --- |
| | Step-by-Step Technique on Anteriors |

307
(4)

| | |
| --- | --- |
| | Visual Clues for Anterior Teeth |

307
(4)

| | |
| --- | --- |
| | Step-by-Step Technique on Posteriors |

311
(7)

| | |
| --- | --- |
| | Visual Clues for Posterior Teeth |

311
(6)
317
(1)
318
(5)

| | |
| --- | --- |
| | Common Causes of Undetected Calculus |

322
(1)
323
(1)
324
(3)
DEBRIDEMENT WITH HAND-ACTIVATED INSTRUMENTS
327
(10)
328
(3)

| | |
| --- | --- |
| | Supragingival Stroke Production |

329
(2)
331
(4)
334
(1)
335
(2)
337
(12)
338
(5)
343
(4)
346
(1)
347
(2)
349
(22)
350
(2)

| | |
| --- | --- |
| | Subgingival Stroke Production |

350
(2)

| | |
| --- | --- |
| | Technique on Posterior Sextants |

352
(7)

| | |
| --- | --- |
| | Technique on Anterior Sextants |

359
(5)
364
(3)
366
(1)
367
(4)
371
(28)
373
(1)

| | |
| --- | --- |
| | Technique on Anterior Teeth |

374
(4)

| | |
| --- | --- |
| | Visual Clues for Anterior Teeth |

374
(4)

| | |
| --- | --- |
| | Root Surface Debridement---Anteriors |

378
(4)

| | |
| --- | --- |
| | Technique on Posterior Sextants |

382
(10)

| | |
| --- | --- |
| | Visual Clues for Posterior Teeth |

382
(9)
391
(1)

| | |
| --- | --- |
| | Root Surface Debridement---Posteriors |

392
(3)
395
(4)

| | |
| --- | --- |
| | Problem Identification: Difficulties in Instrumentation |

399
(8)

| | |
| --- | --- |
| | Can't See the Treatment Area! |

400
(1)

| | |
| --- | --- |
| | Can't Locate the Calculus! |

401
(1)

| | |
| --- | --- |
| | Poor Illumination of Treatment Area! |

402
(1)

| | |
| --- | --- |
| | Can't Adapt the Cutting Edge to Tooth Surface! |

402
(1)

| | |
| --- | --- |
| | Can't Maintain Adaptation! |

403
(1)

| | |
| --- | --- |
| | Uncontrolled or Weak Stroke! |

404
(1)

| | |
| --- | --- |
| | Missed Calculus Deposits! |

405
(2)
407
(24)

| | |
| --- | --- |
| | Introduction to Sharpening Concepts |

408
(7)

| | |
| --- | --- |
| | Skill Practice: Establishing Correct Angulation |

411
(4)
415
(2)
417
(5)
417
(1)

| | |
| --- | --- |
| | Sharpening Guides R and L |

418
(2)

| | |
| --- | --- |
| | Technique Practice With Sharpening Guides |

420
(2)
422
(7)
429
(2)

| | |
| --- | --- |
| | Instrumentation Strategies |

431
(12)

| | |
| --- | --- |
| | The Calculus Removal Game Plan |

432
(5)

| | |
| --- | --- |
| | Skill Building Activities |

437
(5)
442
(1)
DEBRIDEMENT WITH MECHANIZED INSTRUMENTS

| | |
| --- | --- |
| | Basic Concepts of Ultrasonic Instrumentation |

443
(36)

| | |
| --- | --- |
| | Introduction to Ultrasonic Instrumentation |

445
(8)

| | |
| --- | --- |
| | Hand Versus Ultrasonic Instrumentation |

452
(1)
453
(4)

| | |
| --- | --- |
| | Ultrasonic Instrument Tip |

457
(7)
464
(7)
471
(3)

| | |
| --- | --- |
| | Instrumentation Technique |

474
(3)

| | |
| --- | --- |
| | Principles of Ultrasonic Instrumentation |

476
(1)
477
(2)
479
(16)

| | |
| --- | --- |
| | Magnetostrictive Ultrasonic Devices |

480
(6)

| | |
| --- | --- |
| | Step-by-Step Technique: Magnetostrictive |

482
(4)

| | |
| --- | --- |
| | Piezoelectric Ultrasonic Devices |

486
(6)

| | |
| --- | --- |
| | Step-by-Step Technique: Piezoelectric |

488
(4)
492
(3)
495
(10)

| | |
| --- | --- |
| | Introduction to Sonic Instruments |

496
(3)
499
(3)

| | |
| --- | --- |
| | Activities and Evaluation |

502
(3)
DEBRIDEMENT THEORY

| | |
| --- | --- |
| | Concepts in Periodontal Debridement |

505
(10)
506
(7)

| | |
| --- | --- |
| | Scaling Versus Debridement |

512
(1)
513
(2)
ADVANCED INSTRUMENTATION TECHNIQUES

| | |
| --- | --- |
| | Advanced Fulcruming Techniques |

515
(16)
516
(3)

| | |
| --- | --- |
| | Advanced Fulcruming Techniques |

518
(1)

| | |
| --- | --- |
| | Advanced Intraoral Fulcrums |

519
(6)
525
(1)
526
(3)
529
(2)

| | |
| --- | --- |
| | Debridement of Dental Implants |

531
(8)
532
(1)
533
(4)
537
(2)
Index
539