Note: Supplemental materials are not guaranteed with Rental or Used book purchases.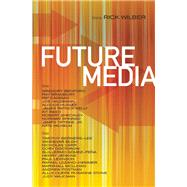 Summary
This startling exploration of the mass media age uniquely combines complex nonfiction and prescient fiction from the best and brightest visionaries of the future. Essay contributors include Marshall McLuhan, who posited that the medium is the message; Cory Doctorow and his re-visioning of intellectual property in the digital age; and Nicolas Carr, whose cautionary warnings include that Google is making us stupid. The thought-provoking short stories are authored by science fiction luminaries including James Tiptree Jr., whose pseudonymous cyperpunk preceded all of her peers; Joe Haldeman and his wars where humans fight through cloning and time travel; and Norman Spinrad, who has pitted the media against an immortality conspiracy. Offering a blend of predictions for the course of communications, Future Mediaentertains while it informs and challenges readers to consider the implications for a society dealing with networks that are alternately personal, public, pervasive, and powerful.
Author Biography
Rick Wilber is a college journalism professor and the author of several college textbooks, including Magazine Feature Writing, Modern Media Writing, and The Writerís Handbook for Editing and Revision. He has published more than 50 science fiction short stories that have appeared in several anthologies and magazines, including Analog, Asimovís SF, and Fantasy & Science Fiction. He lives in Tampa, Florida.
Table of Contents
Preface: Thoughts on Predicting the Mediated Future
p. 9
Introduction
p. 15
Excerpt from Understanding Media: The Medium Is the Message
p. 19
Is Google Making Us Stupid?
p. 33
New Brains for Old
p. 44
Excerpt from Fahrenheit 451
p. 50
Centigrade 233
p. 57
Excerpt from Brave New World
p. 68
Fantasy for Six Electrodes and One Adrenaline Drip (A Play in the Form of a Feelie Script)
p. 82
Introduction to Neil Postman's Amusing Ourselves to Death
p. 135
At Central
p. 144
Excerpt from Bug Jack Barron
p. 154
The Prize of Peril
p. 174
Sex, Death and Machinery
p. 191
Baby, You Were Great
p. 220
Rock On
p. 234
Feel the Zaz
p. 242
Dude, We're Gonna Be Jedi!
p. 278
From Women and Technology to Gendered Technoscience
p. 299
The Girl Who Was Plugged In
p. 312
Tech-Illa Sunrise
p. 348
As We May Think
p. 358
Download for Free
p. 377
Excerpt from Makers
p. 380
The Future of the World Wide Web
p. 408
Excerpt from Understanding Media: Automation
p. 420
Table of Contents provided by Ingram. All Rights Reserved.