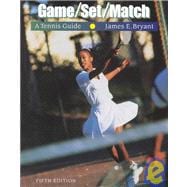 Game Set Match : A Tennis Guide
by
BRYANT J
Summary
GAME SET MATCH is one of several activity texts in Wadsworth's Physical Education series. It covers all the basic fundamentals of tennis and is suitable for players of all levels.
Table of Contents
Preface
p. vii
Acknowledgments
p. viii
The Preliminaries to the Strokes in Tennis
p. 1
Groundstrokes
p. 13
Net Play
p. 33
The Service and Service Return
p. 43
The Aerial Game
p. 57
Mental Aspects of Tennis Competition
p. 67
Singles Strategy
p. 73
Doubles Strategy
p. 87
Tennis Practice
p. 95
Physical Aspects of Playing Tennis
p. 109
Tennis Behavior and Interpretation of Tennis Rules
p. 123
Tennis Courts, Equipment Design, Tournament Competition, and Resources
p. 131
The Code: The Player's Guide for Unofficial Matches
p. 141
Answer Key
p. 145
Glossary of Terms
p. 147
Index
p. 149
Table of Contents provided by Syndetics. All Rights Reserved.