Note: Supplemental materials are not guaranteed with Rental or Used book purchases.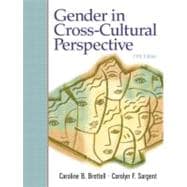 Questions About This Book?
What version or edition is this?
This is the 5th edition with a publication date of 6/25/2008.
What is included with this book?
The Used copy of this book is not guaranteed to include any supplemental materials. Typically, only the book itself is included.
Summary
This reader introduces students/readers to the most significant topics in the field of anthropology of gender-drawing not only from classic sources, but also from the most recent, diverse literature on gender roles and ideology around the world. It takes a clear, accessible approach to the subject matter, making coverage appropriate for students from various levels.
Author Biography
Caroline Brettell received her BA degree from Yale University and her MA and Ph.D. degrees from Brown University. She joined the faculty of the Department of Anthropology at Southern Methodist University in 1988, and in 2003 was named Dedman Family Distinguished Professor. From 1989-1994 she served as Director of Women's Studies and from 1994-2004 she served as Chair of the Department of Anthropology. She is the author of Men Who Migrate, Women Who Wait: Population and History in a Portuguese Parish (1986), We Have Already Cried Many Tears: The Stories of Three Portuguese Migrant Women (1982, 1995), Writing Against the Wind: A Mother's Life History (1999) and Anthropology and Migration: Essays on Transnationalism, Ethnicity and Identity (2003); co-author with Richard Brettell of Painters and Peasants in the 19th Century (1983); editor of When The Read What We Write: The Politics of Ethnography (1993); coeditor of International Migration: The Female Experience (1986), Gender in Cross-Cultural Perspective (Prentice-Hall 1993, 1997, 2001, 2005), Gender and Health: An International Perspective (1996), and Migration Theory: Talking Across Disciplines (2000). She is also the author of numerous book chapters and articles. She currently is Principal Investigator on a project funded through the Cultural Anthropology Program of the National Science Foundation titled "Immigrants, Rights and Incorporation in a Suburban Metropolis." Professor Brettell has served as a member of NIH Study Section-SNEM 3, and several selection panels for the Social Science Research Council and the NEH. She has served as President of the Society for the Anthropology of Europe and of the Social Science History Association.
Carolyn Sargent received her Bachelors degree from Michigan State University, her MA degree from the University of Manchester, and her Ph.D. from Michigan State University. She joined the faculty of the Department of Anthropology at Southern Methodist University in 1979. She has been serving as Director of Women's Studies since 1994. She is currently a research fellow at the University of Paris V. Sargent is the author of The Cultural Context of Therapeutic Choice: Obstetrical Decisions Among the Bariba of Benin (1982), and Maternity, Medicine and Power; Reproductive Decisions in Urban Benin (1989); and coeditor of Medical Anthropology: A Handbook of Theory and Method, Gender in Cross-Cultural Perspective (Prentice-Hall 1993, 1997, 2001, 2005), Gender and Health: An International Perspective (1996); Childbirth and Authoritative Knowledge (1997), and Small Wars: The Cultural Politics of Childhood. In addition to several book chapters, she has also authored numerous articles, many of them published in Medical Anthropological Quarterly and Social Science and Medicine. She is the recipient of many research grants and fellowships and is currently Principal Investigator of a project funded through the Cultural Anthropology Program of the National Science Foundation titled "Reproduction and Representations of Family among Malian Migrants in Paris." She is currently serving on a Senior Advisory Panel of the National Science Foundation and on the Executive Board for the Society for Medical Anthropology. In Dallas she serves as a Community Representative for both Parkland and Baylor Hospitals.
Table of Contents
Preface
p. xiii
About the Authors
p. xv
Biology, Gender, and Human Evolution
p. 1
Animal Models and Gender
p. 7
The Role of Women in Human Evolution
p. 16
Gender and War: Are Women Tough Enough for Military Combat?
p. 21
Lifeboat Ethics: Mother Love and Child Death in Northeast Brazil
p. 33
The Cultural Nexus of Aka Father-Infant Bonding
p. 39
Gender and Prehistory
p. 51
The Archaeology of Gender Today: New Vistas, New Challenges
p. 56
The Fashioning of Women
p. 65
Warriors and Rulers: Royal Women of the Classic Maya
p. 76
Domestic Worlds and Public Worlds
p. 85
The Domestic Sphere of Women and the Public World of Men: The Strengths and Limitations of an Anthropological Dichotomy
p. 90
"It's a Pleasure to Cook for Him": Food, Mealtimes, and Gender in Some South Wales Households
p. 99
Fatherhood and the Mediating Role of Women
p. 109
Cities of Women
p. 123
Equality and Inequality: The Sexual Division of Labor and Gender Stratification
p. 137
Woman the Hunter: The Agta
p. 143
Gender, Horticulture, and the Division of Labor on Vanatinai
p. 152
Do Tents and Herds Still Matter? Pastoral Nomadism and Gender among the Tuareg in Niger and Mali
p. 162
Women and Work in a Postrevolutionary Society: Urban Cooperatives and the Informal Economy in Nicaragua
p. 174
The Cultural Construction of Gender and Personhood
p. 191
My Encounter with Machismo in Spain
p. 196
Rituals of Manhood: Male Initiation in Papua New Guinea
p. 211
The Named and the Nameless: Gender and Person in Chinese Society
p. 215
Gender and the Stories Pittsburgh Police Officers Tell about Using Physical Force
p. 227
The Making and Unmaking of Persons: Gender and Body in Northeast India
p. 237
Culture, Sexuality, and the Body
p. 249
Is There a Muslim Sexuality? Changing Constructions of Sexuality in Egyptian Bedouin Weddings
p. 255
From Pollution to Love Magic: The New Anthropology of Menstruation
p. 264
Hijras: An "Alternative" Sex/Gender in India
p. 275
Measuring Up to Barbie: Ideals of the Feminine Body in Popular Culture
p. 282
Gender, Property, and the State
p. 297
Thinking about Women and the Origin of the State
p. 302
Dowry, Bride-Burning, and Female Power in India
p. 308
Encountering the State: Cross-Cultural Perspectives on Women's Political Experience
p. 317
Japanese Mothers and Obentos: The Lunch-Box as Ideological State Apparatus
p. 329
Gender, Household, and Kinship
p. 347
Beyond the "Pattern of Heaven": Gender, Kinship and the Family in China
p. 352
Between a Rock and a Hard Place: The Labyrinth of Working and Parenting in a Poor Community
p. 362
Matrifocality, Power, and Gender Relations in Jamaica
p. 377
The Female World of Cards and Holidays: Women, Families, and the Work of Kinship
p. 385
Gender, Ritual, and Religion
p. 395
Spirit Possession and Gender Complementarity: Zar in Rural Northern Sudan
p. 401
"Tradition" and Threat: Women's Obscenity in Giriama Funerary Rituals
p. 412
Shamans, Bodies, and Sex: Misreading a Korean Ritual
p. 425
Women, Religion, and Modernization: Tradition and Transformation among Elderly Jews in Israel
p. 437
Gender, Politics, and Reproduction
p. 449
Gender and Ritual: Giving Birth the American Way
p. 455
Political Demography: The Banning of Abortion in Ceausescu's Romania
p. 467
Surrogate Motherhood: Rethinking Biological Models, Kinship, and Family
p. 482
Female Genital Cutting: Culture and Controversy
p. 491
Culture Contact, Development, and the Global Economy
p. 505
The Impact of Development on Women: The Interplay of Material Conditions and Gender Ideology
p. 510
Doing Their Homework: The Dilemma of Planning Women's Garden Programs in Bangladesh
p. 525
Factory as Home and Family: Female Workers in the Moroccan Garment Industry
p. 532
Sexuality and Discipline among Filipina Domestic Workers in Hong Kong
p. 545
"Wild Pigs and Dog Men": Rape and Domestic Violence as "Women's Issues" in Papua New Guinea
p. 564
Table of Contents provided by Ingram. All Rights Reserved.