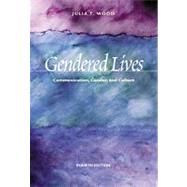 Gendered Lives : Communication, Gender, and Culture
by
Wood
Questions About This Book?
What version or edition is this?
This is the 4th edition with a publication date of 4/13/2000.
What is included with this book?
The New copy of this book will include any supplemental materials advertised. Please check the title of the book to determine if it should include any CDs, lab manuals, study guides, etc.
Summary
Introduces the many ways gender images of masculinity and femininity affect communication and life. Filled with commentaries from students that illustrate how they relate to gender communication issues. More than 90 references. Softcover. DLC: Sex role.
Author Biography
Julia T. Wood is the Lineberger Distinguished Professor of Humanities and Professor of Communication Studies at The University of North Carolina at Chapel Hill Julia T. Wood joined the Department of Communication Studies at the University of North Carolina at Chapel Hill at the age of 24. She is now a professor in that department, where she teaches courses and conducts research on gender, communication, and culture, and on communication in personal relationships. During her career, she has authored 15 books and edited 8 others. In addition, she has published more than 70 articles and book chapters and has presented numerous papers at professional conferences. She has won 8 awards for undergraduate teaching and 8 awards for her scholarship
Table of Contents
Introduction Opening the Conversation
1
(1)

| | |
| --- | --- |
| | The Social Construction of Inequality |

2
(2)
4
(2)
6
(2)
8
(2)

| | |
| --- | --- |
| | Communication as the Fulcrum of Change |

10
(1)

| | |
| --- | --- |
| | The Challenge of Studying Communication, Gender, and Culture |

11
(1)
12
(2)
PART I CONCEPTUAL FOUNDATIONS

| | |
| --- | --- |
| | The Study of Communication, Gender, and Culture |

14
(24)

| | |
| --- | --- |
| | Communication, Gender, and Culture as an Area of Study |

15
(1)

| | |
| --- | --- |
| | Knowledge of Gender, Communication, and Culture |

15
(1)
15
(1)

| | |
| --- | --- |
| | The Value of Studying Communication, Gender, and Culture |

15
(1)

| | |
| --- | --- |
| | The Meaning of Gender in a Transitional Era |

16
(3)
16
(2)

| | |
| --- | --- |
| | Differences Between Women and Men |

18
(1)

| | |
| --- | --- |
| | Relationships Among Gender, Culture, and Communication |

19
(16)
19
(1)
20
(2)
22
(6)
28
(2)
30
(1)

| | |
| --- | --- |
| | Communication is a dynamic process |

31
(1)

| | |
| --- | --- |
| | Communication is systemic |

31
(1)

| | |
| --- | --- |
| | Communication has two levels of meaning |

32
(1)

| | |
| --- | --- |
| | Meanings are created through human interaction with symbols |

33
(2)
35
(1)
36
(2)

| | |
| --- | --- |
| | Theoretical Approaches to Gender Development |

38
(25)

| | |
| --- | --- |
| | Theoretical Approaches to Gender |

40
(21)

| | |
| --- | --- |
| | Biological Influences on Gender |

40
(5)

| | |
| --- | --- |
| | Interpersonal Influences on Gender |

45
(1)

| | |
| --- | --- |
| | Psychodynamic theory of gender development |

46
(2)

| | |
| --- | --- |
| | Psychological theories of gender development |

48
(3)

| | |
| --- | --- |
| | Cultural Influences on Gender |

51
(1)
52
(1)
53
(4)
57
(4)
61
(1)
61
(2)

| | |
| --- | --- |
| | The Rhetorical Shaping of Gender: Women's, Men's, and Gender Movements in America |

63
(44)
64
(20)

| | |
| --- | --- |
| | The First Wave of Women's Movements in the United States |

65
(1)
65
(2)
67
(2)

| | |
| --- | --- |
| | The Second Wave of Women's Movements in the United States |

69
(1)
69
(2)
71
(4)
75
(1)
76
(1)
77
(1)
78
(1)
79
(2)
81
(3)

| | |
| --- | --- |
| | The Third Wave of Women's Movements in the United States |

84
(4)
88
(12)

| | |
| --- | --- |
| | Profeminist Men's Movements |

88
(3)

| | |
| --- | --- |
| | Promasculinist Men's Movements |

91
(1)
92
(1)
93
(3)
96
(2)
98
(2)

| | |
| --- | --- |
| | Other Movements Focused on Gender |

100
(4)
100
(2)
102
(2)
104
(1)
105
(2)

| | |
| --- | --- |
| | Gendered Verbal Communication |

107
(30)

| | |
| --- | --- |
| | The Nature of Human Communication |

108
(1)

| | |
| --- | --- |
| | Verbal Communication Expresses Cultural Views of Gender |

108
(12)
109
(1)

| | |
| --- | --- |
| | Male generic language excludes women |

109
(2)

| | |
| --- | --- |
| | Language defines men and women differently |

111
(2)

| | |
| --- | --- |
| | Language names what exists |

113
(2)

| | |
| --- | --- |
| | Language Organizes Perceptions of Gender |

115
(1)
115
(1)

| | |
| --- | --- |
| | Encouraging polarized thinking |

116
(1)

| | |
| --- | --- |
| | Language Evaluates Gender |

117
(1)

| | |
| --- | --- |
| | Language Enables Hypothetical Thought |

118
(1)

| | |
| --- | --- |
| | Language Allows Self-Reflection |

119
(1)
120
(1)

| | |
| --- | --- |
| | Gendered Interaction: Masculine and Feminine Styles of Verbal Communication |

120
(14)

| | |
| --- | --- |
| | Gendered Speech Communities |

121
(1)
122
(1)
122
(1)
123
(2)

| | |
| --- | --- |
| | Gendered Communication Practices |

125
(1)
125
(3)
128
(2)

| | |
| --- | --- |
| | Misinterpretations Between Women and Men |

130
(1)
130
(1)
131
(1)
132
(1)
133
(1)
133
(1)
134
(1)
135
(2)

| | |
| --- | --- |
| | Gendered Nonverbal Communication |

137
(26)

| | |
| --- | --- |
| | Functions of Nonverbal Communication |

138
(5)

| | |
| --- | --- |
| | Nonverbal Communication Can Supplement Verbal Communication |

138
(1)

| | |
| --- | --- |
| | Nonverbal Communication Can Regulate Interaction |

139
(1)

| | |
| --- | --- |
| | Nonverbal Communication Can Establish the Relationship Level of Meaning |

139
(1)
139
(3)
142
(1)
143
(1)

| | |
| --- | --- |
| | Forms of Nonverbal Communication |

143
(14)
144
(2)

| | |
| --- | --- |
| | Proximity and Personal Space |

146
(2)
148
(1)

| | |
| --- | --- |
| | Kinesics (Facial and Body Motion) |

149
(1)
150
(1)
151
(6)

| | |
| --- | --- |
| | Implications of Gendered Nonverbal Communication |

157
(3)

| | |
| --- | --- |
| | The Cultural Context of Nonverbal Communication |

157
(2)

| | |
| --- | --- |
| | Respecting Differences in Nonverbal Communication |

159
(1)
160
(1)
161
(2)
PART II GENDERED COMMUNICATION IN PRACTICE
163
(30)

| | |
| --- | --- |
| | Entering a Gendered Society |

164
(1)
164
(1)
165
(1)

| | |
| --- | --- |
| | Gendering Communication in the Family |

165
(14)

| | |
| --- | --- |
| | Unconscious Processes: Identification and Internalization |

166
(4)
170
(2)

| | |
| --- | --- |
| | Parental Attitudes About Gender |

172
(1)

| | |
| --- | --- |
| | Parental Communication About Gender |

173
(2)
175
(2)

| | |
| --- | --- |
| | Different Contributions of Mothers and Fathers |

177
(2)

| | |
| --- | --- |
| | The Personal Side of the Gender Drama |

179
(11)
179
(4)
183
(7)
190
(1)
191
(2)

| | |
| --- | --- |
| | Gendered Close Relationships |

193
(28)

| | |
| --- | --- |
| | The Meaning of Personal Relationships |

194
(4)

| | |
| --- | --- |
| | Defining Personal Relationships |

194
(1)
195
(1)
195
(1)
196
(2)
198
(7)

| | |
| --- | --- |
| | Commonalities in Women's and Men's Friendships |

198
(1)

| | |
| --- | --- |
| | Differences Between Women's and Men's Friendships |

198
(1)

| | |
| --- | --- |
| | Women's Friendships: Closeness in Dialogue |

199
(2)

| | |
| --- | --- |
| | Men's Friendships: Closeness in the Doing |

201
(2)

| | |
| --- | --- |
| | Friendships Between Women and Men |

203
(2)

| | |
| --- | --- |
| | Gendered Romantic Relationships |

205
(13)

| | |
| --- | --- |
| | Developing Romantic Intimacy |

206
(2)

| | |
| --- | --- |
| | Engaging in Committed Relationships |

208
(1)

| | |
| --- | --- |
| | Gendered modes of expressing care |

208
(2)

| | |
| --- | --- |
| | Gendered preferences for autonomy and connection |

210
(2)

| | |
| --- | --- |
| | Gendered responsibility for relational health |

212
(1)
212
(6)
218
(1)
219
(2)

| | |
| --- | --- |
| | Gendered Education: Communication in School Settings |

221
(22)

| | |
| --- | --- |
| | The Organization of Schools |

223
(3)

| | |
| --- | --- |
| | Schools Perpetuate Gender Inequities |

223
(1)

| | |
| --- | --- |
| | Schools Limit Career Aspirations |

224
(1)

| | |
| --- | --- |
| | Schools Have Few Female and Minority Role Models |

224
(2)
226
(4)

| | |
| --- | --- |
| | Misrepresentation of White Men as Standard |

226
(1)

| | |
| --- | --- |
| | The Invisibility of Women |

227
(2)

| | |
| --- | --- |
| | Misrepresentation of Human Experiences |

229
(1)
230
(10)

| | |
| --- | --- |
| | Unequal Attention to Male and Female Students |

230
(1)

| | |
| --- | --- |
| | Not Taking Women Students Seriously |

231
(1)
232
(1)

| | |
| --- | --- |
| | Gender biases in teachers' communication |

232
(4)

| | |
| --- | --- |
| | Communication among peers |

236
(1)
237
(3)
240
(1)
241
(2)

| | |
| --- | --- |
| | Gendered Organizational Communication |

243
(36)

| | |
| --- | --- |
| | Institutional Stereotypes of Women and Men |

244
(8)
244
(1)
244
(1)
245
(1)
246
(2)
248
(1)
249
(1)
249
(1)
249
(1)
250
(2)

| | |
| --- | --- |
| | Evaluation of Stereotypes |

252
(1)

| | |
| --- | --- |
| | Misunderstandings of Professional Communication |

252
(7)

| | |
| --- | --- |
| | Male Standards in Institutions |

252
(2)

| | |
| --- | --- |
| | Masculine Definitions of Professional Communication |

254
(2)

| | |
| --- | --- |
| | Static (or Unchanging) Views of Communication |

256
(2)

| | |
| --- | --- |
| | Misperceptions of Men's and Women's Ability to Work Together |

258
(1)

| | |
| --- | --- |
| | Gendered Communication Systems in Organizations |

259
(8)

| | |
| --- | --- |
| | Leave Policies and Work Schedules |

259
(1)
259
(2)
261
(2)

| | |
| --- | --- |
| | Communication Climates in Organizations |

263
(1)

| | |
| --- | --- |
| | Hostile environments for women |

263
(1)
264
(1)
265
(1)

| | |
| --- | --- |
| | Glass Ceilings--and Walls? |

266
(1)

| | |
| --- | --- |
| | Efforts to Redress Gendered Inequity in Institutions |

267
(8)
268
(1)

| | |
| --- | --- |
| | Affirmative Action Policies |

269
(2)
271
(1)
271
(1)
272
(2)

| | |
| --- | --- |
| | Increasing Sensitivity to Gender Issues |

274
(1)
275
(1)
276
(3)

| | |
| --- | --- |
| | Gendered Media: Media's Influence on Gender |

279
(29)

| | |
| --- | --- |
| | The Prevalence of Media in Cultural Life |

280
(1)
281
(13)

| | |
| --- | --- |
| | Underrepresentation of Women and Minorities |

281
(2)

| | |
| --- | --- |
| | Stereotypical Portrayals of Men and Women |

283
(1)

| | |
| --- | --- |
| | Stereotypical portrayals of men |

283
(2)

| | |
| --- | --- |
| | Stereotypical portrayals of women |

285
(2)

| | |
| --- | --- |
| | Stereotypical Images of Relationships Between Men and Women |

287
(1)

| | |
| --- | --- |
| | Women's dependence/men's independence |

287
(2)

| | |
| --- | --- |
| | Women's incompetence/men's authority |

289
(1)

| | |
| --- | --- |
| | Women as primary caregivers/men as breadwinners |

290
(2)

| | |
| --- | --- |
| | Women as victims and sex objects/men as aggressors |

292
(2)
294
(4)

| | |
| --- | --- |
| | Implications of Media Representations of Gender |

298
(7)

| | |
| --- | --- |
| | Fostering Unrealistic and Limited Gender Ideals |

298
(2)

| | |
| --- | --- |
| | Pathologizing the Human Body |

300
(4)

| | |
| --- | --- |
| | Normalizing Violence Against Women |

304
(1)
305
(1)
306
(2)

| | |
| --- | --- |
| | Gendered Power and Violence |

308
(31)

| | |
| --- | --- |
| | The Social Construction of Gendered Violence |

309
(1)

| | |
| --- | --- |
| | The Many Faces of Gendered Violence |

310
(17)
310
(1)
311
(3)
314
(5)
319
(1)
320
(1)
320
(1)

| | |
| --- | --- |
| | Whose perspective counts? |

321
(1)
322
(1)
322
(1)
322
(1)

| | |
| --- | --- |
| | Excision or clitoridectomy |

323
(1)
323
(3)
326
(1)

| | |
| --- | --- |
| | Social Foundations of Gendered Violence |

327
(6)

| | |
| --- | --- |
| | Normalization of Violence in Media |

328
(1)

| | |
| --- | --- |
| | Normalization of Violence by Institutions |

329
(1)
329
(1)
330
(1)
331
(1)
332
(1)

| | |
| --- | --- |
| | Resisting Gendered Violence: Where Do We Go from Here? |

333
(3)

| | |
| --- | --- |
| | Personal Efforts to Reduce Gendered Violence |

333
(1)

| | |
| --- | --- |
| | Social Efforts to Reduce Gendered Violence |

334
(2)
336
(1)
337
(2)
EPILOGUE Looking Backward, Looking Forward
339
(20)

| | |
| --- | --- |
| | The Cultural Construction and Reconstruction of Gender |

340
(1)

| | |
| --- | --- |
| | Looking Backward, Looking Forward |

341
(11)
341
(1)
341
(1)
342
(1)

| | |
| --- | --- |
| | Gender and communication in the future |

342
(1)

| | |
| --- | --- |
| | Women's and Men's Movements |

342
(1)
342
(1)
343
(1)
343
(1)
344
(1)

| | |
| --- | --- |
| | Reducing gender discrimination |

344
(1)

| | |
| --- | --- |
| | Future gender issues in education |

344
(1)
345
(1)

| | |
| --- | --- |
| | Changes in women in media |

345
(1)

| | |
| --- | --- |
| | Mediated gender in the future |

346
(1)

| | |
| --- | --- |
| | Liberal and structural feminist views of women |

346
(2)

| | |
| --- | --- |
| | Gender in Personal Relationships |

348
(1)

| | |
| --- | --- |
| | Changes in gender relations |

348
(1)

| | |
| --- | --- |
| | Addressing gender divisions |

348
(2)
350
(1)

| | |
| --- | --- |
| | Gender in Institutional Settings |

351
(1)

| | |
| --- | --- |
| | Women's positions in institutions |

351
(1)

| | |
| --- | --- |
| | Valuing diversity in institutional life |

352
(1)

| | |
| --- | --- |
| | Social support for families |

352
(1)
352
(5)

| | |
| --- | --- |
| | Defining Masculinity and Femininity |

353
(1)

| | |
| --- | --- |
| | Responding to Differences |

354
(1)
355
(1)
356
(1)
357
(2)
Glossary
359
(6)
References
365
(46)
Index
411