Note: Supplemental materials are not guaranteed with Rental or Used book purchases.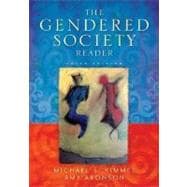 Summary
The battle between the sexes has raged on for centuries, but are men and women really from different planets? In The Gendered Society Reader, Third Edition, coeditors Michael S. Kimmel and Amy Aronson pull together an array of dynamic voices--both male and female, classic and contemporary--to examine various interpretations of gender. These lively, in-depth readings explore gender discourse over a wide range of disciplines, focusing primarily on two central issues: difference and domination. Carefully balanced to reflect the diversity of its subject, this text addresses provocative and fundamental questions including: * How are males and females different? * What do these differences mean? * How do various cultures interpret gender? * Why do societies continue to differentiate people on the basis of gender? * Why is it that almost every known society is based on male domination? The reader mirrors the intuitive structure of Kimmel's companion volume, The Gendered Society, Third Edition. The first sections are arranged by discipline, presenting classic statements on theoretical perspectives and research inquiries. The final sections examine gender's often fraught relationships with education, the workplace, the body, the family, love, and sex. The celebrated contributors include Margaret Mead, Peggy Reeves Sanday, Joan Acker, Judith Lorber, Robert M. Sapolsky, Scott Coltrane, and many more. Thoughtfully updated with rich and timely new material, the third edition also introduces a vibrant section on the media, which features incisive explorations of video games and pornography. A popular and now classic text, The Gendered Society Reader is both informative and entertaining; it is required reading for students, scholars, and anyone curious about the fascinating study of gender.
Author Biography

Michael S. Kimmel is Professor of Sociology at the State University of New York at Stony Brook. He is author of Manhood in America: A Cultural History, Second Edition (OUP, 2006); coeditor, with Rebecca F. Plante, of Sexualities: Identities, Behaviors, and Society (OUP, 2005); and coeditor, with Michael A. Messner, of Men's Lives, Seventh Edition (2006).
Amy Aronson is Assistant Professor of Journalism and Media Studies at Fordham University. She is author of Taking Liberties: Early American Women's Magazines and Their Readers (2002).

Table of Contents
Introduction
p. 1
Anatomy and Destiny: Biological Arguments about Gender Difference
p. 7
Psychological Sex Differences: Origins Through Sexual Selection
p. 8
Believing Is Seeing: Biology as Ideology
p. 14
Testosterone Rules
p. 26
Cultural Constructions of Gender
p. 32
Sex and Temperament in Three Primitive Societies
p. 33
Coming of Age and Coming Out Ceremonies Across Cultures
p. 38
Doing Difference
p. 56
Psychology of Sex Roles
p. 85
The Gender Similarities Hypothesis
p. 86
"Dude, You're a Fag": Adolescent Masculinity and the Fag Discourse
p. 106
The Exotic-Becomes-Erotic Theory of Sexual Orientation
p. 121
The Social Construction of Gender Relations
p. 134
Boundaries, Negotiation, Consciousness: Reconceptualizing Gender Relations
p. 135
Doing Gender
p. 147
Beards, Breasts, and Bodies: Doing Sex in a Gendered World
p. 165
The Gendered Family
p. 184
Modern Marriage: Revising the Cultural Script
p. 185
Household Labor and the Routine Production of Gender
p. 201
Retirement: Golden Years for Whom?
p. 221
The Gendered Classroom
p. 234
Being a Girl and Being a Boy: The Voices of Middle Schoolers
p. 235
"Spice Girls," "Nice Girls," "Girlies," and "Tomboys": Gender Discourses, Girls' Cultures, and Femininities in the Primary Classroom
p. 262
Making a Name for Yourself: Transgressive Acts and Gender Performance
p. 278
The Gendered Workplace
p. 295
Hierarchies, Jobs, Bodies: A Theory of Gendered Organizations
p. 296
Bringing the Men Back In: Sex Differentiation and the Devaluation of Women's Work
p. 309
The Glass Escalator: Hidden Advantages for Men in the "Female" Professions
p. 322
Farewell to the Organization Man: The Feminization of Loyalty in High-End and Low-End Service Jobs
p. 339
The Gendered Media
p. 364
Contested Images of Femininity: An Analysis of Cultural Gatekeepers' Struggles with the "Real Girl" Critique
p. 365
"Complete Freedom of Movement": Video Games as Gendered Play Spaces
p. 385
Guilty Pleasures: Pronography and Male Sexuality
p. 410
The Gendered Body
p. 430
The Body and the Reproduction of Femininity
p. 431
Masculinities and Men's Health: Moving Toward Post-Superman Era Prevention
p. 449
The Many Faces of Gender Inequality
p. 466
Transgendering: Blurring the Boundaries of Gender
p. 478
Gendered Intimacies
p. 490
The Feminization of Love
p. 491
Sexual Tensions in Girls' Friendships
p. 503
A Study of Men and Women from Different Sides of Earth to Determine If Men Are from Mars and Women Are from Venus in Their Beliefs About Love and Romantic Relationships
p. 509
Hooking Up and Forming Romantic Relationships on Today's College Campuses
p. 531
Sexual Harassment and Masculinity: The Power and Meaning of "Girl Watching"
p. 547
The Gender of Violence
p. 564
Wars, Wimps, and Women: Talking Gender and Thinking War
p. 565
The Myth of Sexual Symmetry in Marital Violence
p. 578
Rape-Prone Versus Rape-Free Campus Cultures
p. 594
Table of Contents provided by Ingram. All Rights Reserved.