Note: Supplemental materials are not guaranteed with Rental or Used book purchases.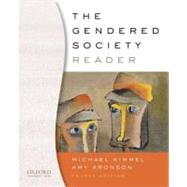 Questions About This Book?
What version or edition is this?
This is the 4th edition with a publication date of 1/20/2010.
What is included with this book?
The Used copy of this book is not guaranteed to include any supplemental materials. Typically, only the book itself is included.
Summary
The battle between the sexes has raged on for centuries; however, are men and women really from different planets? In The Gendered Society Reader, Fourth Edition, coeditors Michael Kimmel and Amy Aronson pull together an array of dynamic voices--both male and female, classic and contemporary--to examine various interpretations of gender. These lively, in-depth readings explore gender discourse over a wide range of disciplines, focusing primarily on two central issues: difference and domination. Carefully balanced to reflect the diversity of its subject, this text addresses provocative and fundamental questions including: * How are males and females different? * What do these differences mean? * How do various cultures and religions interpret gender? * Why do societies continue to differentiate people on the basis of gender? * Why is it that almost every known society is based on male domination? This reader mirrors the intuitive structure of Kimmel's companion volume, The Gendered Society, Fourth Edition. The first sections are arranged by discipline, presenting analyses of theoretical perspectives and research inquiries. The final sections examine the often fraught relationships between gender and education, the workplace, the media, the body, the family, love, sex, and violence. The celebrated contributors include Peggy Reeves Sanday, Judith Lorber, Robert M. Sapolsky, Scott Coltrane, and many more. Thoroughly updated with rich and timely new material, the fourth edition features twenty-one new selections, including three essays in a new section on religion, four new selections on gender and the media, and a new article on non-heterosexual families. This edition is also supplemented by an Instructor's Manual/Test Bank, which includes discussion questions. A popular and now classic text, The Gendered Society Reader, Fourth Edition, is both informative and entertaining; it is required reading for students, scholars, and anyone curious about the fascinating study of gender. Michael Kimmel's textbook, The Gendered Society, Fourth Edition (OUP, 2010), provides a perfect complement for classroom use. PACKAGE the textbook and the reader together and save your students 20%! Please call Customer Service at 800.280.0280 for details.
Author Biography

Michael Kimmel is Professor of Sociology at Stony Brook University, State University of New York. A leading researcher and writer on gender and men and masculinity, he is the author of numerous books and articles including The Gendered Society, Fourth Edition (OUP, 2010) and Guyland: The Perilous World Where Boys Become Men (2009). He is also the coeditor, with Amy Aronson, of Men and Masculinities: A Social, Cultural, and Historical Encyclopedia (2004).
Amy Aronson is Professor of Media Studies at Fordham University. She is the author of Taking Liberties: Early American Women's Magazines and Their Readers (2002) and the coeditor, with Michael S. Kimmel, of Men and Masculinities: A Social, Cultural, and Historical Encyclopedia (2004).

Table of Contents
Introduction, Michael Kimmel
Anatomy And Destiny: Biological Arguments About Gender Difference
Caveman Masculinity: Finding Manhood in Evolutionary Science
Testosterone Rules
Of Genes and Gender
Cultural Constructions Of Gender
Men as Women and Women as Men: Disrupting Gender
The Politics of Birth Practices: A Strategic Analysis
Coming of Age and Coming Out Ceremonies Across Cultures
Psychology Of Sex Roles
The Gender Similarities Hypothesis
"Dude
Gender and the Meanings of Adolescent Romantic Relationships: A Focus on Boys
"Sugar and Spice But Not Always Nice": Gender Socialization and Its Impact on Development and Maintenance of Aggression in Adolescent Girls
The Social Construction Of Gender Relations
Great Divides: The Cultural, Cognitive, and Social Bases of the Global Subordination of Women
Framed Before We Know It: How Gender Shapes Social Relations
Doing Gender
Doing Difference
The Gendered Family
American Marriage in the Early Twenty-First Century
Household Labor and the Routine Production of Gender
(How) Does the Sexual Orientation of Parents Matter?
The Gendered Classroom
"Spice Girls," "Nice Girls," "Girlies," and "Tomboys": Gender Discourses Girls' Cultures and Femininities in the Primary Classroom
"Cool Boys," "Party Animals," "Squid," and "Poofters": Interrogating the Dynamics and Politics of Adolescent Masculinities in School
"The Trouble with Black Boys: The Role and Influence of Environmental and Cultural Factors on the Academic Performance of African American Males
The Gender Of Religion
"To Veil or Not to Veil?": A Case Study of Identity Negotiation Among Muslim Women in Austin, Texas
Women Remain Oppressed
Gender Differences in Religion: A Test of the Structural Location Theory
The Gendered Workplace
The Glass Escalator: Hidden Advantages for Men in the "Female" Professions
Racializing the Glass Escalator: Reconsidering Men's Experiences with Women's Work
Farewell to the Organization Man: The Feminization of Loyalty in High-End and Low-End Service Jobs
Before and After: Gender Transitions, Human Capital, and Workplace Experiences
The Gendered Media
Misogyny in Rap Music: A Content Analysis of Prevalence and Meanings
Post-Princess Models of Gender: The New Man in Disney/Pixar
Little in Common: Racial and Gender Differences in Adolescents' Television Diets
Resistance Through Video Game Play: It's a Boy Thing
The Gendered Body
The Body and the Reproduction of Femininity
Growing Up in the Culture of Slenderness: Girls' Experiences of Body Dissatisfaction
Beards, Breasts, and Bodies: Doing Sex in a Gendered World
Gendered Intimacies
The Feminization of Love
Sexual Tensions in Girls' Frienships
A Study of Men and Women from Different Sides of Earth to Determine If Men Are from Mars and Women Are from Venus in Their Beliefs About Love and Romantic Relationships
Hooking Up and Forming Romantic Relationships on Today's College Campuses
Sexual Harassment and Masculinity: The Power and Meaning of "Girl Watching"
The Gender Of Violence
Wars
The Myth of Sexual Symmetry in Marital Violence
Rape-Prone Versus Rape-Free Campus Cultures
Table of Contents provided by Publisher. All Rights Reserved.