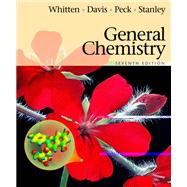 List Price: $421.99
Hurry!
Only one copy
in stock at this price.
In Stock Usually Ships in 24 Hours.

More New and Used
from Private Sellers
Questions About This Book?
Why should I rent this book?
Renting is easy, fast, and cheap! Renting from eCampus.com can save you hundreds of dollars compared to the cost of new or used books each semester. At the end of the semester, simply ship the book back to us with a free UPS shipping label! No need to worry about selling it back.
How do rental returns work?
Returning books is as easy as possible. As your rental due date approaches, we will email you several courtesy reminders. When you are ready to return, you can print a free UPS shipping label from our website at any time. Then, just return the book to your UPS driver or any staffed UPS location. You can even use the same box we shipped it in!
What version or edition is this?
This is the 7th edition with a publication date of 4/18/2003.
What is included with this book?
The Used copy of this book is not guaranteed to inclue any supplemental materials. Typically, only the book itself is included.
The Rental copy of this book is not guaranteed to include any supplemental materials. You may receive a brand new copy, but typically, only the book itself.
Summary
This best-selling text, GENERAL CHEMISTRY by Whitten/Davis/Peck/Stanley, is best summarized by "classic text, modern presentation." This simple phrase underlies its strong emphasis is on fundamental skills and concepts. As in previous editions, clearly explained problem-solving strategies continue to be the strength of this student-friendly text. This revision builds on the highly praised style and applications to everyday life that have earned this text a reputation as the voice of authority in general chemistry. Whitten always has been viewed as one of the few truly "traditional" general chemistry texts. Examples of this are that the text covers Thermodynamics, normally a topic split into two parts and covered in two different semesters, in one chapter and begins the second half of the course. GENERAL CHEMISTRY, Seventh Edition also follows a standard narrative-example-problem format, has a solid traditional writing style, and promotes problem solving. However, the authors have added some new elements over the years to reflect changes in chemical education. These include adding in conceptual questions in the problem sets, adding features like the Chemistry In Use boxes to show how chemistry is used in daily life, and further promoting problem solving by including hints and checks for students.
Table of Contents
To the Instructor
xvii
Ancillaries
xxiii
Acknowledgments
xxv
To the Student
xxviii

| | |
| --- | --- |
| | The Foundations of Chemistry |

1
(45)
4
(2)
6
(1)

| | |
| --- | --- |
| | Chemical and Physical Properties |

6
(3)

| | |
| --- | --- |
| | Chemical and Physical Changes |

9
(1)

| | |
| --- | --- |
| | Mixtures, Substances, Compounds, and Elements |

10
(6)

| | |
| --- | --- |
| | Chemistry in Use The Resources of the Ocean |

11
(5)

| | |
| --- | --- |
| | Measurements in Chemistry |

16
(2)
18
(2)
20
(6)

| | |
| --- | --- |
| | The Unit Factor Method (Dimensional Analysis) |

26
(4)
30
(1)

| | |
| --- | --- |
| | Density and Specific Gravity |

31
(3)
34
(3)

| | |
| --- | --- |
| | Heat Transfer and the Measurement of Heat |

37
(9)
40
(1)
41
(5)

| | |
| --- | --- |
| | Chemical Formulas and Composition Stoichiometry |

46
(42)
48
(3)
51
(2)
53
(2)

| | |
| --- | --- |
| | Names and Formulas of Some Ionic Compounds |

55
(2)
57
(1)
57
(6)

| | |
| --- | --- |
| | Chemistry in Use Avogadro's Number |

61
(2)

| | |
| --- | --- |
| | Formula Weights, Molecular Weights, and Moles |

63
(3)

| | |
| --- | --- |
| | Percent Composition and Formulas of Compounds |

66
(4)

| | |
| --- | --- |
| | Chemistry in Use Names of the Elements |

68
(2)

| | |
| --- | --- |
| | Derivation of Formulas from Elemental Composition |

70
(4)

| | |
| --- | --- |
| | Determination of Molecular Formulas |

74
(3)

| | |
| --- | --- |
| | Some Other Interpretations of Chemical Formulas |

77
(3)
80
(8)
82
(1)
82
(6)

| | |
| --- | --- |
| | Chemical Equations and Reaction Stoichiometry |

88
(33)
89
(4)

| | |
| --- | --- |
| | Calculations Based on Chemical Equations |

93
(3)

| | |
| --- | --- |
| | The Limiting Reactant Concept |

96
(3)

| | |
| --- | --- |
| | Percent Yields from Chemical Reactions |

99
(2)
101
(1)

| | |
| --- | --- |
| | Concentrations of Solutions |

102
(5)
107
(2)

| | |
| --- | --- |
| | Using Solutions in Chemical Reactions |

109
(12)
112
(1)
113
(8)

| | |
| --- | --- |
| | Some Types of Chemical Reactions |

121
(52)

| | |
| --- | --- |
| | The Periodic Table: Metals, Nonmetals, and Metalloids |

123
(6)

| | |
| --- | --- |
| | Chemistry in Use The Discovery of Phosphorus |

128
(1)

| | |
| --- | --- |
| | Aqueous Solutions: An Introduction |

129
(6)

| | |
| --- | --- |
| | Reactions in Aqueous Solutions |

135
(2)
137
(3)

| | |
| --- | --- |
| | Naming Some Inorganic Compounds |

140
(1)
140
(3)

| | |
| --- | --- |
| | Naming Ternary Acids and Their Salts |

143
(3)

| | |
| --- | --- |
| | Classifying Chemical Reactions |

145
(1)

| | |
| --- | --- |
| | Oxidation--Reduction Reactions: An Introduction |

146
(3)
149
(1)
150
(2)
152
(5)

| | |
| --- | --- |
| | Chemistry in Use Troublesome Displacement Reactions |

154
(3)
157
(6)

| | |
| --- | --- |
| | Summary of Reaction Types |

163
(10)
165
(1)
166
(7)
173
(57)
175
(1)
175
(1)

| | |
| --- | --- |
| | The Discovery of Electrons |

176
(2)
178
(1)

| | |
| --- | --- |
| | Rutherford and the Nuclear Atom |

179
(2)
181
(1)
182
(1)
182
(2)

| | |
| --- | --- |
| | Mass Spectrometry and Isotopic Abundance |

184
(3)

| | |
| --- | --- |
| | Chemistry in Use Stable Isotope Ratio Analysis |

186
(1)

| | |
| --- | --- |
| | The Atomic Weight Scale and Atomic Weights |

187
(3)

| | |
| --- | --- |
| | The Electronic Structures of Atoms |

190
(1)

| | |
| --- | --- |
| | Electromagnetic Radiation |

190
(4)
194
(1)

| | |
| --- | --- |
| | Atomic Spectra and the Bohr Atom |

194
(7)

| | |
| --- | --- |
| | Enrichment The Bohr Theory and the Balmer--Rydberg Equation |

198
(3)

| | |
| --- | --- |
| | The Wave Nature of the Electron |

201
(1)

| | |
| --- | --- |
| | The Quantum Mechanical Picture of the Atom |

202
(3)

| | |
| --- | --- |
| | Enrichment The Schrodinger Equation |

204
(1)
205
(1)
206
(5)
211
(6)

| | |
| --- | --- |
| | Paramagnetism and Diamagnetism |

217
(1)

| | |
| --- | --- |
| | The Periodic Table and Electron Configurations |

218
(12)
221
(2)
223
(7)
230
(35)

| | |
| --- | --- |
| | More About the Periodic Table |

231
(5)

| | |
| --- | --- |
| | Chemistry in Use The Periodic Table |

233
(1)

| | |
| --- | --- |
| | Chemistry in Use Glenn Seaborg: A Human Side to the Modern Periodic Table |

234
(1)

| | |
| --- | --- |
| | Periodic Properties of the Elements |

235
(1)
236
(2)
238
(3)
241
(3)
244
(2)
246
(1)

| | |
| --- | --- |
| | Chemical Reactions and Periodicity |

247
(1)

| | |
| --- | --- |
| | Hydrogen and the Hydrides |

247
(4)
251
(14)
260
(1)
261
(4)
265
(36)

| | |
| --- | --- |
| | Lewis Dot Formulas of Atoms |

267
(1)
268
(1)

| | |
| --- | --- |
| | Formation of Ionic Compounds |

268
(7)

| | |
| --- | --- |
| | Enrichment Introduction to Energy Relationships in Ionic Bonding |

273
(2)
275
(1)

| | |
| --- | --- |
| | Formation of Covalent Bonds |

275
(1)

| | |
| --- | --- |
| | Lewis Formulas for Molecules and Polyatomic Ions |

276
(1)

| | |
| --- | --- |
| | Writing Lewis Formulas: The Octet Rule |

277
(6)
283
(2)
285
(2)

| | |
| --- | --- |
| | Writing Lewis Formulas: Limitations of the Octet Rule |

287
(5)

| | |
| --- | --- |
| | Polar and Nonpolar Covalent Bonds |

292
(2)
294
(1)

| | |
| --- | --- |
| | The Continuous Range of Bonding Types |

294
(7)
295
(1)
296
(5)

| | |
| --- | --- |
| | Molecular Structure and Covalent Bonding Theories |

301
(47)
303
(2)

| | |
| --- | --- |
| | Valence Shell Electron Pair Repulsion Theory |

305
(1)

| | |
| --- | --- |
| | Polar Molecules: The Influence of Molecular Geometry |

306
(3)
309
(1)

| | |
| --- | --- |
| | Molecular Shapes and Bonding |

309
(1)

| | |
| --- | --- |
| | Linear Electronic Geometry: AB2 Species (No Lone Pairs of Electrons on A) |

310
(2)

| | |
| --- | --- |
| | Trigonal Planar Electronic Geometry: AB3 Species (No Lone Pairs of Electrons on A) |

312
(2)

| | |
| --- | --- |
| | Tetrahedral Electronic Geometry: AB4 Species (No Lone Pairs of Electrons on A) |

314
(5)

| | |
| --- | --- |
| | Tetrahedral Electronic Geometry: AB3U Species (One Lone Pair of Electrons on A) |

319
(5)

| | |
| --- | --- |
| | Tetrahedral Electronic Geometry: AB2U2 Species (Two Lone Pairs of Electrons on A) |

324
(2)

| | |
| --- | --- |
| | Tetrahedral Electronic Geometry: ABU3 Species (Three Lone Pairs of Electrons on A) |

326
(1)

| | |
| --- | --- |
| | Trigonal Bipyramidal Electronic Geometry: AB5, AB4U, AB3U2, and AB2U3 |

327
(4)

| | |
| --- | --- |
| | Octahedral Electronic Geometry: AB6, AB5U, and AB4U2 |

331
(5)

| | |
| --- | --- |
| | Compounds Containing Double Bonds |

336
(2)

| | |
| --- | --- |
| | Compounds Containing Triple Bonds |

338
(1)

| | |
| --- | --- |
| | A Summary of Electronic and Molecular Geometries |

339
(9)
341
(1)
342
(6)

| | |
| --- | --- |
| | Molecular Orbitals in Chemical Bonding |

348
(19)
350
(3)

| | |
| --- | --- |
| | Molecular Orbital Energy Level Diagrams |

353
(1)

| | |
| --- | --- |
| | Bond Order and Bond Stability |

354
(1)

| | |
| --- | --- |
| | Homonuclear Diatomic Molecules |

355
(3)

| | |
| --- | --- |
| | Heteronuclear Diatomic Molecules |

358
(3)

| | |
| --- | --- |
| | Delocalization and the Shapes of Molecular Orbitals |

361
(6)
364
(1)
364
(3)

| | |
| --- | --- |
| | Reactions in Aqueous Solutions I: Acids, Bases, and Salts |

367
(28)

| | |
| --- | --- |
| | Properties of Aqueous Solutions of Acids and Bases |

369
(1)
370
(1)

| | |
| --- | --- |
| | The Hydronium Ion (Hydrated Hydrogen Ion) |

370
(1)
371
(3)

| | |
| --- | --- |
| | The Autoionization of Water |

374
(1)
375
(1)
375
(4)

| | |
| --- | --- |
| | Acid--Base Reactions in Aqueous Solutions |

379
(3)

| | |
| --- | --- |
| | Chemistry in Use Everyday Salts of Ternary Acids |

381
(1)

| | |
| --- | --- |
| | Acidic Salts and Basic Salts |

382
(2)
384
(3)
387
(8)
388
(1)
389
(6)

| | |
| --- | --- |
| | Reactions in Aqueous Solutions II: Calculations |

395
(30)

| | |
| --- | --- |
| | Aqueous Acid-Base Reactions |

396
(1)

| | |
| --- | --- |
| | Calculations Involving Molarity |

396
(5)
401
(3)

| | |
| --- | --- |
| | The Mole Method and Molarity |

404
(3)

| | |
| --- | --- |
| | Equivalent Weights and Normality |

407
(4)

| | |
| --- | --- |
| | Oxidation-Reduction Reactions |

411
(1)
411
(2)

| | |
| --- | --- |
| | Adding H+, OH-, or H2O to Balance Oxygen or Hydrogen |

413
(3)

| | |
| --- | --- |
| | Stoichiometry of Redox Reactions |

416
(9)
419
(1)
419
(6)

| | |
| --- | --- |
| | Gases and the Kinetic--Molecular Theory |

425
(52)

| | |
| --- | --- |
| | Comparison of Solids, Liquids, and Gases |

427
(1)

| | |
| --- | --- |
| | Composition of the Atmosphere and Some Common Properties of Gases |

427
(1)
428
(5)

| | |
| --- | --- |
| | Chemistry in Use The Greenhouse Effect |

430
(3)

| | |
| --- | --- |
| | Boyle's Law: The Volume--Pressure Relationship |

433
(3)

| | |
| --- | --- |
| | Charles's Law: The Volume--Temperature Relationship; The Absolute Temperature Scale |

436
(2)

| | |
| --- | --- |
| | Standard Temperature and Pressure |

438
(1)

| | |
| --- | --- |
| | The Combined Gas Law Equation |

438
(2)

| | |
| --- | --- |
| | Avogadro's Law and the Standard Molar Volume |

440
(2)

| | |
| --- | --- |
| | Summary of Gas Laws: The Ideal Gas Equation |

442
(4)

| | |
| --- | --- |
| | Determination of Molecular Weights and Molecular Formulas of Gaseous Substances |

446
(2)

| | |
| --- | --- |
| | Dalton's Law of Partial Pressures |

448
(6)

| | |
| --- | --- |
| | Mass--Volume Relationships in Reactions Involving Gases |

454
(2)

| | |
| --- | --- |
| | The Kinetic--Molecular Theory |

456
(6)

| | |
| --- | --- |
| | Enrichment Kinetic--Molecular Theory, the Ideal Gas Equation, and Molecular Speeds |

459
(3)

| | |
| --- | --- |
| | Diffusion and Effusion of Gases |

462
(1)

| | |
| --- | --- |
| | Real Gases: Deviations from Ideality |

463
(14)
467
(1)
467
(10)
477
(56)

| | |
| --- | --- |
| | Kinetic--Molecular Description of Liquids and Solids |

480
(1)

| | |
| --- | --- |
| | Intermolecular Attractions and Phase Changes |

481
(6)
486
(1)
487
(1)
487
(1)
488
(1)
489
(1)
490
(2)

| | |
| --- | --- |
| | Boiling Points and Distillation |

492
(1)

| | |
| --- | --- |
| | Heat Transfer Involving Liquids |

493
(4)

| | |
| --- | --- |
| | Enrichment The Clausius--Clapeyron Equation |

495
(2)
497
(1)
497
(1)

| | |
| --- | --- |
| | Heat Transfer Involving Solids |

497
(3)

| | |
| --- | --- |
| | Sublimation and the Vapor Pressure of Solids |

500
(1)

| | |
| --- | --- |
| | Phase Diagrams (P versus T) |

501
(2)

| | |
| --- | --- |
| | Amorphous Solids and Crystalline Solids |

503
(3)

| | |
| --- | --- |
| | Enrichment X-Ray Diffraction |

504
(2)
506
(3)
509
(9)
518
(15)

| | |
| --- | --- |
| | Chemistry in Use Semiconductors |

520
(3)
523
(2)
525
(8)
533
(49)
535
(1)

| | |
| --- | --- |
| | Spontaneity of the Dissolution Process |

535
(2)

| | |
| --- | --- |
| | Dissolution of Solids in Liquids |

537
(3)

| | |
| --- | --- |
| | Dissolution of Liquids in Liquids (Miscibility) |

540
(1)

| | |
| --- | --- |
| | Dissolution of Gases in Liquids |

541
(1)

| | |
| --- | --- |
| | Rates of Dissolution and Saturation |

542
(2)

| | |
| --- | --- |
| | Effect of Temperature on Solubility |

544
(2)

| | |
| --- | --- |
| | Effect of Pressure on Solubility |

546
(1)

| | |
| --- | --- |
| | Molality and Mole Fraction |

546
(3)

| | |
| --- | --- |
| | Colligative Properties of Solutions |

548
(1)

| | |
| --- | --- |
| | Lowering of Vapor Pressure and Raoult's Law |

549
(4)
553
(2)
555
(1)

| | |
| --- | --- |
| | Freezing Point Depression |

556
(2)

| | |
| --- | --- |
| | Determination of Molecular Weight by Freezing Point Depression or Boiling Point Elevation |

558
(2)

| | |
| --- | --- |
| | Colligative Properties and Dissociation of Electrolytes |

560
(2)
562
(8)
567
(1)

| | |
| --- | --- |
| | Chemistry in Use Water Purification and Hemodialysis |

568
(2)
570
(1)

| | |
| --- | --- |
| | The Adsorption Phenomenon |

570
(1)

| | |
| --- | --- |
| | Hydrophilic and Hydrophobic Colloids |

571
(11)

| | |
| --- | --- |
| | Chemistry in Use Why Does Red Wine Go with Red Meat? |

574
(1)
575
(1)
576
(6)
582
(56)

| | |
| --- | --- |
| | Heat Changes and Thermochemistry |

584
(1)

| | |
| --- | --- |
| | The First Law of Thermodynamics |

584
(2)
586
(2)
588
(1)
588
(2)
590
(3)

| | |
| --- | --- |
| | Standard States and Standard Enthalpy Changes |

593
(1)

| | |
| --- | --- |
| | Standard Molar Enthalpies of Formation, ΔH0f |

594
(2)
596
(5)
601
(3)

| | |
| --- | --- |
| | Changes in Internal Energy, ΔE |

604
(6)

| | |
| --- | --- |
| | Relationship of ΔH and ΔE |

610
(2)

| | |
| --- | --- |
| | Spontaneity of Physical and Chemical Changes |

612
(1)

| | |
| --- | --- |
| | The Two Aspects of Spontaneity |

612
(1)

| | |
| --- | --- |
| | The Second Law of Thermodynamics |

613
(1)
613
(7)

| | |
| --- | --- |
| | Free Energy Change, ΔG, and Spontaneity |

620
(3)

| | |
| --- | --- |
| | The Temperature Dependence of Spontaneity |

623
(15)
627
(1)
628
(10)
638
(61)
640
(7)

| | |
| --- | --- |
| | Factors that Affect Reaction Rates |

646
(1)
647
(1)

| | |
| --- | --- |
| | Concentrations of Reactants: The Rate-Law Expression |

648
(8)

| | |
| --- | --- |
| | Concentration Versus Time: The Integrated Rate Equation |

656
(12)

| | |
| --- | --- |
| | Enrichment Calculus Derivation of Integrated Rate Equations |

662
(2)

| | |
| --- | --- |
| | Enrichment Using Integrated Rate Equations to Determine Reaction Order |

664
(4)

| | |
| --- | --- |
| | Collision Theory of Reaction Rates |

668
(1)
669
(3)

| | |
| --- | --- |
| | Reaction Mechanisms and the Rate-Law Expression |

672
(4)

| | |
| --- | --- |
| | Temperature: The Arrhenius Equation |

676
(4)
680
(19)
686
(4)
690
(1)
690
(9)
699
(45)
700
(3)
703
(4)

| | |
| --- | --- |
| | Variation of Kc with the Form of the Balanced Equation |

707
(1)
708
(1)

| | |
| --- | --- |
| | Uses of the Equilibrium Constant, Kc |

709
(4)

| | |
| --- | --- |
| | Disturbing a System at Equilibrium: Predictions |

713
(7)

| | |
| --- | --- |
| | The Haber Process: A Practical Application of Equilibrium |

720
(1)

| | |
| --- | --- |
| | Disturbing a System at Equilibrium: Calculations |

721
(4)

| | |
| --- | --- |
| | Partial Pressures and the Equilibrium Constant |

725
(1)

| | |
| --- | --- |
| | Relationship Between KP and KC |

726
(3)
729
(1)

| | |
| --- | --- |
| | Relationship Between ΔG0rxn and the Equilibrium Constant |

730
(4)

| | |
| --- | --- |
| | Evaluation of Equilibrium Constants at Different Temperatures |

734
(10)
736
(1)
736
(8)

| | |
| --- | --- |
| | Ionic Equilibria I: Acids and Bases |

744
(42)

| | |
| --- | --- |
| | A Review of Strong Electrolytes |

745
(1)

| | |
| --- | --- |
| | The Autoionization of Water |

746
(2)
748
(5)

| | |
| --- | --- |
| | Ionization Constants for Weak Monoprotic Acids and Bases |

753
(11)
764
(4)
768
(1)

| | |
| --- | --- |
| | Salts of Strong Bases and Strong Acids |

769
(1)

| | |
| --- | --- |
| | Salts of Strong Bases and Strong Acids |

769
(3)

| | |
| --- | --- |
| | Salts of Weak Bases and Strong Acids |

772
(3)

| | |
| --- | --- |
| | Chemistry in Use Taming Acids with Harmless Salts |

774
(1)

| | |
| --- | --- |
| | Salts of Weak Bases and Weak Acids |

775
(1)

| | |
| --- | --- |
| | Salts that Contain Small, Highly Charged Cations |

776
(10)
779
(1)
779
(7)

| | |
| --- | --- |
| | Ionic Equilibria II: Buffers and Titration Curves |

786
(30)

| | |
| --- | --- |
| | The Common Ion Effect and Buffer Solutions |

787
(7)
794
(3)

| | |
| --- | --- |
| | Preparation of Buffer Solutions |

797
(5)

| | |
| --- | --- |
| | Chemistry in Use Fun with Carbonates |

800
(2)
802
(2)
804
(1)

| | |
| --- | --- |
| | Strong Acid/Strong Base Titration Curves |

804
(3)

| | |
| --- | --- |
| | Weak Acid/Strong Base Titration Curves |

807
(3)

| | |
| --- | --- |
| | Weak Acid/Weak Base Titration Curves |

810
(1)

| | |
| --- | --- |
| | Summary of Acid--Base Calculations |

810
(6)
812
(1)
812
(4)

| | |
| --- | --- |
| | Ionic Equilibria III: The Solubility Product Principle |

816
(25)

| | |
| --- | --- |
| | Solubility Product Constants |

817
(3)

| | |
| --- | --- |
| | Determination of Solubility Product Constants |

820
(2)

| | |
| --- | --- |
| | Uses of Solubility Product Constants |

822
(6)
828
(3)

| | |
| --- | --- |
| | Simultaneous Equilibria Involving Slightly Soluble Compounds |

831
(3)
834
(7)
837
(1)
837
(4)
841
(53)
844
(1)
844
(1)
845
(1)

| | |
| --- | --- |
| | The Electrolysis of Molten Sodium Chloride (The Downs Cell) |

845
(1)

| | |
| --- | --- |
| | The Electrolysis of Aqueous Sodium Chloride |

846
(2)

| | |
| --- | --- |
| | The Electrolysis of Aqueous Sodium Sulfate |

848
(1)

| | |
| --- | --- |
| | Counting Electrons: Coulometry and Faraday's Law of Electrolysis |

849
(2)

| | |
| --- | --- |
| | Commercial Applications of Electrolytic Cells |

851
(1)

| | |
| --- | --- |
| | Voltaic or Galvanic Cells |

852
(1)

| | |
| --- | --- |
| | The Construction of Simple Voltaic Cells |

852
(1)
853
(3)

| | |
| --- | --- |
| | Chemistry in Use A Spectacular View of One Mole of Electrons |

854
(2)
856
(2)

| | |
| --- | --- |
| | Standard Electrode Potentials |

858
(1)

| | |
| --- | --- |
| | The Standard Hydrogen Electrode |

858
(1)
858
(2)
860
(1)

| | |
| --- | --- |
| | Standard Electrode Potentials |

861
(1)

| | |
| --- | --- |
| | Uses of Standard Electrode Potentials |

862
(3)

| | |
| --- | --- |
| | Standard Electrode Potentials for Other Half-Reactions |

865
(2)
867
(1)
868
(3)

| | |
| --- | --- |
| | Effect of Concentrations (Or Partial Pressures) on Electrode Potentials |

871
(1)
871
(4)

| | |
| --- | --- |
| | Using Electrochemical Cells to Determine Concentrations |

875
(3)

| | |
| --- | --- |
| | Enrichment Concentration Cells |

876
(2)

| | |
| --- | --- |
| | The Relationship of E0cell to ΔG0 and K |

878
(2)
880
(1)
880
(2)
882
(1)
882
(1)

| | |
| --- | --- |
| | The Nickel--Cadmium (Nicad) Cell |

883
(1)

| | |
| --- | --- |
| | The Hydrogen--Oxygen Fuel Cell |

884
(10)
886
(1)
887
(7)
894
(19)
895
(1)
895
(2)
896
(1)
897
(2)

| | |
| --- | --- |
| | Reduction to the Free Metals |

899
(1)
900
(2)

| | |
| --- | --- |
| | Metallurgies of Specific Metals |

902
(1)
902
(1)
903
(2)
905
(1)
906
(3)
909
(4)
910
(1)
910
(3)

| | |
| --- | --- |
| | Metals II: Properties and Reactions |

913
(22)

| | |
| --- | --- |
| | The Alkali Metals (Group IA) |

915
(1)

| | |
| --- | --- |
| | Group IA Metals: Properties and Occurrence |

915
(1)

| | |
| --- | --- |
| | Reactions of the Group IA Metals |

916
(2)

| | |
| --- | --- |
| | Uses of Group IA Metals and Their Compounds |

918
(4)

| | |
| --- | --- |
| | Chemistry in Use Trace Elements and Life |

919
(3)

| | |
| --- | --- |
| | The Alkaline Earth Metals (Group IIA) |

922
(1)

| | |
| --- | --- |
| | Group IIA Metals: Properties and Occurrence |

922
(1)

| | |
| --- | --- |
| | Reactions of the Group IIA Metals |

922
(2)

| | |
| --- | --- |
| | Uses of Group IIA Metals and Their Compounds |

924
(1)

| | |
| --- | --- |
| | The Post-Transition Metals |

925
(1)

| | |
| --- | --- |
| | Group IIIA: Periodic Trends |

925
(5)

| | |
| --- | --- |
| | Chemistry in Use The Most Valuable Metal in the World |

928
(1)
929
(1)
930
(1)
930
(1)

| | |
| --- | --- |
| | Chromium Oxides, Oxyanions, and Hydroxides |

931
(4)
933
(1)
933
(2)

| | |
| --- | --- |
| | Some Nonmetals and Metalloids |

935
(30)

| | |
| --- | --- |
| | The Noble Gases (Group VIIIA) |

937
(1)

| | |
| --- | --- |
| | Occurrence, Uses, and Properties |

937
(1)
937
(2)

| | |
| --- | --- |
| | The Halogens (Group VIIA) |

938
(1)
939
(1)

| | |
| --- | --- |
| | Occurrence, Production, and Uses |

940
(2)

| | |
| --- | --- |
| | Reactions of the Free Halogens |

942
(1)

| | |
| --- | --- |
| | The Hydrogen Halides and Hydrohalic Acids |

942
(2)

| | |
| --- | --- |
| | The Oxoacids (Ternary Acids) of the Halogens |

944
(1)

| | |
| --- | --- |
| | Sulfur, Selenium, and Tellurium |

945
(1)

| | |
| --- | --- |
| | Occurrence, Properties, and Uses |

945
(2)

| | |
| --- | --- |
| | Reactions of Group VIA Elements |

947
(1)

| | |
| --- | --- |
| | Hydrides of Group VIA Elements |

948
(1)
948
(2)
950
(2)
951
(1)
952
(1)

| | |
| --- | --- |
| | Hydrogen Compounds of Nitrogen |

953
(1)
954
(3)

| | |
| --- | --- |
| | Chemistry in Use Nitrogen Oxides and Photochemical Smog |

956
(1)

| | |
| --- | --- |
| | Some Oxoacids of Nitrogen and Their Salts |

957
(1)
958
(2)
959
(1)

| | |
| --- | --- |
| | Silicon and the Silicates |

960
(5)
961
(1)
961
(4)
965
(30)
966
(4)
970
(1)
971
(2)
973
(2)
975
(1)

| | |
| --- | --- |
| | Isomerism in Coordination Compounds |

975
(1)

| | |
| --- | --- |
| | Structural (Constitutional) Isomers |

976
(2)
978
(7)

| | |
| --- | --- |
| | Bonding in Coordination Compounds |

985
(1)
985
(3)

| | |
| --- | --- |
| | Color and the Spectrochemical Series |

988
(7)
990
(1)
991
(4)
995
(38)
997
(1)

| | |
| --- | --- |
| | Neutron--Proton Ratio and Nuclear Stability |

998
(1)

| | |
| --- | --- |
| | Nuclear Stability and Binding Energy |

999
(3)
1002
(2)

| | |
| --- | --- |
| | Equations for Nuclear Reactions |

1004
(1)

| | |
| --- | --- |
| | Neutron-Rich Nuclei (Above the Band of Stability) |

1004
(1)

| | |
| --- | --- |
| | Neutron-Poor Nuclei (Below the Band of Stability) |

1004
(1)

| | |
| --- | --- |
| | Nuclei with Atomic Number Greater Than 83 |

1005
(1)
1005
(2)

| | |
| --- | --- |
| | Rates of Decay and Half-Life |

1007
(2)
1009
(2)
1011
(4)

| | |
| --- | --- |
| | Artificial Transmutations of Elements |

1015
(4)
1019
(1)
1020
(6)

| | |
| --- | --- |
| | Chemistry in Use Managing Nuclear Wastes |

1024
(2)
1026
(7)
1028
(1)
1029
(4)

| | |
| --- | --- |
| | Organic Chemistry I: Formulas, Names, and Properties |

1033
(67)
1037
(1)
1037
(5)

| | |
| --- | --- |
| | Naming Saturated Hydrocarbons |

1042
(5)
1047
(1)
1047
(5)

| | |
| --- | --- |
| | Chemistry in Use Petroleum |

1048
(4)
1052
(2)
1054
(1)
1054
(2)

| | |
| --- | --- |
| | Other Aromatic Hydrocarbons |

1056
(2)
1058
(1)
1058
(1)
1059
(2)
1061
(3)
1064
(1)
1065
(3)
1068
(2)
1070
(3)

| | |
| --- | --- |
| | Some Derivatives of Carboxylic Acids |

1073
(6)

| | |
| --- | --- |
| | Chemistry in Use Butter, Margarine and trans Fats |

1077
(2)

| | |
| --- | --- |
| | Summary of Functional Groups |

1079
(1)

| | |
| --- | --- |
| | Fundamental Classes of Organic Reactions |

1079
(1)
1079
(3)
1082
(2)
1084
(1)
1085
(15)
1091
(1)
1092
(8)

| | |
| --- | --- |
| | Organic Chemistry II: Shapes, Selected Reactions, and Biopolymers |

1100

| | |
| --- | --- |
| | Shapes of Organic Molecules |

1101
(1)
1102
(1)
1103
(3)
1106
(1)
1107
(1)

| | |
| --- | --- |
| | Reactions of Bronsted--Lowry Acids and Bases |

1107
(3)

| | |
| --- | --- |
| | Oxidation--Reduction Reactions |

1110
(5)

| | |
| --- | --- |
| | Chemistry in Use Chemical Communication |

1111
(4)

| | |
| --- | --- |
| | Formation of Carboxylic Acid Derivatives |

1115
(1)
1116
(2)
1117
(1)
1118
(4)

| | |
| --- | --- |
| | Polypeptides and Proteins |

1122
(4)
1126
1129
(1)
1130
Appendix A Some Mathematical Operations
1
(4)
Appendix B Electron Configurations of the Atoms of the Elements
5
(3)
Appendix C Common Units, Equivalences, and Conversion Factors
8
(3)
Appendix D Physical Constants
11
(1)
Appendix E Some Physical Constants for a Few Common Substances
12
(2)
Appendix F Ionization Constants for Weak Acids at 25°C
14
(1)
Appendix G Ionization Constants for Weak Bases at 25°C
15
(1)
Appendix H Solubility Product Constants for Some Inorganic Compounds at 25°C
16
(2)
Appendix I Dissociation Constants for Some Complex Ions
18
(1)
Appendix J Standard Reduction Potentials in Aqueous Solution at 25°C
19
(3)
Appendix K Selected Thermodynamic Values at 298.15 K
22
(2)
Appendix L Answers to Selected Even-Numbered Numerical Exercises
24
Glossary/Index
1