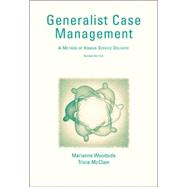 Generalist Case Management : A Method of Human Service Delivery
by
WOODSIDE/MCCLAM
List Price: $65.33
Currently Available, Usually Ships in 24-48 Hours

More New and Used
from Private Sellers
Questions About This Book?
What version or edition is this?
This is the 2nd edition with a publication date of 7/9/2002.
What is included with this book?
The New copy of this book will include any supplemental materials advertised. Please check the title of the book to determine if it should include any CDs, lab manuals, study guides, etc.
Related Products
Summary
This practical text is designed to equip students with fundamental information and skills needed to be effective case managers. This comprehensive and practical text provides students with the definition of case management, the responsibilities of case managers, with the skills needed for effective case management and the context in which case management occurs. In order to present students with the most current and accurate information the authors interviewed human service case managers nationwide about their jobs, the skills they need, the challenges they face and the clients they serve. These interviews combined with the most current research make this text the most realistic and relevant text available that effectively teaches students about case management.
Table of Contents
Preface
xv

| | |
| --- | --- |
| | Introduction to Case Management |

1
(30)
2
(3)

| | |
| --- | --- |
| | Traditional Case Management |

3
(1)
4
(1)

| | |
| --- | --- |
| | The Process of Case Management |

5
(16)
7
(9)
16
(2)
18
(3)

| | |
| --- | --- |
| | Three Components of Case Management |

21
(2)

| | |
| --- | --- |
| | Principles and Goals of Case Management |

23
(5)
23
(1)
24
(1)
24
(1)
25
(1)
26
(1)
26
(1)
26
(2)
28
(1)
28
(1)
29
(2)

| | |
| --- | --- |
| | Historical Perspectives on Case Management |

31
(30)

| | |
| --- | --- |
| | Perspectives on Case Management |

32
(7)

| | |
| --- | --- |
| | Case Management as a Process |

33
(3)
36
(1)

| | |
| --- | --- |
| | The Role of the Case Manager |

37
(1)

| | |
| --- | --- |
| | Utilization Review and Cost-Benefit Analysis |

38
(1)

| | |
| --- | --- |
| | The History of Case Management |

39
(12)
39
(1)
40
(4)

| | |
| --- | --- |
| | The Impact of World Wars I and II and the American Red Cross |

44
(1)

| | |
| --- | --- |
| | The Impact of Federal Legislation: The Past and the Present |

45
(6)

| | |
| --- | --- |
| | The Impact of Managed Care |

51
(5)
51
(1)
52
(1)
52
(4)

| | |
| --- | --- |
| | Expanding the Responsibilities of Case Management |

56
(1)
56
(1)
57
(4)

| | |
| --- | --- |
| | Models of Case Management |

61
(20)
62
(6)
62
(1)
63
(1)
63
(1)
63
(1)
64
(1)
64
(1)
65
(1)
65
(1)
66
(1)
66
(1)
66
(1)
67
(1)
67
(1)

| | |
| --- | --- |
| | Models of Case Management |

68
(10)

| | |
| --- | --- |
| | Role-Based Case Management |

69
(3)

| | |
| --- | --- |
| | Organization-Based Case Management |

72
(3)

| | |
| --- | --- |
| | Responsibility-Based Case Management |

75
(3)

| | |
| --- | --- |
| | Case Management and the Problem-Solving Process |

78
(1)
79
(1)
79
(2)

| | |
| --- | --- |
| | The Assessment Phase of Case Management |

81
(24)
82
(11)
85
(6)

| | |
| --- | --- |
| | Evaluating the Application for Services |

91
(2)
93
(1)

| | |
| --- | --- |
| | Documentation and Report Writing |

94
(7)

| | |
| --- | --- |
| | Process Recording and Summary Recording |

94
(3)
97
(2)
99
(2)
101
(1)
101
(4)

| | |
| --- | --- |
| | Effective Intake Interviewing Skills |

105
(28)

| | |
| --- | --- |
| | Attitudes and Characteristics of Interviewers |

107
(6)

| | |
| --- | --- |
| | Essential Communication Skills |

113
(16)
114
(15)
129
(1)
129
(1)
130
(3)

| | |
| --- | --- |
| | Service Delivery Planning |

133
(30)

| | |
| --- | --- |
| | Revisiting the Assessment Phase |

135
(1)

| | |
| --- | --- |
| | Developing a Plan for Services |

136
(9)
145
(3)

| | |
| --- | --- |
| | Information and Referral Systems |

145
(2)
147
(1)

| | |
| --- | --- |
| | Gathering Additional Information |

148
(12)

| | |
| --- | --- |
| | Data Collection Methods for the Case Manager |

148
(1)
148
(3)
151
(9)
160
(1)
160
(3)
163
(48)
164
(11)
165
(2)
167
(8)
175
(11)
176
(1)

| | |
| --- | --- |
| | The Process of Psychological |

177
(9)
186
(15)

| | |
| --- | --- |
| | Other Types of Information |

201
(8)
209
(1)
209
(2)
211
(28)
212
(12)
213
(2)
215
(4)
219
(4)

| | |
| --- | --- |
| | Working with Other Professionals |

223
(1)
224
(5)

| | |
| --- | --- |
| | How to Be a Good Advocate |

226
(3)
229
(6)
229
(1)
230
(1)

| | |
| --- | --- |
| | Teams with Families and Friends |

231
(2)
233
(2)
235
(1)
236
(3)

| | |
| --- | --- |
| | Working Within the Organizational Context |

239
(28)

| | |
| --- | --- |
| | Understanding the Organizational Structure |

240
(10)
241
(1)

| | |
| --- | --- |
| | Structure of the Organization |

242
(5)
247
(1)

| | |
| --- | --- |
| | The Organizational Climate |

248
(2)
250
(6)

| | |
| --- | --- |
| | What Exactly Is a Budget? |

251
(1)
252
(1)
253
(3)
256
(8)
257
(1)

| | |
| --- | --- |
| | Conducting a Utilization Review |

258
(1)

| | |
| --- | --- |
| | Planning Quality Assurance Programs |

258
(6)
264
(1)
264
(3)
267
(24)
269
(2)

| | |
| --- | --- |
| | Working with Potentially Violent Clients |

271
(2)
273
(5)

| | |
| --- | --- |
| | Confidentiality and Technology |

276
(2)
278
(2)
280
(5)

| | |
| --- | --- |
| | Client Preferences: One Component of Autonomy |

282
(2)

| | |
| --- | --- |
| | Autonomy and End-of-Life Issues |

284
(1)
285
(2)
287
(1)
288
(3)

| | |
| --- | --- |
| | Surviving as a Case Manager |

291
(22)

| | |
| --- | --- |
| | Themes in Case Management Today |

293
(6)

| | |
| --- | --- |
| | Performance of Multiple Roles |

293
(1)
294
(1)
295
(1)

| | |
| --- | --- |
| | Setting-Specific Knowledge |

296
(1)
296
(1)
297
(1)
297
(1)
298
(1)
299
(3)

| | |
| --- | --- |
| | People Involved in the Case |

299
(3)
302
(8)

| | |
| --- | --- |
| | The Prevention of Burnout |

303
(1)
304
(2)

| | |
| --- | --- |
| | Time-Management Techniques |

306
(1)
307
(3)
310
(1)
311
(2)
Glossary
313
(8)
Index
321