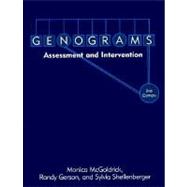 Questions About This Book?
What version or edition is this?
This is the 2nd edition with a publication date of 3/1/1999.
What is included with this book?
The New copy of this book will include any supplemental materials advertised. Please check the title of the book to determine if it should include any CDs, lab manuals, study guides, etc.
Summary
Using famous families as case studies, this book explains how to draw, interpret, and apply the genogram, a graphic way of organizing the information gathered during a family assessment. Widely used in training of health and mental health professionals, Genograms is an engaging introduction to the principles of family systems theory. The new edition highlights new developments in genogram use. Monica McGoldrick lives in Highland Park, New Jersey. Sylvia Shellenberger, widow of Randy Gerson, lives in Macon, Georgia.
Table of Contents
Preface
xiii
Acknowledgments
xv

| | |
| --- | --- |
| | Genograms: Mapping Family Systems |

1
(12)

| | |
| --- | --- |
| | A Family Systems Perspective |

6
(5)
11
(2)

| | |
| --- | --- |
| | Developing a Genogram to Track Family Patterns |

13
(49)

| | |
| --- | --- |
| | Mapping the Family Structure |

14
(6)

| | |
| --- | --- |
| | Constructing the Genogram |

20
(3)

| | |
| --- | --- |
| | Tracking Family Patterns on the Genogram |

23
(30)

| | |
| --- | --- |
| | Demographic Information: Getting the ``Facts'' |

23
(3)
26
(3)

| | |
| --- | --- |
| | Family Relationships and Roles |

29
(4)
33
(1)
33
(2)

| | |
| --- | --- |
| | Coincidences of Life Events |

35
(3)

| | |
| --- | --- |
| | Critical Life Changes, Transitions, and Traumas |

38
(3)
41
(2)

| | |
| --- | --- |
| | Locating the Family in Historical Time: Social, Economic, and Political Events |

43
(2)
45
(3)

| | |
| --- | --- |
| | Multiple Marriages and Intermarriages: Richly Cross-Joined Families |

48
(1)

| | |
| --- | --- |
| | Children Raised in Multiple Households |

48
(1)
49
(3)
52
(1)
53
(9)

| | |
| --- | --- |
| | The Family Information Net |

53
(1)

| | |
| --- | --- |
| | The Presenting Problem and the Immediate Household |

53
(1)
54
(1)
54
(1)

| | |
| --- | --- |
| | Dealing with a Family's Resistance to Doing a Genogram |

54
(1)

| | |
| --- | --- |
| | Ethnic and Cultural History |

55
(1)

| | |
| --- | --- |
| | The Informal Kinship Network |

56
(1)
57
(1)

| | |
| --- | --- |
| | Difficult Questions about Individual Functioning |

57
(3)

| | |
| --- | --- |
| | Setting Priorities for Organizing Genogram Information |

60
(2)

| | |
| --- | --- |
| | Interpreting Family Structure from Genograms |

62
(39)
62
(4)

| | |
| --- | --- |
| | Traditional Nuclear Family Household |

63
(1)
63
(1)
64
(1)
65
(1)
66
(23)
68
(1)
68
(1)

| | |
| --- | --- |
| | Different Roles for Brothers and Sisters |

69
(3)

| | |
| --- | --- |
| | Oldest Sons and Daughters |

72
(2)
74
(2)
76
(3)
79
(1)

| | |
| --- | --- |
| | Sibling Position and Marriage |

80
(4)

| | |
| --- | --- |
| | Sibling Position and Parenting |

84
(1)

| | |
| --- | --- |
| | Sibling Relationships in Adult Life |

85
(1)

| | |
| --- | --- |
| | Other Factors Influencing Sibling Constellation |

85
(4)

| | |
| --- | --- |
| | Unusual Family Configurations |

89
(4)

| | |
| --- | --- |
| | Children Growing Up in Multiple Families: Foster Care, Adoption and Orphanage Experiences |

93
(6)
99
(2)

| | |
| --- | --- |
| | Family Relational Patterns and Triangles |

101
(14)
102
(11)
103
(1)
104
(7)

| | |
| --- | --- |
| | Triangles in Families with Foster or Adopted Children |

111
(1)

| | |
| --- | --- |
| | Multigenerational Triangles |

112
(1)

| | |
| --- | --- |
| | Relationships Outside the Family |

113
(2)

| | |
| --- | --- |
| | Assessing Family Roles, Functioning, Balance, Resilience, and Resources |

115
(10)
115
(1)
116
(1)

| | |
| --- | --- |
| | Level and Style of Functioning |

117
(3)
120
(3)
123
(2)

| | |
| --- | --- |
| | Using Genograms to Track Families through the Life Cycle |

125
(24)

| | |
| --- | --- |
| | The Life Cycle of Freud's Family |

126
(23)

| | |
| --- | --- |
| | Courtship and Marriage of Freud's Parents: The Joining of Families |

126
(3)

| | |
| --- | --- |
| | The Transition to Parenthood and Family with Young Children |

129
(5)
134
(1)

| | |
| --- | --- |
| | Family at Midlife: Launching Children and Moving On |

135
(1)

| | |
| --- | --- |
| | Marriage, the Next Generation |

135
(5)

| | |
| --- | --- |
| | Parenthood, the Next Generation |

140
(5)
145
(4)

| | |
| --- | --- |
| | Clinical Uses of the Genogram |

149
(27)

| | |
| --- | --- |
| | The Genogram in Family Therapy |

149
(20)
149
(1)

| | |
| --- | --- |
| | Dealing with Resistance in the Genogram Interview |

150
(7)

| | |
| --- | --- |
| | Clarifying Family Patterns |

157
(1)

| | |
| --- | --- |
| | Reframing and Detoxifying Family Issues |

157
(1)

| | |
| --- | --- |
| | Using the Genogram to Design Interventions |

158
(3)

| | |
| --- | --- |
| | Using Rituals Developed from the Genogram to Transform Loss |

161
(3)

| | |
| --- | --- |
| | Making Genograms Come Alive in Therapy |

164
(5)

| | |
| --- | --- |
| | Genogram Applications in Family Practice |

169
(7)

| | |
| --- | --- |
| | Systemic Medical Recordkeeping |

169
(2)
171
(1)

| | |
| --- | --- |
| | Medical Management and Preventive Medicine |

171
(5)

| | |
| --- | --- |
| | Using Genograms for Family Research |

176
(15)

| | |
| --- | --- |
| | Research on the Genogram as a Clinical Tool |

176
(8)
177
(3)

| | |
| --- | --- |
| | Research on Clinical Usefulness |

180
(3)
183
(1)

| | |
| --- | --- |
| | Research on Families and Family Process |

184
(2)

| | |
| --- | --- |
| | Computer-generated Genograms |

186
(5)
Appendix
191
(36)
Bibliography
199
(6)
205
(15)
220
(7)
Index
227